Good morning! I hope you are having a fabulous week! I am in full-blown nesting mode since my due date is 2-ish weeks away! I have two small areas to declutter plus the guest room. Once those are done, we will have decluttered the entire house. It feels so good!
I never baked acorn squash until last week when I saw it at the grocery store and my autumn-loving-soul had to buy a couple of them. I made up a recipe for Sausage & Quinoa Stuffed Acorn Squash with things that sounded yummy…and it worked. 😉 I love when that happens!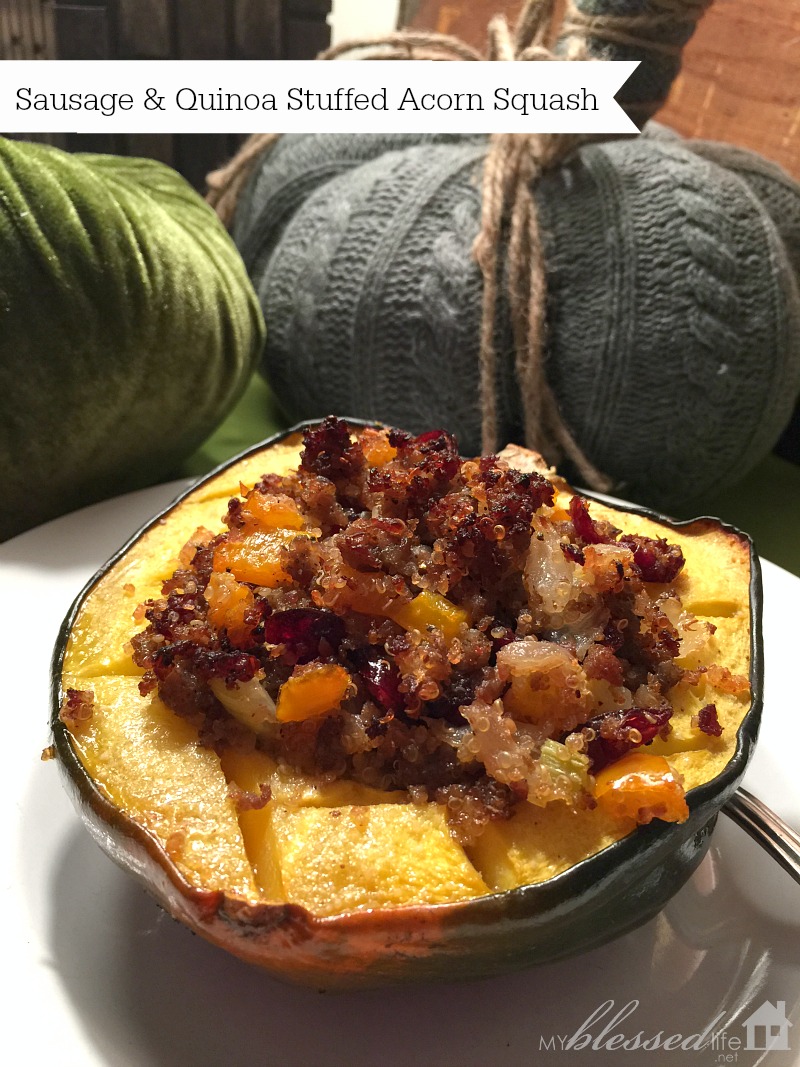 [pinit count="horizontal"]
This isn't the best photo since I took it at night with my iPhone, but it will do.
Sausage and Quinoa Stuffed Acorn Squash
2 acorn squash, halved, seeded and scored
Olive oil
Salt and pepper
Garlic powder
1 pound pork sausage, browned
1/2 large sweet onion, diced
1/2 orange bell pepper, diced
2 stalks celery, diced
4-5 garlic cloves, minced
1 cup frozen cooked organic quinoa
1/4 cup dried cranberries
Preheat oven to 400 degrees. Place acorn squash in a baking dish. Drizzle with olive oil and generously season with salt, pepper and garlic powder. Add a 1/2 cup water to the baking dish to keep squash from drying out. Bake for 1 hour.
While squash is baking, brown sausage in a medium skillet. In a large skillet sauté' onion, bell pepper, celery and garlic. When onion is transparent add quinoa, cranberries and sausage and combine with salt and pepper to taste.
After squash bakes remove from oven and tilt each half to remove extra liquid. Stuff each half with sausage stuffing mixture and place back in the oven for 15-20 minutes. If you have stuffing left over just enjoy on the side. Seriously, it's so good!
Remove, cool slightly and enjoy!
What is your favorite Autumn recipe?
Happy FALL eating!
XOXO,
Myra