the best mashed cauliflower you will ever eat
Happy Monday, y'all! 🙂 I hope you are staying warm. It's freezing in Alabama this week…our fingers are crossed for snow, but it's looking less and less likely. Boo. We are extremely snow deprived. Haha!
I've been eating primarily paleo since the beginning of the year and I love it. One of my favorite paleo comfort foods is mashed cauliflower. It sounded gross to me for the longest time, but when I finally took the plunge I was hooked. I'm not a raw cauliflower fan, so if you're not either don't be afraid to try mashed cauliflower….they are totally different.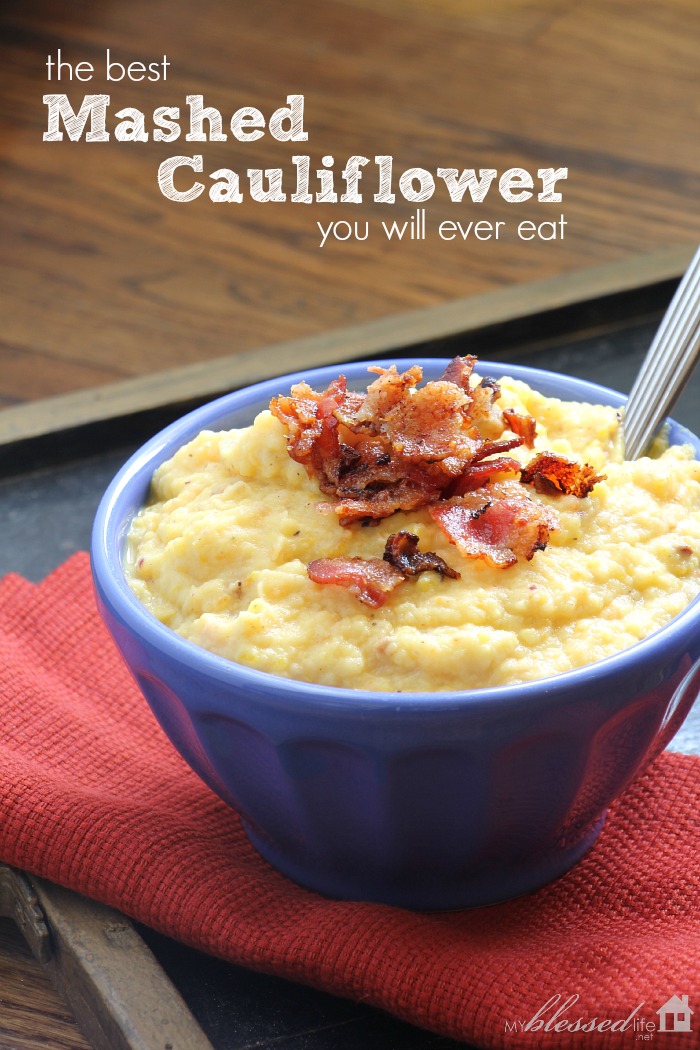 [pinit count="horizontal"]
Yum. Yum. Yum.
I make simple mashed cauliflower similar to mashed potatoes, or I load it up as seen in the photo above. I can't even tell you how good it is. Just make it soon, umkay?! 🙂
Mashed Cauliflower
1 head cauliflower
2-3 tablespoons butter
salt & pepper, to taste
1 drop each rosemary, sage, thyme and marjoram therapeutic grade essential oils, optional
Cut up cauliflower into chunks. Add to saucepan with water covering. Bring to a boil and simmer for 15 minutes or until cauliflower is tender. Drain well. It is very important that most of the liquid is drained otherwise your mashed cauliflower will be soupy…gross. Add drained cauliflower to a blender or food processor with butter, salt and pepper and essential oils, if desired. Blend until smooth. Enjoy!
Load it up:
8 strips bacon, cooked and crumbled
1/4 yellow bell pepper, chopped
1/4 orange bell pepper, chopped
1/4 cup chopped red onion
I often add the bacon, peppers and onion to the blender and then enjoy like a bowl of baked potato soup. Delish!
If you haven't already entered to win the $100 Walmart gift card, go do that. I'm going to draw a winner tomorrow!
Have you ever made mashed cauliflower before?
XOXO
Myra