Healthy Breakfast Ideas | Easy Omelet Muffins
Happy Monday! I am so excited to share a couple of healthy breakfast ideas with y'all today! I've been back on the paleo eating train because I feel best when I avoid grains, dairy and sugar. Sad fact of life, I know.
I've been shocked to find that it's pretty impossible to find plain shredded frozen sweet potatoes. I love shredded sweet potatoes sautéed like hash browns and they make a perfect base for breakfast casseroles, quiches etc. So, I took matters into my own hands (As usual, which is not always the best option. This time it worked out. LOL) and I shredded a bunch of sweet potatoes with my food processor. I didn't even worry with peeling them. I put the shredded sweet potatoes in a gallon sized baggie to keep in the freezer. I also try to keep already cooked and crumbled bacon or sausage in the freezer because it makes meal prep so much faster.
I've been playing around with different grain-free, dairy-free breakfasts. On Sunday morning I made up a recipe for these easy and delicious omelet muffins.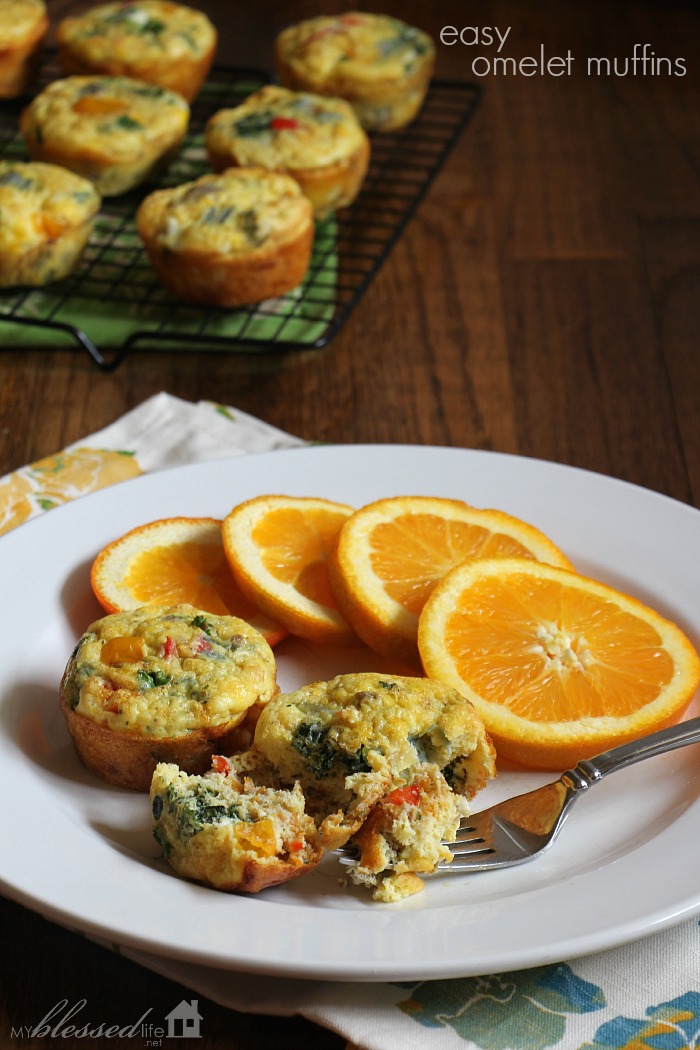 [pinit count="horizontal"]
Seriously. I know. Delicious. Okay, here's how you do it!
Easy Omelet Muffins
3/4 cup (or so) shredded sweet potatoes (of course you can use white!)
1/2 pound cooked and crumbled bacon or sausage
1/2 cup (or so) frozen chopped kale
diced bell pepper
diced red onion
chopped tomatoes (salsa could also work)
fresh parsley
9 eggs
1/2 teaspoon baking powder
salt & pepper to taste
a dash or two of garlic powder
Preheat the oven to 350 degrees. Butter a standard muffin tin.
Begin layering items in each section. You should use less "filling" than you think you need because they fill up quickly. 🙂
I usually do shredded sweet potatoes > kale > pepper and onion > tomatoes > parsley. The trick is to fill the muffin tin about 2/3 full with "filling".
In a 4 cup measuring cup beat the eggs with baking powder, salt & pepper and a dash of garlic powder. Evenly divide the mixture over all 12 spaces.
Bake for 20-23 minutes or until a knife inserted comes out clean.
Enjoy!
You can really just use what you have. Make it work! 🙂 This recipe can be made ahead for the week and you can just pop an omelet muffin in a toaster oven to re-heat.
Easy. Simple. Healthy. Yum.
I've also made this same concept in a 13×9 baking dish as a Breakfast Casserole.  I just layer everything in the casserole and then pour the eggs on top. I used a couple more eggs for the casserole than I did the muffins. 🙂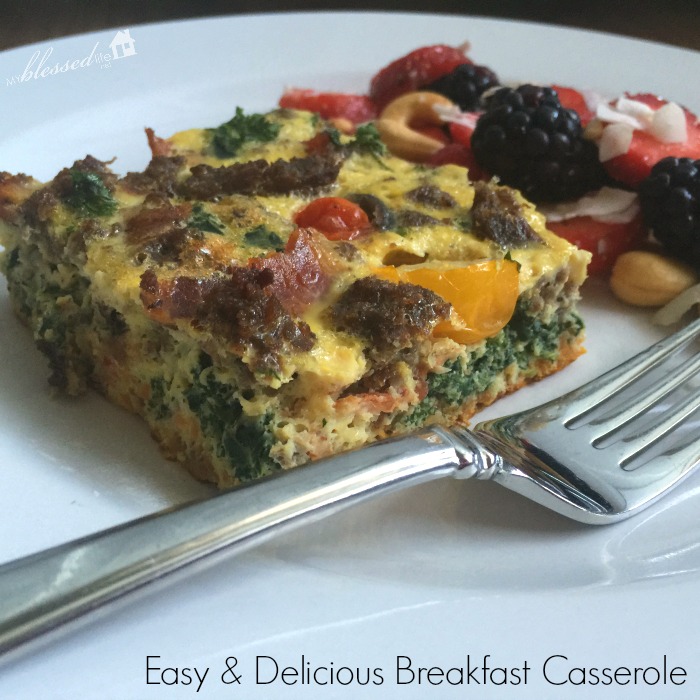 Oh, and I also had sausage AND bacon in it. Double yum!
I hope you will try these healthy breakfast ideas this week!  Oh, and if you're not avoiding dairy…you must add cheese because it makes everything even better. 😉
XOXO
Myra