We are homemade pizza lovers around these parts, as I'm sure most of you are already aware. I make pizza about once a week with my super easy pizza crust and I always change it up with various toppings.  Recently, I made a tomato basil homemade pizza which was incredibly easy and delish, so I'm excited to share it with you!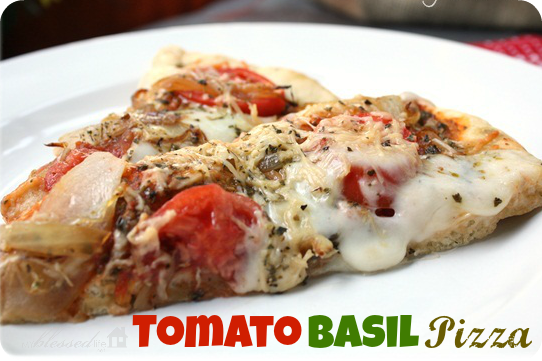 Tomato Basil Homemade Pizza
Pizza dough – I use my fail-proof easy pizza crust
3 Roma tomatoes, sliced
1 onion, sliced and carmelized
1 cup pizza sauce or spaghetti sauce
1/4 cup basil pesto – I bought mine, but it can be made at home.
Fresh mozzarella, sliced
Grated Parmesan cheese
Sea Salt, Pepper – I just grind it fresh over the cheese.
Italian seasoning, optional
Make pizza dough and spread on pizza stone or lightly oiled cookie sheet. Spread pizza sauce over dough then gently spread basil pesto over the sauce. Add sliced tomatoes, onions, fresh mozzarella and grated Parmesan cheese. Add freshly ground salt and pepper to taste.
We like Italian seasonings, but I know some people think it's too strong, so it is optional. 🙂
Bake at 425 for 12-15 minutes or until cheese is melted and top is browning. Remove from oven and wait 5 minutes before slicing to avoid cheese strings.
Enjoy!
Check out my other homemade pizza versions:
I'm linking up to Women Living Well and I'm Lovin' It!
XO
*****
Don't miss out – diy projects, recipes, crafts and more, by checking out my subscribe page!