Veggie Chop Salad | Paleo Friendly
Hey, hey! I am so excited to share my absolutely spectacular veggie chop salad recipe with you today. It is easy to make with fresh ingredients.  I've been striving to eat pretty strict paleo {basically meat, vegetables, nuts and seeds and limited fruit} because I feel the best when I eat this way…unfortunately. LOL I wish I could eat whatever I wanted and feel the same, but alas it's not the case. 😉
I will share some of my favorite paleo recipes, resources and blogs in another post coming soon. But for now, let's just get to this recipe!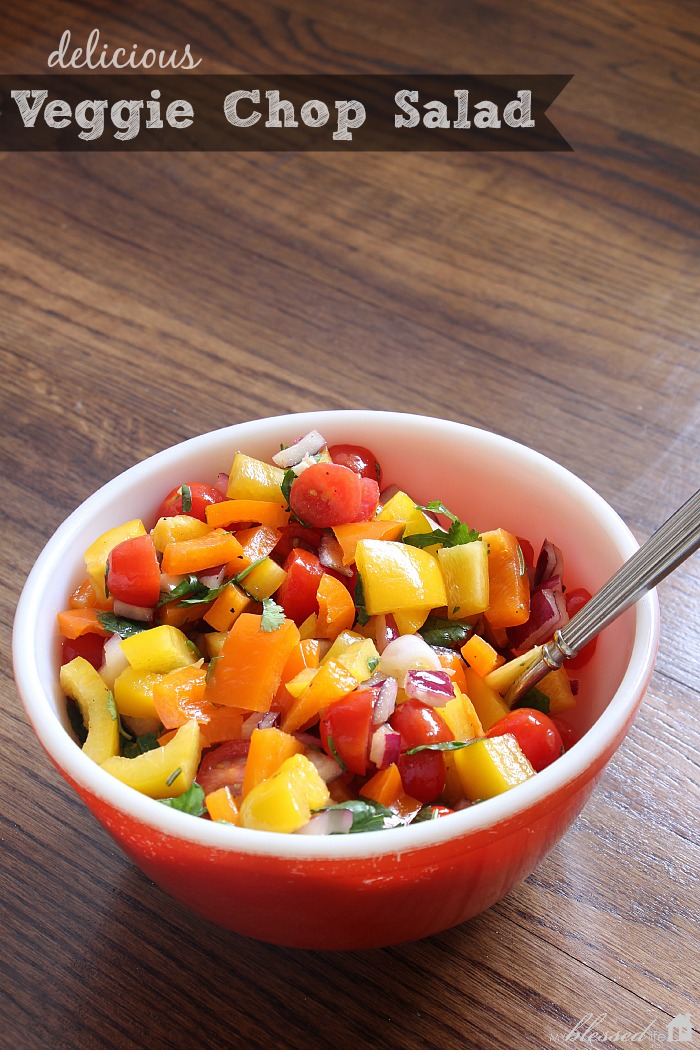 Drool.
Veggie Chop Salad
2-3 tablespoons olive oil
1 teaspoon balsamic vinegar
1-2 cloves minced garlic
1 yellow bell pepper, chopped
1 orange bell pepper, chopped
1 cup grape tomatoes, halved
1/2 red onion, chopped
1 cup cilantro washed and snipped
salt and pepper, to taste
Mix olive oil, balsamic vinegar, minced garlic, salt and pepper in a medium bowl. Add all other ingredients and combine. Add more salt to taste, if desired.
Chill and serve.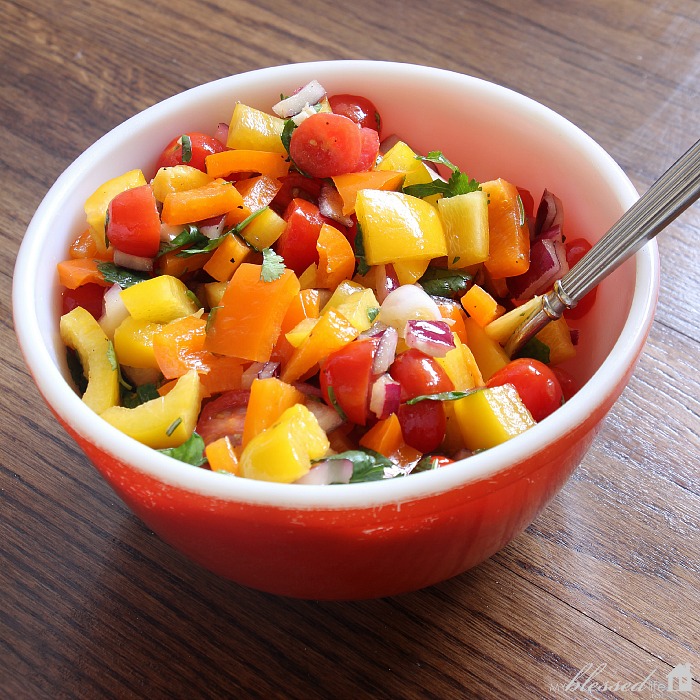 Making vegetables delicious is sometimes a challenge, but I love recipes that are simple to make and crazy delicious! I can say, "Mission accomplished." on this one! 🙂
Don't forget that today is the last day you can get The Ultimate DIY Bundle!


You can buy with complete confidence because you're covered by the Ultimate Bundles 30-day money-back guarantee. That means you have a full 30 days to enjoy all the eBooks and eCourses in the bundle, and if you don't think they provided enough value, you'll get a full refund.

Pick up your copy right now, before it's too late. Or, learn more here.
What is your favorite vegetable salad?
XOXO
Myra