Remove Ugly Pills From Clothing The Easy Way!
Happy St. Patty's Day, y'all! 🙂 I hope you had a wonderful weekend. Mine was great. I got some extra rest which was much needed. Ahhhh!
I am SO EXCITED to share this absolutely awesome tip for how to quickly and easily remove annoying pills from clothing! I haven't ever shared this on the blog before although I've been using this little piece of magic for about 10 years. I don't know about you, but I really hate pills that show up on clothes after they are washed…even just one time! Sometimes even without washing, a sweater can get pills under the arms or at the elbows.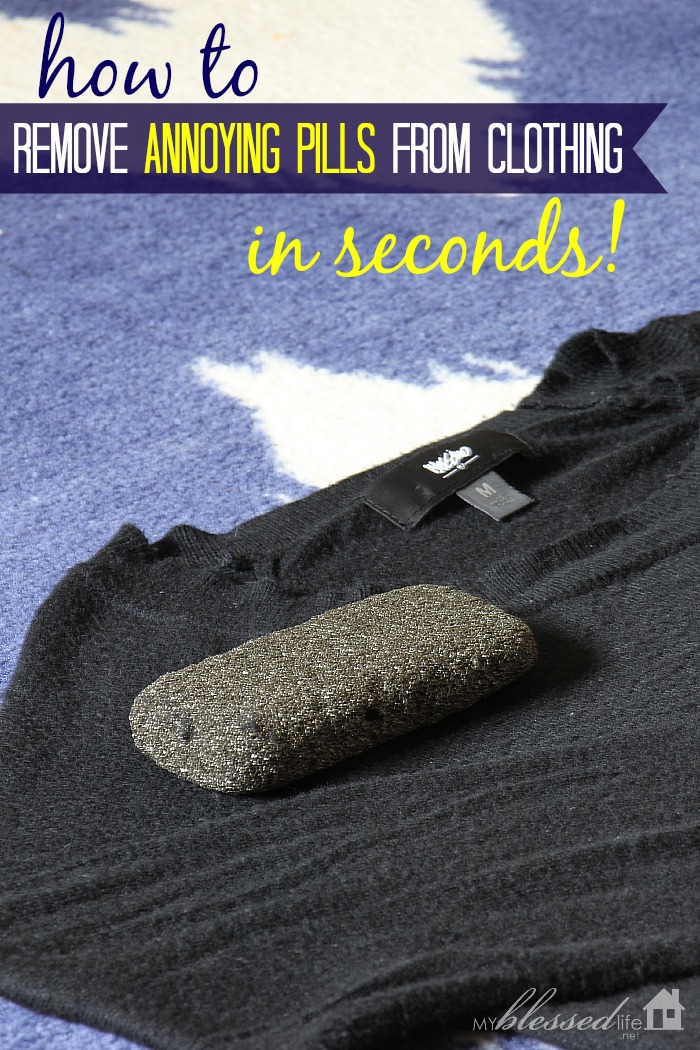 [pinit count="horizontal"]
A friend introduced me to this little magic pill eraser years ago. My mom, sister and I got ours from the dry cleaners, but I also found it on Amazon! Lint rollers are great, but they never remove pills. Those little fabric shavers are annoying because many are cheap and they break.  The pill eraser gets the job done quickly. You don't need batteries and it doesn't break easily.
This past week, I mistakenly washed my black knit jacket with a towel. Oops. Needless to say, it came out covered in lint…and pills. I pulled out my trusty little pill eraser and went to work. Within just a few minutes my jacket was good as new. Then I thought, "OH my word! I haven't told my readers about this!"
I pulled out a sweater that had some pills on the sleeves, so I could show you a before & after.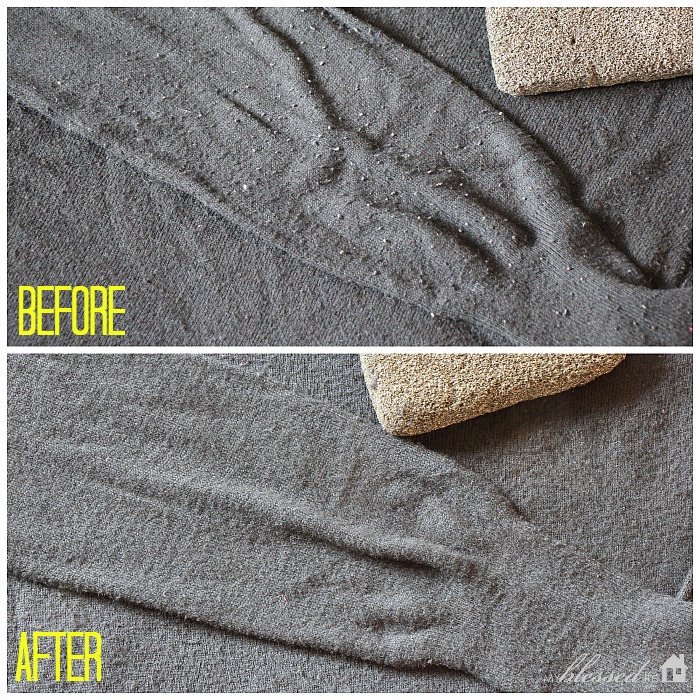 Wow! How awesome is that!? Wow. And the process took all of 2 minutes.
Here are three simple tips when removing pills…
1. Always go "with the weave" of the fabric…similar to staining "with the grain" of the wood.
2. Quick, gentle strokes with the pill eraser works best, so you're not dragging or stretching the fabric.
3. Do your "pill removal" on a tablecloth or blanket, so you can shake it out when you're done. 
Everyone must have a "pill eraser/remover thingy" in their closet. I absolutely love mine! 🙂
I would love to know if you have ever a pill eraser before! Do you have another favorite way to remove annoying pills from clothing?
xoxo
Myra