5 Awesome Natural Energy Supports
Happy Friday! It's been a busy week where I haven't gotten enough sleep and I've been a bit on the tired side of things. Okay, maybe a lot tired. Ha! As busy moms, we give and serve our families non-stop. Sometimes we are just exhausted.
I am decidedly NOT a coffee drinker. However, I've been using essential oils and essential oil infused products with great success to support my energy levels throughout the day…especially in the afternoon slump.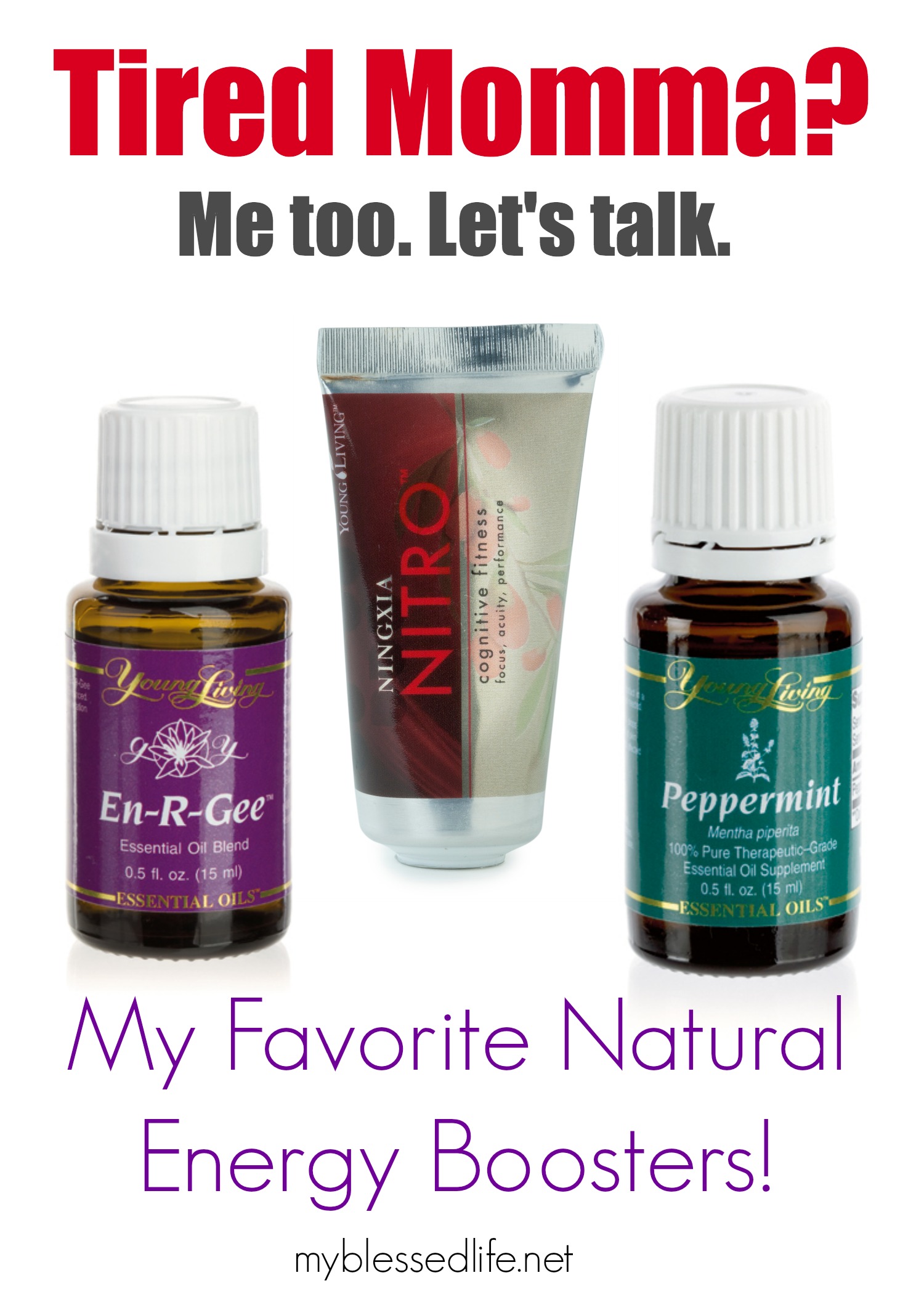 [pinit count="horizontal"]
My Favorite Natural Energy Boosters…
1. En-R-Gee 
En-R-Gee is a fabulous essential oil blend of Rosemary, Juniper, Lemongrass, Nutmeg, Idaho Balsam Fir, Clove and Black Pepper.  These oils are uplifting and energizing. I use this oil first thing in the morning with a drop behind my ears and on my wrists. It helps me SO much. I re-apply in the afternoon, if needed. En-R-Gee is also a great essential oil to diffuse.
2. Peppermint
Peppermint oil is very invigorating to the mind. I love inhaling it straight from the bottle. I also add it to my diffuser necklace. Sometimes I mix it up by applying Peppermint to my neck and temples. Confession…there have been Sundays where I've held an open Peppermint bottle under my nose to help me stay awake in church. Ha!
3. Citrus Oils
Citrus oils are so invigorating! Citrus oils are cold pressed from the rind and are not acidic like the pulp. Drinking Vitality citrus oil water doesn't harm tooth enamel.
I also love to diffuse citrus oils – Lemon, Lime, Grapefruit, Orange, Tangerine or the Citrus Fresh blend. Citrus Fresh is a blend of Orange, Grapefruit, Mandarin, Tangerine, Lemon and Spearmint. Yum! Citrus oils are cheap, which is so nice!!
4. NingXia Nitro
Oh my word. This product is amazing. I am so thankful for it. I don't drink Nitro every day – just when I need an extra special kick. NingXia Nitro supports normal energy levels and alertness to help you with a busy day. NingXia Nitro is around $2.77 a tube which is definitely less than other energy drinks full of chemicals and other synthetics, so it's a valuable, healthy alternative that I use on occasion.
5.  Clarity
Clarity essential oil is an excellent blend of Basil, Cardamom, Rosemary, Peppermint, Rosewood, Geranium, Lemon, Palmarosa, Ylang Ylang, Bergamot, Roman chamomile, and Jasmine. It invites a sense of clarity and alertness. I apply behind my ears and/or diffuse!
I don't use ALL of these things every. single. day. I just use what I have and what I feel like using on a specific day.
Have you had enough of feeling unproductive all day? Start thinking about what you can do to change that. Besides more rest, consider trying some essential oils that can make a huge difference.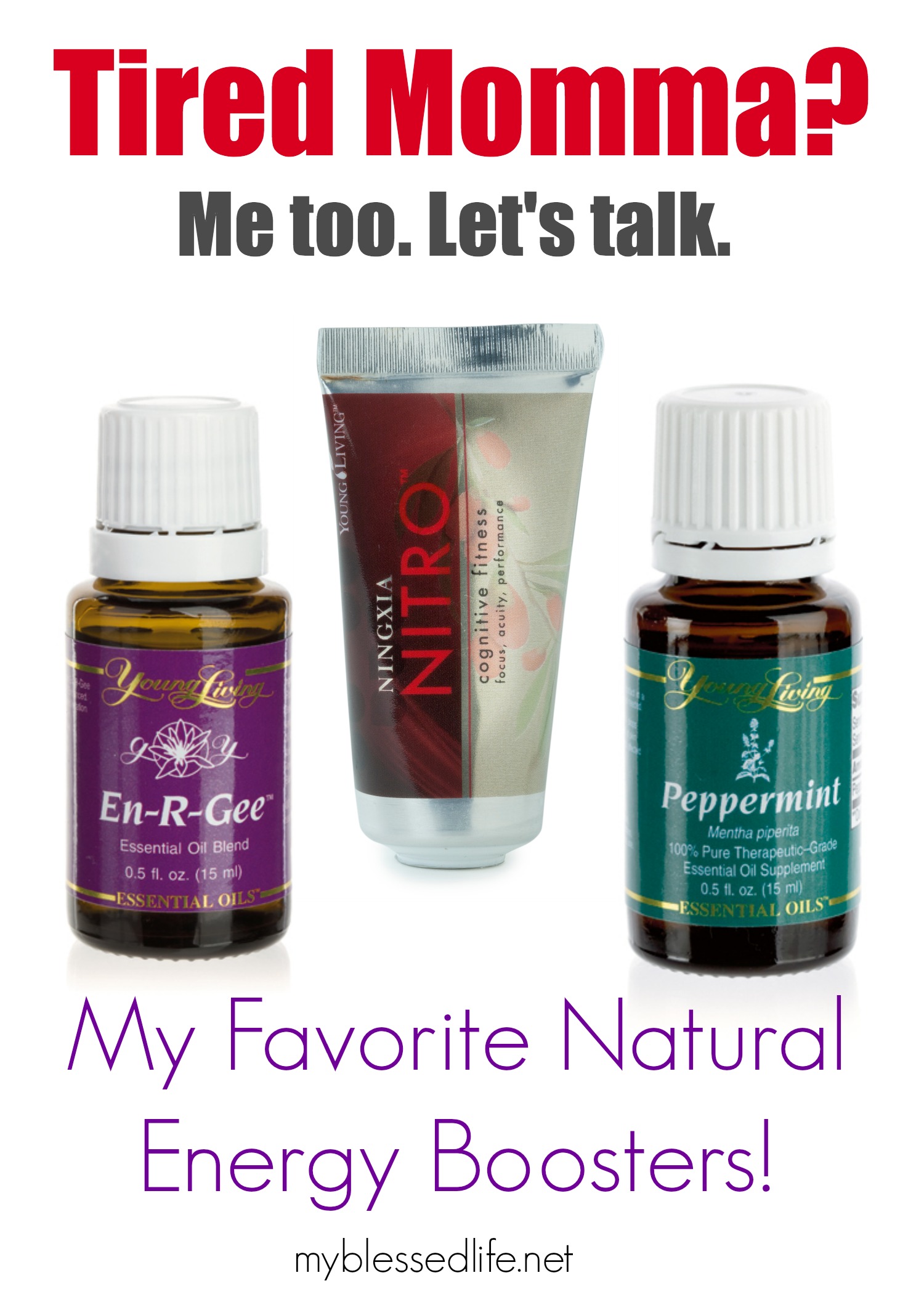 [pinit count="horizontal"]
I highly recommend starting with the Young Living premium starter kit. It includes Lemon, Peppermint and other invigorating oils like Stress Away. You can always add the Valor, En-R-Gee, Nitro, Clarity and other citrus oils to your "oily cabinet" down the road.
My heart's desire is to encourage mommas to take care of themselves more. More rest. More nutrition. More natural support and supplementation.
I hope you are encouraged. There is hope! And there are healthy choices to be made!
What are you waiting for?? 
xoxo
Myra
*The statements in this post have not been evaluated by the Food and Drug Administration. The products mentioned in this post are not intended to diagnose, treat, cure, or prevent any disease.