Pumpkin Spice Baked Oatmeal
We love to start our days with baked oatmeal. Since we are celebrating Fall, I adapted the recipe to include pumpkin, of course…Pumpkin Spice Baked Oatmeal. Baked oatmeal is a perfect breakfast on the go or snack, especially if you bake the oatmeal in muffin tins rather than a baking dish.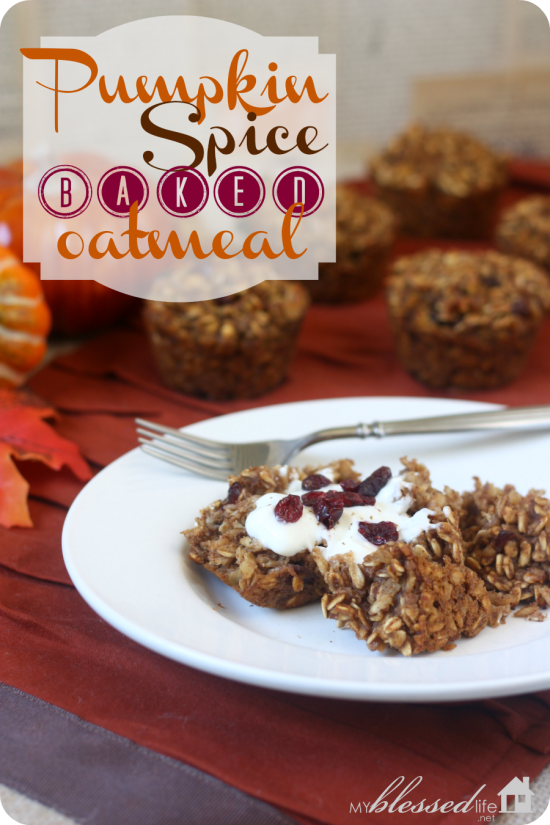 Thoughtfully preparing easy meals and snacks will cut out the cost of running through the drive-thru every now and then. Plus, you know what's in your food when you make it! 🙂 This batch of Pumpkin Spice Baked Oatmeal was gone in no time! Yum!

Pumpkin Spice Baked Oatmeal
6 cups oats
1 teaspoon salt
4 teaspoon baking powder
1 Tablespoon cinnamon
1/2 teaspoon nutmeg
1/2 teaspoon ground cloves
1 cup honey
1 cup pumpkin puree
4 eggs, beaten
2 cups milk
1 Tablespoon vanilla
1/2 cup craisins
1/2 cup chopped nuts
Combine oats, salt, baking powder, cinnamon, nutmeg and cloves in a bowl.  Add honey, eggs, pumpkin, milk and vanilla and stir well. Fold in craisins and nuts.
Pour into greased 9×13-inch pan. Bake at 375° for 30-40 minutes until lightly browned. This recipe works beautifully when prepared the night before, refrigerated and baked in the morning.
Serve topped with butter or coconut oil, brown sugar or honey and milk.
Yield: Approximately 10-12 servings
Note: I love baking this recipe in muffin tins. It's so quick and easy. The bake time is approximately 20-25 minutes.
What is your favorite homemade snack to grab on your way out the door?
Sharing at: Chic & Crafty and I'm Lovin' It!
XO
*****
Don't miss out
– diy projects, recipes, crafts and more, by checking out
my subscribe page
!