Happy Wednesday! It is Wednesday, right? Labor Day has made me all discombobulated. I'm super excited to share this easy recipe for Rosemary Dipping Sauce.
We are a family of dippers. Rarely a meal takes place at our house without organic ketchup, hot sauce, homemade ranch dressing, homemade salsa or hummus.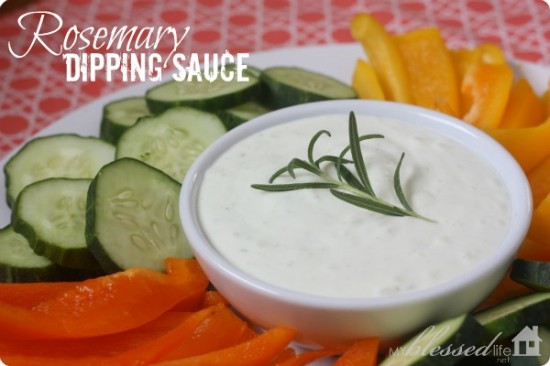 I recently whipped up this Rosemary Dipping Sauce to serve with vegetables and I have since made it to serve with my Parmesan Potato Wedges. It is so easy and delicious!
Rosemary Dipping Sauce
1/2 cup Sour Cream
1/2 cup mayo
1 1/2 tablespoons fresh rosemary, finely chopped
1 green onion, chopped
1 clove garlic, minced
1 t.water
Combine all ingredients in a blender and pulse. Chill and serve!
Easy peasy.
Enjoy!
Does your family enjoy dips and sauces?
Sharing this post at I'm Lovin' It and Chic and Crafty!
XO
*****
Don't miss out
– diy projects, recipes, crafts and more, by checking out
my subscribe page
!