I'm so excited to share this delicious potato wedges recipe today!  I haven't done much cooking in the last three weeks, thanks to my amazing church family who provided meals each week. It was so nice to have a break while we adjusted to the new little man in our home.
One day last week, I was looking through a church cookbook and found a recipe that I adapted to create these Parmesan Potato Wedges. They are SO yummy!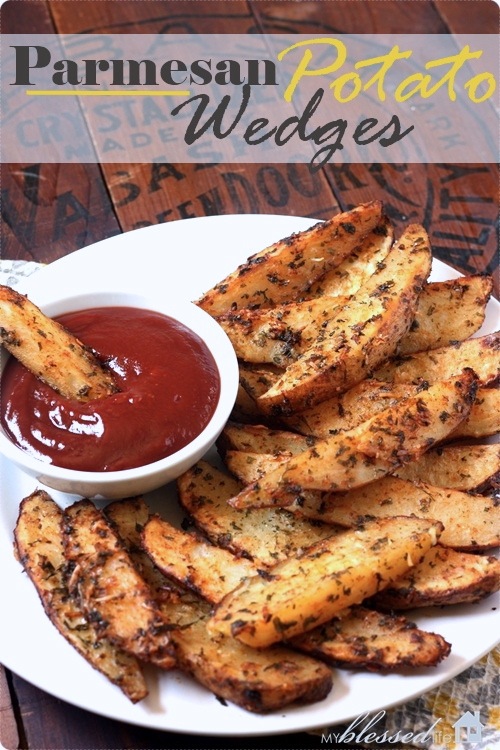 Parmesan Potato Wedges
4 Russet Potatoes
2 Tablespoons olive oil or melted butter
1/2 cup grated Parmesan cheese
1 teaspoon garlic powder
1 1/2 teaspoons paprika
1 teaspoon salt
2 Tablespoons parsley
A couple dashes of cayenne pepper
Preheat the oven to 450 degrees and line a baking sheet with aluminum foil. Be sure to spray the foil with non-stick spray.
Combine Parmesan cheese, garlic powder, paprika, salt, parsley and cayenne pepper in a small bowl.
Cut potatoes in half the long way. Then place each half flat on a cutting board and slice wedges. Place the potato wedges in a large bowl and toss with olive oil or butter to completely coat.  Add the cheese mixture to the potato wedges and toss gently to coat evenly.
Place potatoes on the baking sheet. Sprinkle with leftover cheese mixture.  Bake for 25-35 minutes or until potatoes are easily pierced with a fork. The smaller wedges will be done sooner. I found it easy to turn the potatoes with tongs about halfway through the baking time…and I might have sprinkled more cheese mixture on when I turned them. 🙂
Enjoy with ketchup or homemade ranch dressing!
How do you like your potatoes cooked? Mashed? Baked?
Sharing this post at I'm Lovin' It and Chic and Crafty!
XO
*****
Don't miss out
– diy projects, recipes, crafts and more, by checking out
my subscribe page
!