Homemade Strawberry Ice Cream
Good morning! I'm so excited to share this delicious Homemade Strawberry Ice Cream recipe with y'all today. My middle brother made it yesterday. He combined two recipes from an old Southern Living cookbook and it turned out lip-lickin' good. We begged him to make it again for the 4th of July!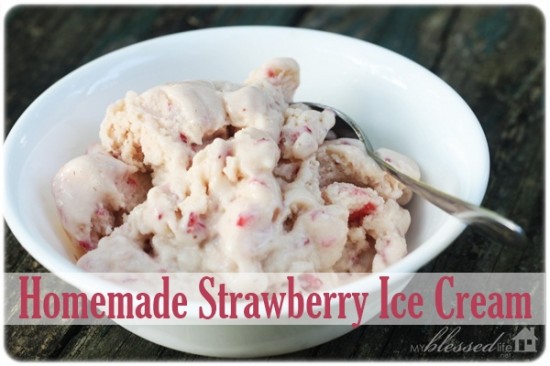 My parents raise goats and milk them every day. My sweet momma learned to milk goats when she was six years old and she's been doing it ever since. It's such a blessing to have fresh milk and it makes the BEST ice cream!

Homemade Strawberry Ice Cream
5 cups milk
2 1/4 cups sugar
1/4 cup plus 2 Tablespoons flour
1/4 teaspoon salt
5 eggs, beaten
4 cups milk
1 3/4 Tablespoons vanilla
3 cups mashed fresh strawberries
1/4 cup sugar
Heat 5 cups of milk in a large saucepan over low heat until hot. Combine sugar, flour and salt. Gradually add sugar mixture to milk, stirring until blended.  Cook over medium heat for 15 minutes or until thickened, stirring constantly. Seriously, you have to stir constantly so it doesn't scorch.
Gradually stir about one-fourth of the hot mixture into the five beaten eggs.  Add to remaining hot mixture, again stirring constantly. Cook one minute. Remove from heat and allow to cool. Chill at least two hours. And allow your stirring arm to rest. 🙂
Combine strawberries with 1/4 cup sugar and let sit. Combine 4 cups of milk and vanilla extract in a large bowl. Add chilled custard, stirring with a wire whisk.  Add strawberry mixture and mix well.
Pour into the freezer can of a one gallon hand-crank or electric freezer. Freeze according to your ice cream freezer instructions.  After the ice cream is frozen, let it sit for two hours for a wonderful texture and consistency.
Yield: 1 gallon
Do you make homemade ice cream? A friend bought me an ice cream freezer a few years ago and I've never used it. If you have a favorite recipe, I would love for you to leave it in a comment! 🙂
I'm linking up to Tasty Tuesday, Women Living Well and I'm Lovin' It!
XO
*****
Don't miss out
– diy projects, recipes, crafts and more, by checking out
my subscribe page
!