Cashew Chicken Salad Recipe
Good morning!  This chicken salad recipe is our favorite.  It is very similar to a local coffee shop's version. I love using left over slow cooker chicken breasts for making cashew chicken salad for lunch. This recipe is also perfect for receptions, parties and showers.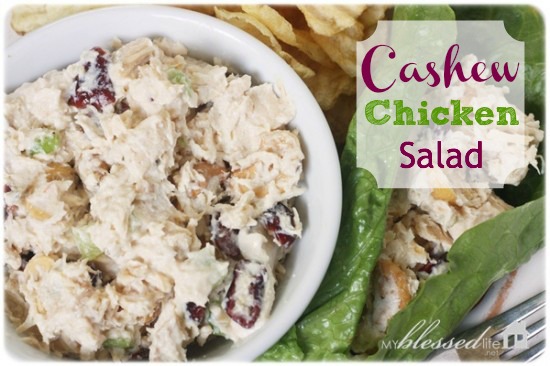 Cashew Chicken Salad Recipe
2 cups chopped cooked chicken
1/2 cup craisins
1 stalk celery, diced
1/2 cup cashews
1/2 – 3/4 cup mayo
salt and pepper to taste
Add chicken, craisins, celery and cashews to a bowl and mix. Add mayo, beginning with 1/2 cup. Add more mayonnaise up to 3/4 cup to the consistency you desire. Add salt and pepper and mix well.
This chicken salad gets better as it chills in the refrigerator. Make it ahead and enjoy with crackers, on a sandwich or in a lettuce wrap or cucumber cup!
What ingredients go in your favorite chicken salad? There are so many variations!
I'm linking up to Tasty Tuesday, Women Living Well and I'm Lovin' It!
Come join The Salad Social at TidyMom sponsored by The International Olive Council's Add Some Life!
XO
*****
Don't miss out
– diy projects, recipes, crafts and more, by checking out
my subscribe page
!