Are you ready to drool?  Let me just tell you that this holiday cheese ball recipe is a-may-zing.  I needed a snack to take to church on Sunday night, so I decided that a cheese ball would be perfect. But I wanted it to be different – like sweet and savory at the same time. After brainstorming a bit…and test tasting, I came up with a delicious, colorful, perfect-for-the-holidays cheese ball recipe!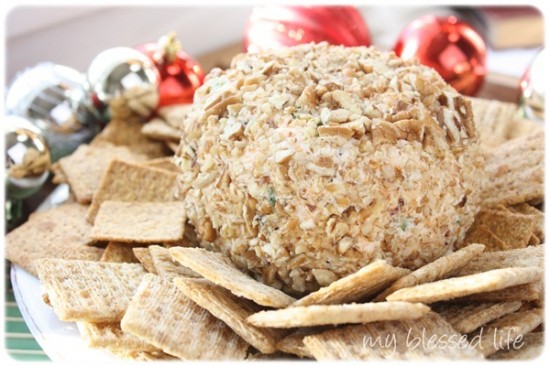 Holiday Cheese Ball Recipe
2 pkgs cream cheese, room temperature
2 T. sour cream
2 cups shredded cheddar cheese
1/4 t. garlic powder
1/3 cup snipped green onions
1 cup dried cranberries
1 1/2 cups chopped pecans
In a large bowl or stand mixer, whip cream cheese until smooth. Add sour cream, cheddar cheese and garlic powder and mix.  Add green onions and dried cranberries and mix well.  Be sure to clean off the sides of the bowl as you go, so that everything is well combined.
Place the cheese ball mixture on a large piece of plastic wrap.  Pull the plastic wrap around it to form a nice ball. Put the cheese ball in the freezer for 45 minutes to one hour.  This makes it much easier to handle.
Place chopped pecans on a plate.  Roll cheese ball in chopped pecans.  Then either wrap it up with a new sheet of plastic wrap and refrigerate or serve immediately on a platter with crackers.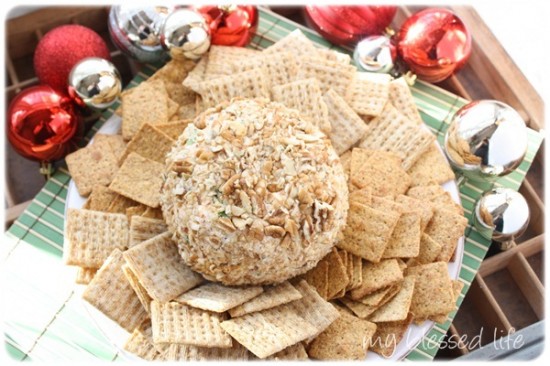 Yummo!
I love eating cheese ball with Pecan Nut Thins
since they are gluten free!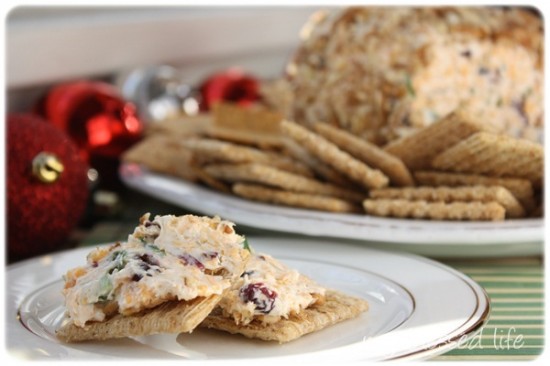 This holiday cheese ball was devoured at church. Everyone loved it, so I'm sure it will be a crowd pleaser for you too!  My favorite things about this cheese ball are the fabulous colors and the way that it blends sweet and savory flavors.
Do you make a cheese ball around the holidays?
I'm linking up to Tasty Tuesday, Women Living Well and I'm Lovin' It!
XO
*****
Don't miss out – diy projects, recipes, crafts and more, by checking out my subscribe page!