How To Make Icebox Pickles
I had the greatest childhood of growing up on a country farm with my cousins and grandparents on each side.  We had the best time. There were difficult times too when we didn't get along – especially that time when we were gone to the cattle sale with my granddaddy and Memaw smashed and buried our snake eggs. She hated snakes.
One of the things I remember doing with Memaw is making icebox pickles when there was an overabundance of cucumbers.  These pickles are so quick and easy to make!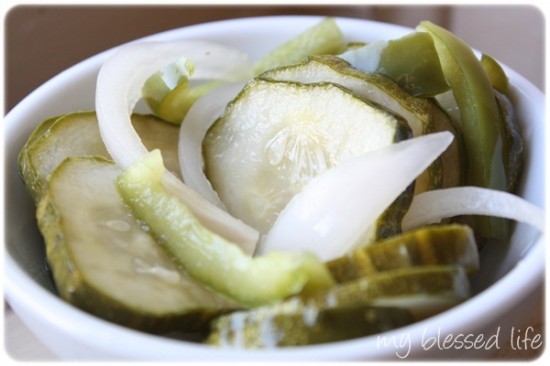 How To Make Icebox Pickles
6 cups sliced, unpeeled cucumbers
1 cup sliced red onion
1 cup sliced green bell pepper
1 Tablespoon celery seed
1 Tablespoon salt
2 cups white sugar
1 cup white vinegar
Combine all ingredients in a glass jar or crock.  Cover with water and refrigerate.  You can eat them immediately, but I will tell you that the pickles are much, much tastier if you let them sit in the refrigerator for a few weeks. They will keep up to 3 months in the fridge.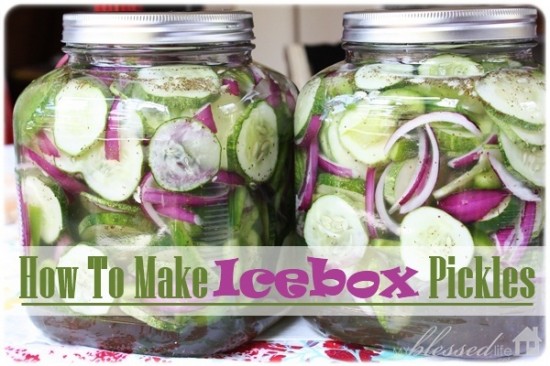 Day 1
Look how colorful they are!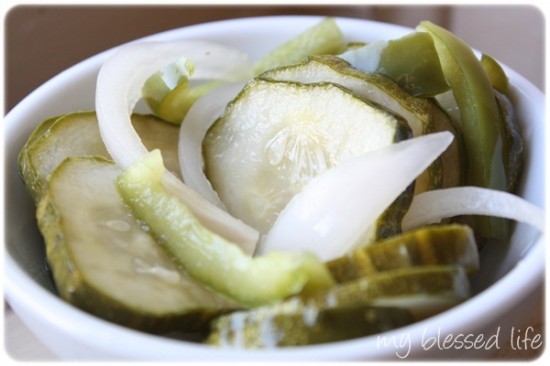 One Month Later
The brine has done it's job!
We love these pickles. They have a great summery, fresh flavor that is just delicious and completely different from store-bought pickles.  Plus there are no harmful preservatives in them! 🙂
Have you ever made homemade pickles?
I'm linking up to Tasty Tuesday, Works For Me Wednesday, Transformation Thursday and I'm Lovin' It!
XO
*****
Don't miss out – diy projects, recipes, crafts and more, by checking out my subscribe page!