10 Severe Weather Prep Tips
As y'all know, our state was devastated by tornadoes a couple of weeks ago. One thing I learned was how unprepared we were for living without electricity.  Wow. Talk about an eye-opening experience!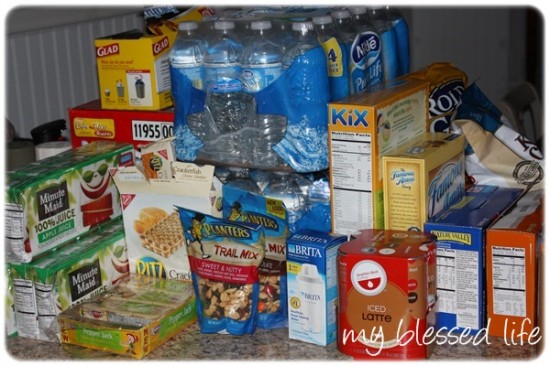 This was our food/snack/diaper stash during the power outage. All the important stuff, you know.
We are working on being much better prepared for whatever comes our way next.  I made an awesome discovery during all the bad storms when we had to take cover.
Laundry baskets rock!  Here are 10 Things To Load In Your Severe Weather Laundry Basket!
1. Weather Radio – make sure it's set to sound when warnings are issued.
2. AM/FM Radio with batteries – it was so helpful to have another news source other than the weather radio.  Batteries are a must! 🙂
3. Flashlight with batteries – no brainer.
4. Pillows and Blankets – being cozy is the best!
5. Snacks and Bottled Water – little tummy's will get hungry and thirsty.
6. Diapers and Wipes – of course!
7. Stuffed Animal or Blanket for Littles – anything to comfort and help your little ones feel safe.
8. Camera and Video Camera – am I the only one who would love to photograph or video a tornado?  as long as it's really far away?
9. Cords and Chargers – try to have everything fully charged in case the power goes out.
10. A plan of where to meet – it was terrifying to not be able to get in touch with my hubby after the storms.  we need to work out the exact place where we will meet if something happens.
What do you do to prepare for severe weather?? I would love to hear your tips!
Linked to:  Top Ten Tuesday, Things I Love Thursday