My mom asked me to bring a dessert for Sunday dinner, so I dug around in my recipe card file that I compiled back in high school.  And I found this — a recipe for apple crisp.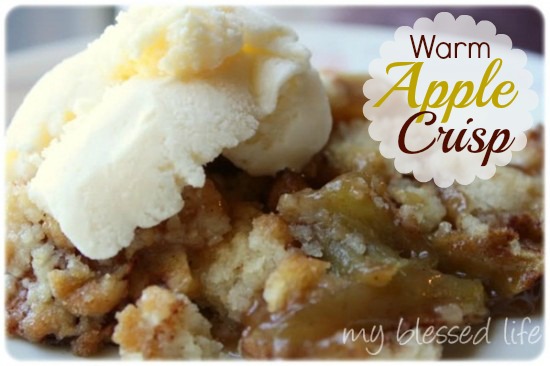 I truly couldn't believe how easy this recipe was to make! So fast, easy and according to everyone's "yum's", it was a hit! 🙂  I'm definitely going to be making this a few more times this Fall!
Warm Apple Crisp
4 cups sliced apples (I used Granny Smith's)
3/4 cup hot water
1/2 cup brown sugar
2 t. cinnamon
3/4 cup self-rising flour
1 stick butter
1/2 cup sugar
Place sliced apples into a greased 13×9 baking dish. Sprinkle with brown sugar and cinnamon. Pour hot water over mixture.  Stir flour and sugar together.  Cut in butter until mixture looks like cornmeal, sprinkle over apple mixture.  Bake at 400 degrees for 45 minutes or until top is brown.
Serve with a dollop of vanilla ice cream!
Enjoy the Fall flavor of apple crisp!
What is your favorite apple recipe for Fall? 
Linked to: