Cinnamon-Laced Sour Cream Pound Cake
This cake recipe is from my childhood 4-H days. It won a blue ribbon in a 4-H baking competition. My family has enjoyed this delicious Cinnamon Laced Sour Cream Pound Cake many times over the years, and I know that you will love it too!
Today, I pulled the very worn recipe card out of my file, mixed up the cake and it has  filling my house with a wonderfully delicious aroma.  (I needed a picture for this post and my hubby loves to take food to work, so it's a win-win! Ha!)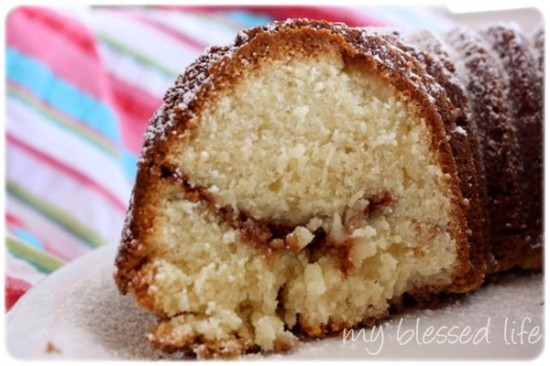 Cinnamon-Laced Sour Cream Pound Cake
1/2 cup chopped nuts (pecans or walnuts)
2 T. sugar
1 t. cinnamon
1 cup butter
2 cups sugar
2 eggs
2 cups sifted cake flour
1 t. baking powder
1/8 t. salt
1 t. vanilla
8 oz. sour cream
Combine nuts, 2 T. sugar and cinnamon in a small bowl, stir well and set aside.  (I like my nut mixture quite fine, so I use my food processor for this step.)
Cream butter. Gradually add 2 cups sugar, beating well at medium speed.  Add eggs one at a time, beating after each addition.  Combine flour, baking powder and salt;  add to creamed mixture, mixing just until blended.  Stir in vanilla.  Gently fold in sour cream.
Spoon half of batter into a greased and floured Bundt pan.  Sprinkle half of the nut mixture over batter.  Repeat layers.
Bake at 350 for 55-60 minutes or until a wooden toothpick comes out clean.  Cool in pan 10 minutes; remove from pan and cool completely on a wire rack.
Enjoy with a glass of milk!  🙂
Note: If you don't have cake flour on hand you can substitute 1 3/4 cups all-purpose flour and 1/4 cup cornstarch for 2 cups cake flour!
Linked to: Tasty Tuesday and Funky Junk Interiors