Hello, hello! I'm so excited to be a part of the Holiday Home Tour hosted by Chris at Just A Girl! I love getting a peek into how others decorate their homes for Christmas, don't you? A special welcome to you if you are visiting from Stacy's lovely place. I'm excited to show you how I've decorated our little home in the country. This is my absolute, hands down favorite time of year.
My style is eclectic, layered, cozy and what I like to call rustic glam. I don't know if that's an official style, but it's me. My dad says my decorating is like "I Spy" — You always see something different. Haha!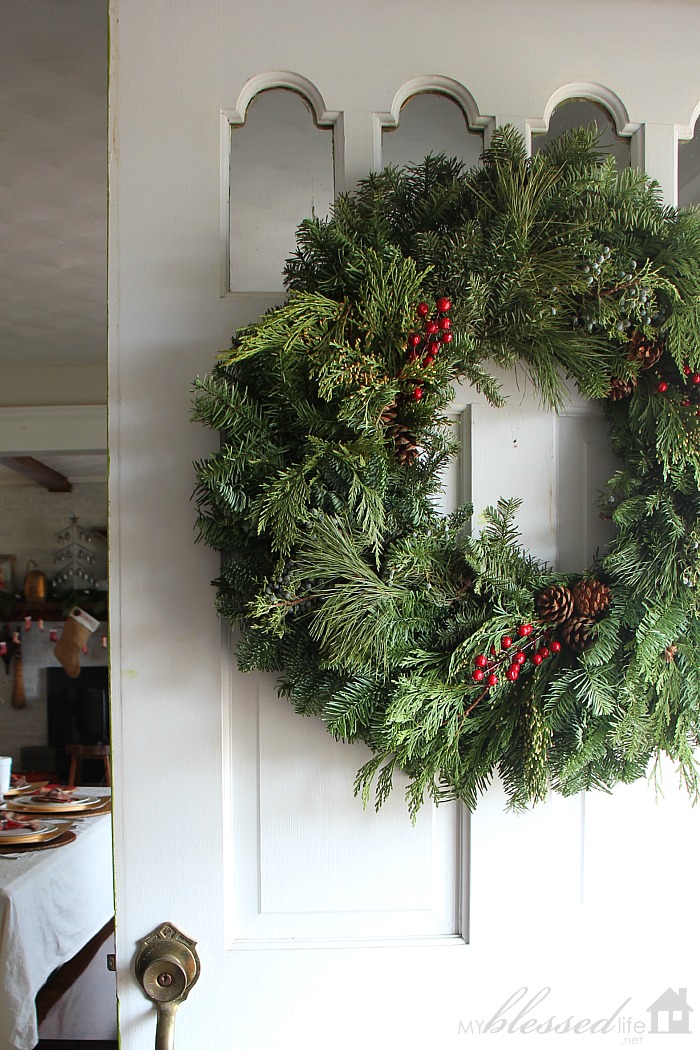 We are so blessed and grateful to be living in my Memaw and Granddaddy's house. It's a treasure. There are so many memories here. C'mon in and look around the living room, dining room, den, kitchen and bathroom. 🙂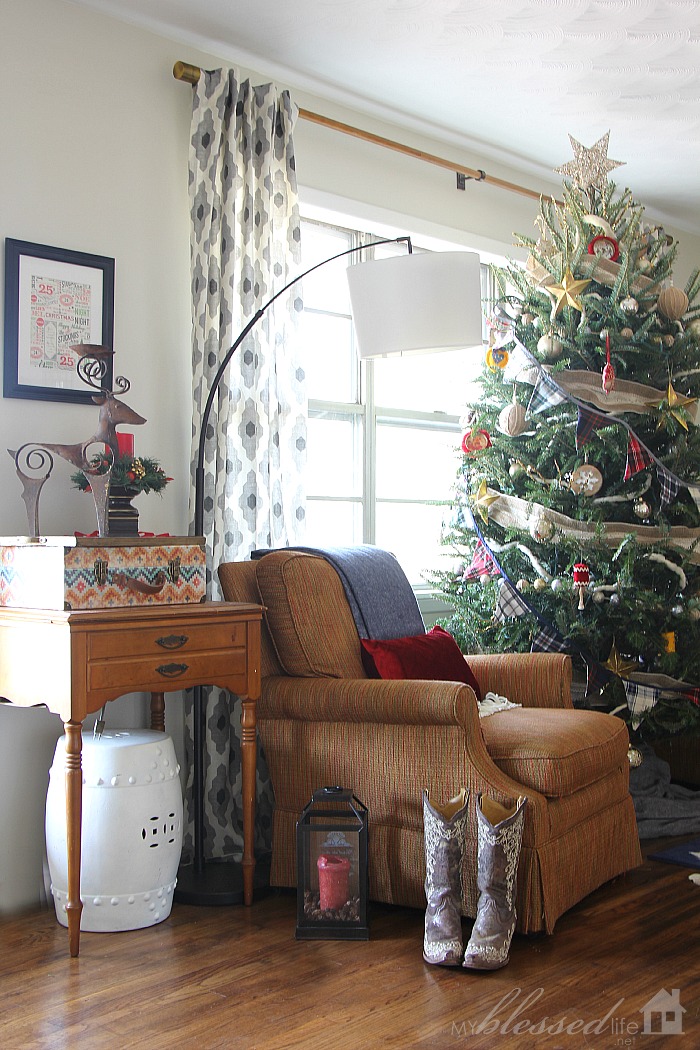 [pinit count="horizontal"]
The tree is my favorite. It includes a few handmade ornaments that always decorated Memaw's tree. I also decided to add the tartan plaid pennant banner that I made last year.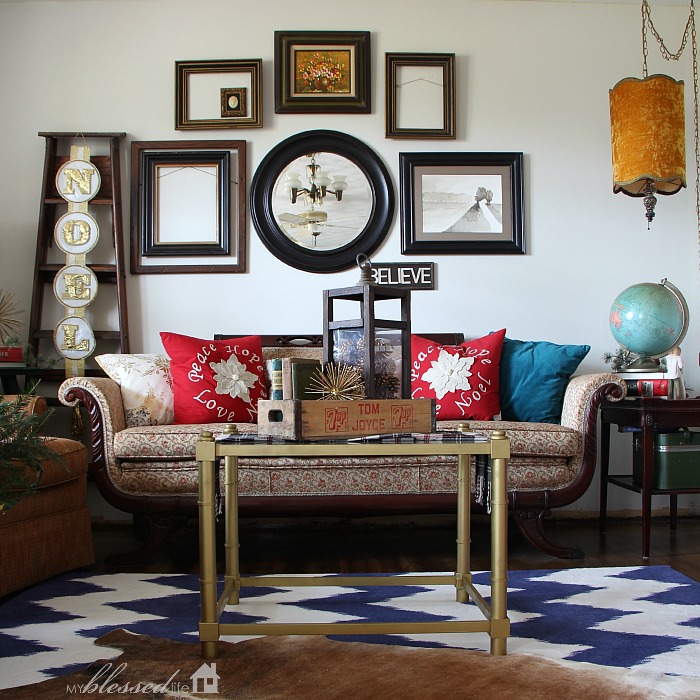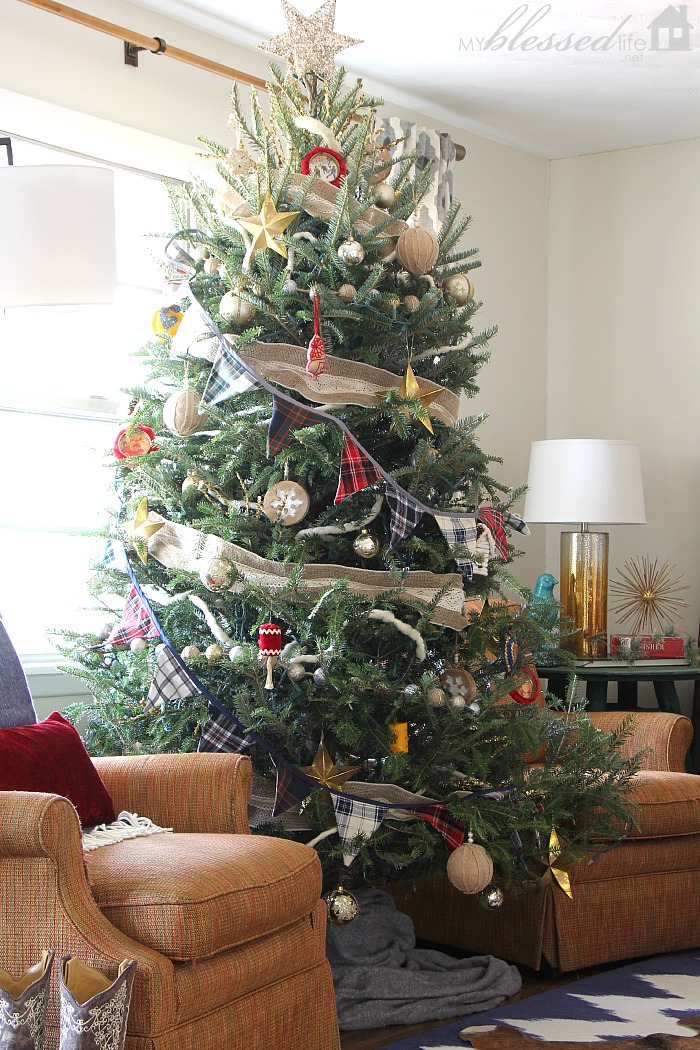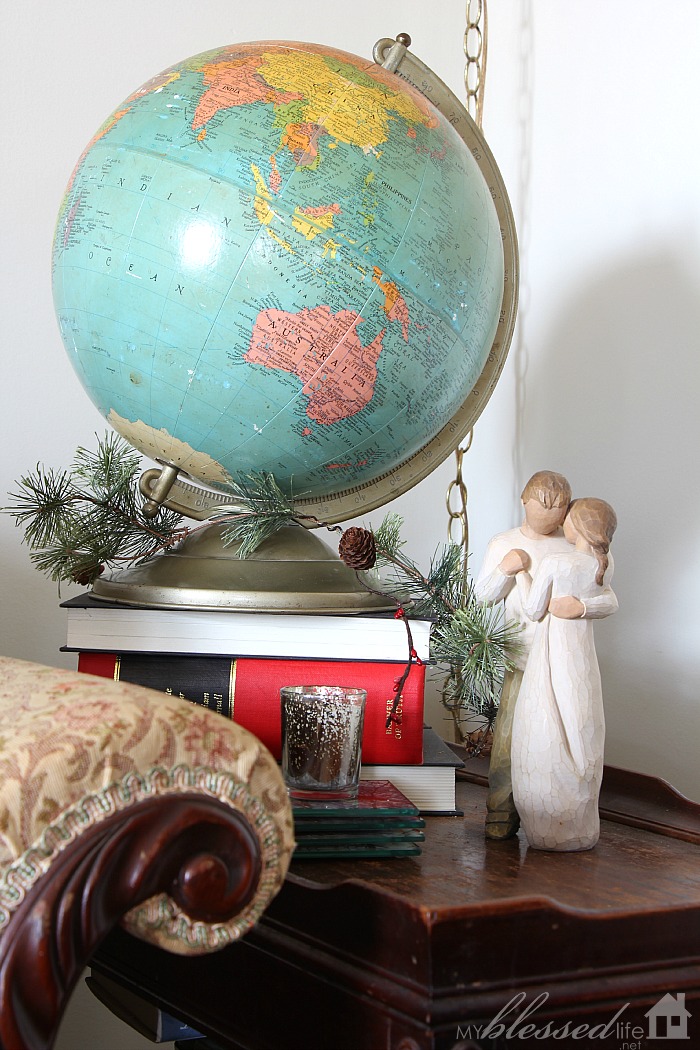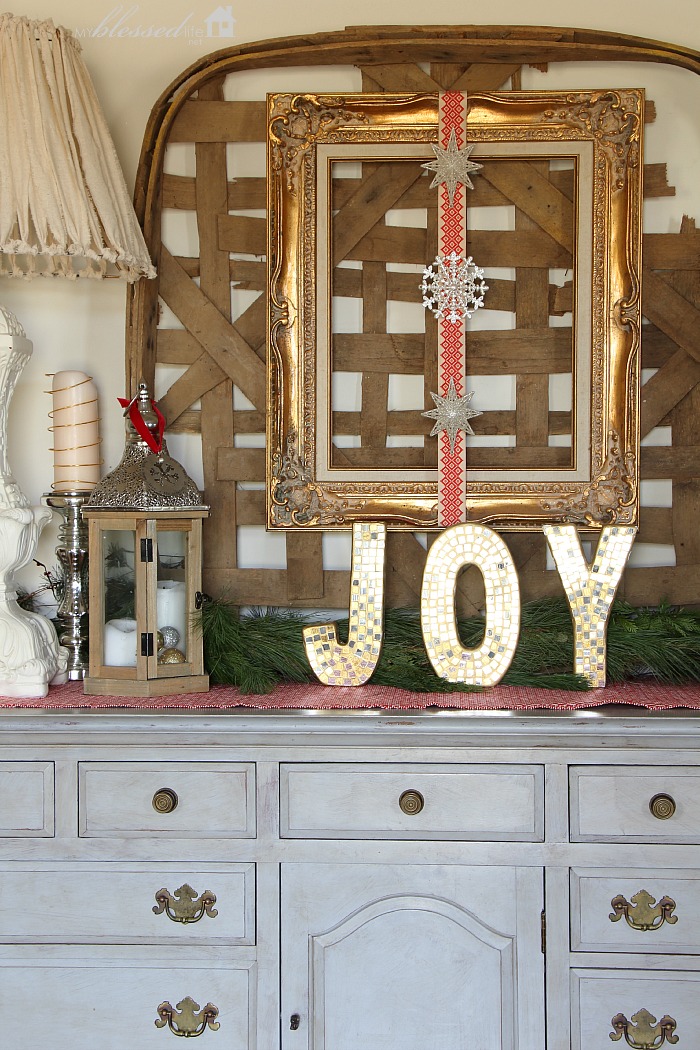 I bought live garland for the first time this year. It was the best decision ever according to my momma. 🙂 I agree.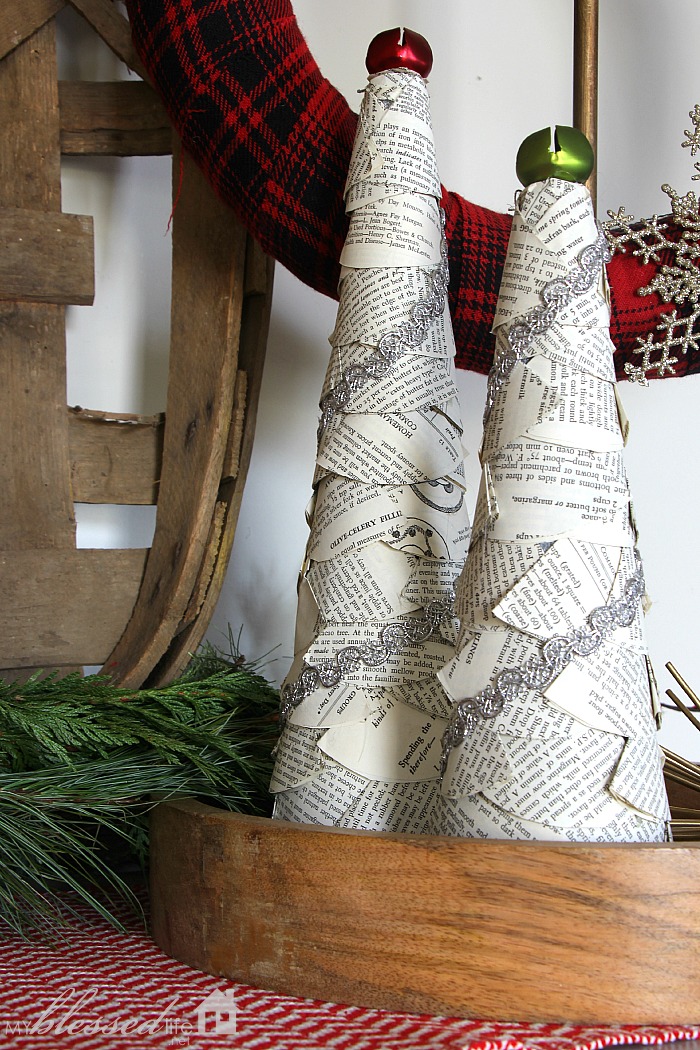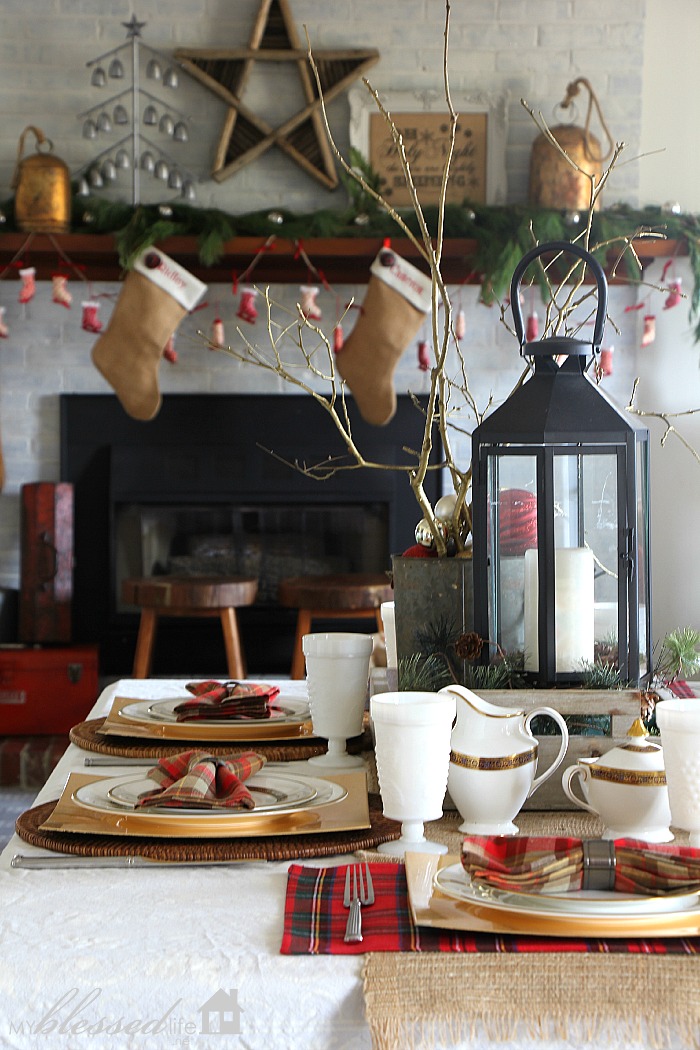 Mixing plaids is so much fun! My favorite things on the table are Memaw's milk glass glasses.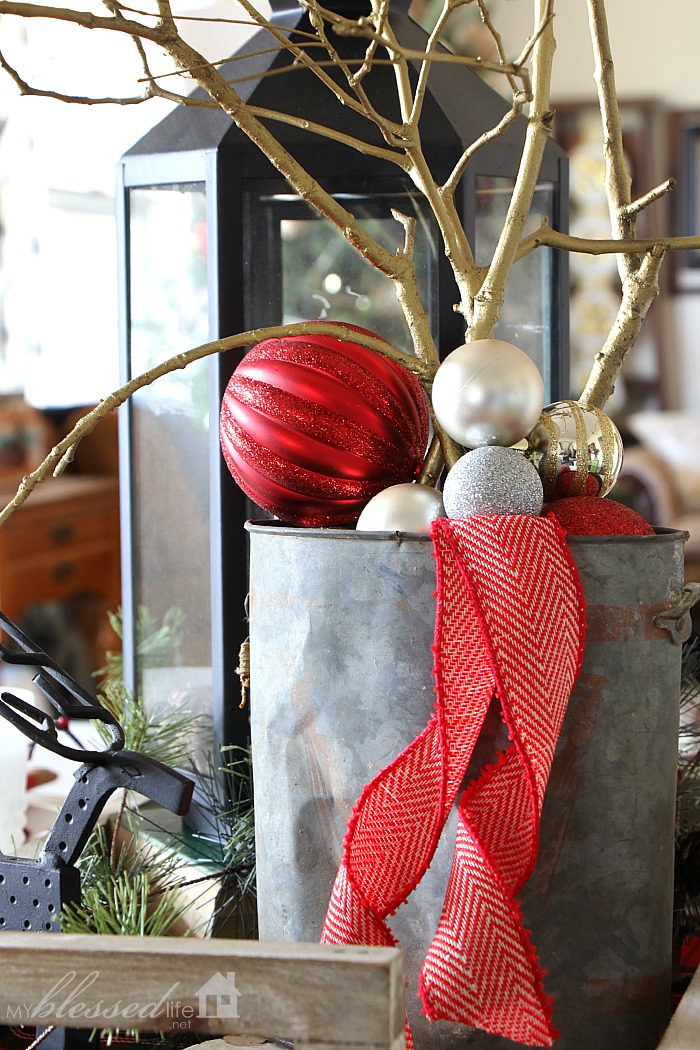 Galvanized minnow bucket + gold spray painted sticks + ornaments + fun ribbon = perfection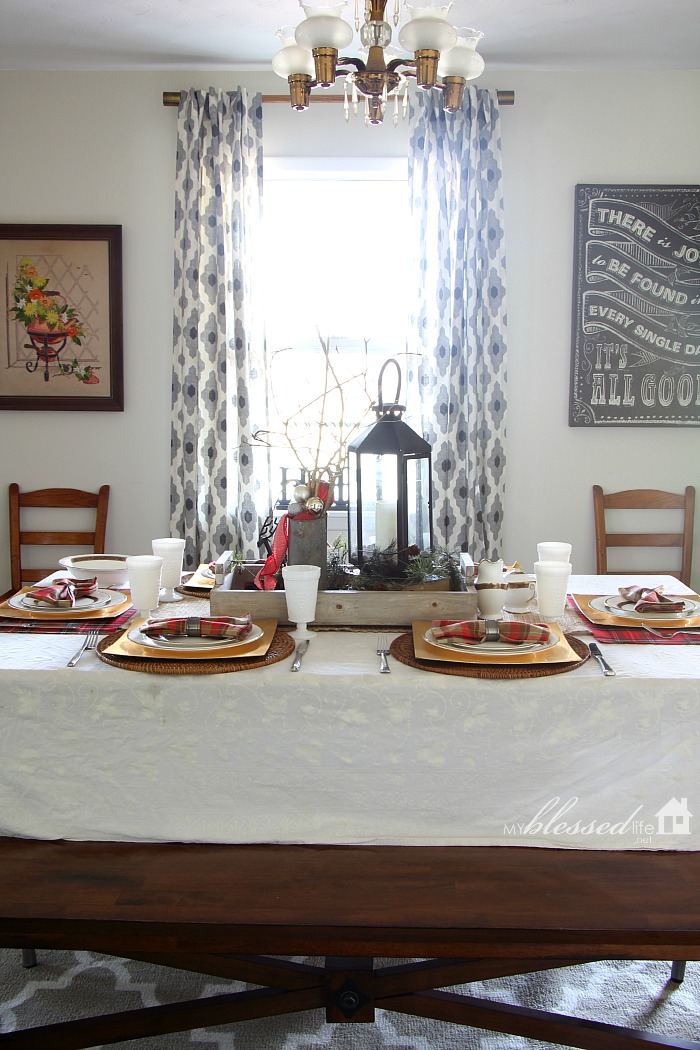 We actually got curtains hung last week. I feel like such a legit adult now. Haha! Now we just need blinds. What can I say? It's a benefit of living in the boonies?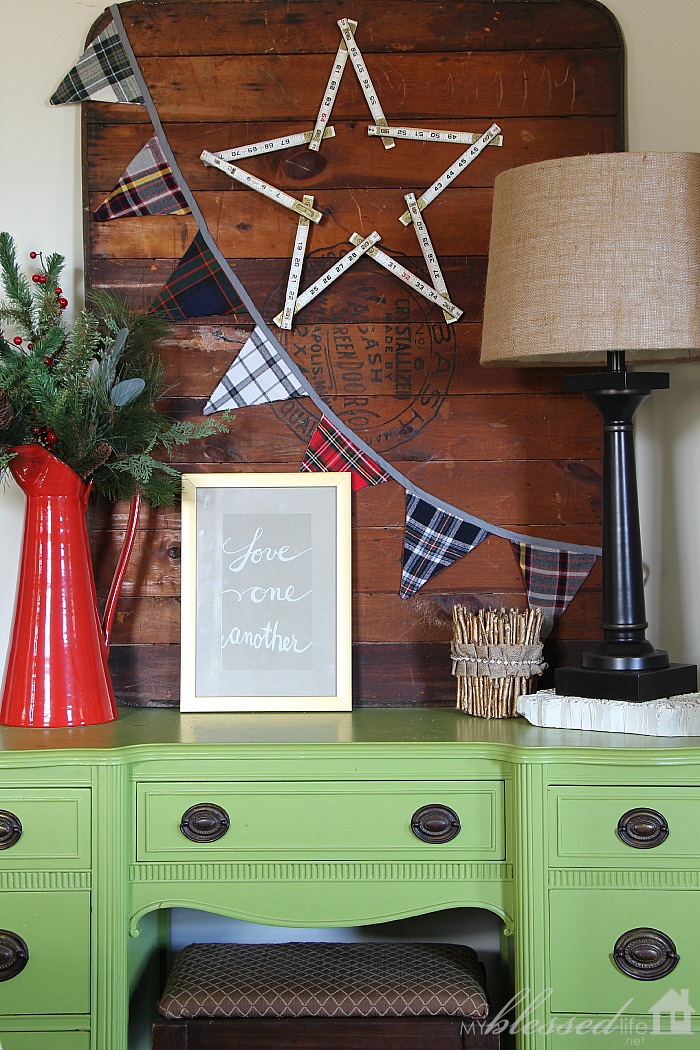 This year I was drawn to decorating with stars for some reason. They are cheerful and full of light…makes me happy!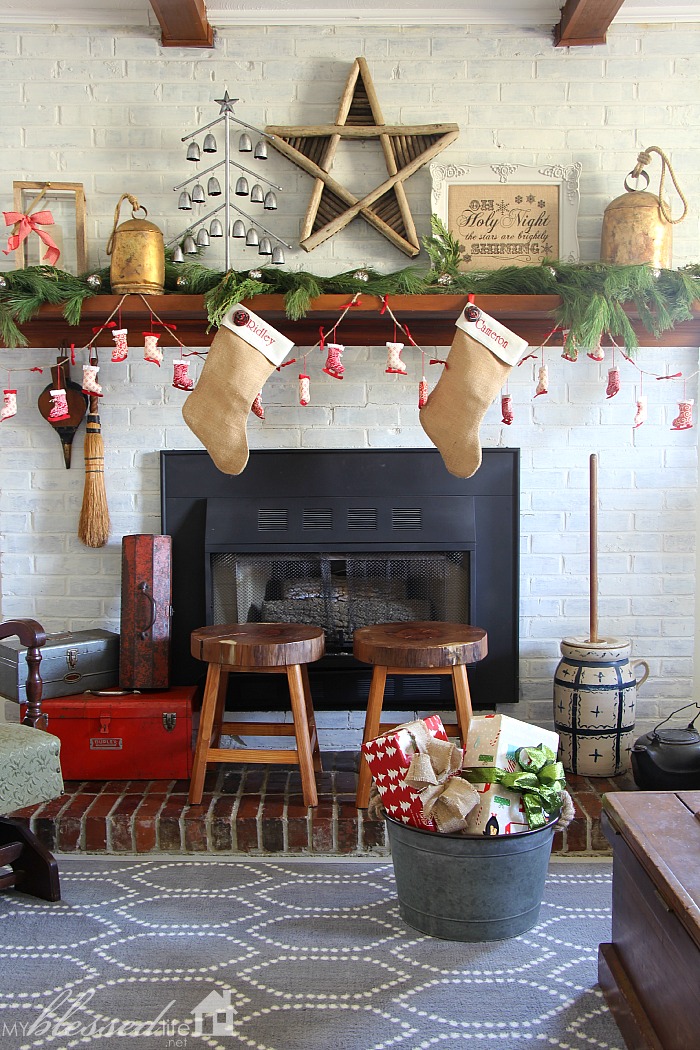 More live garland. The best!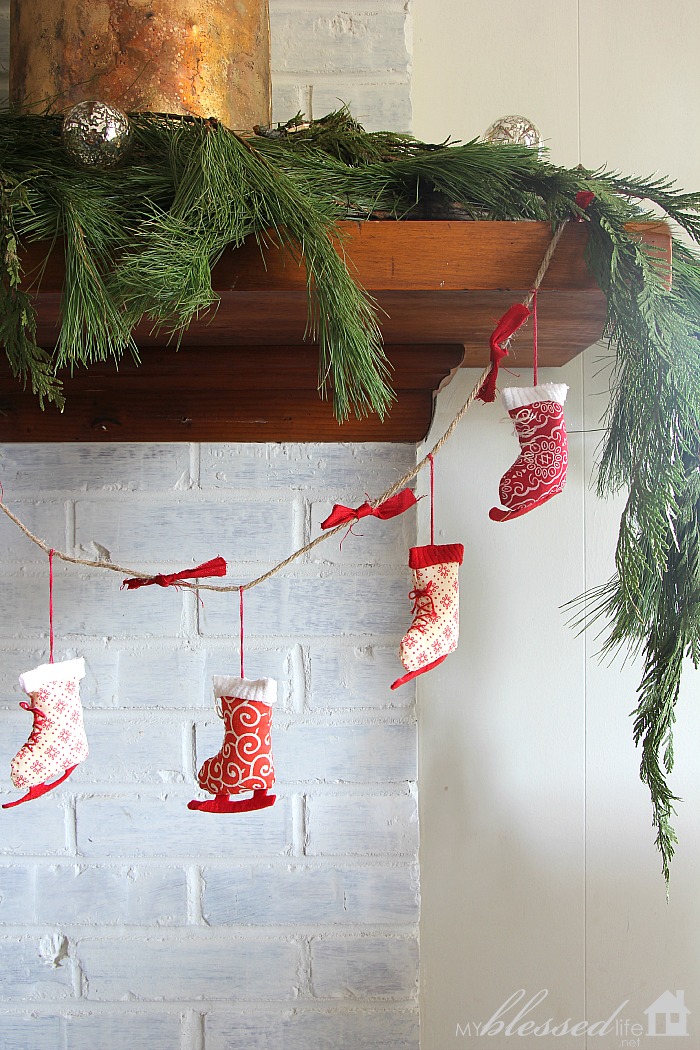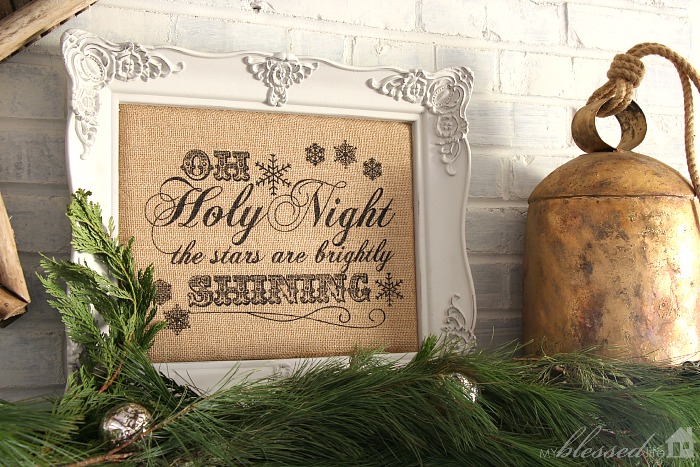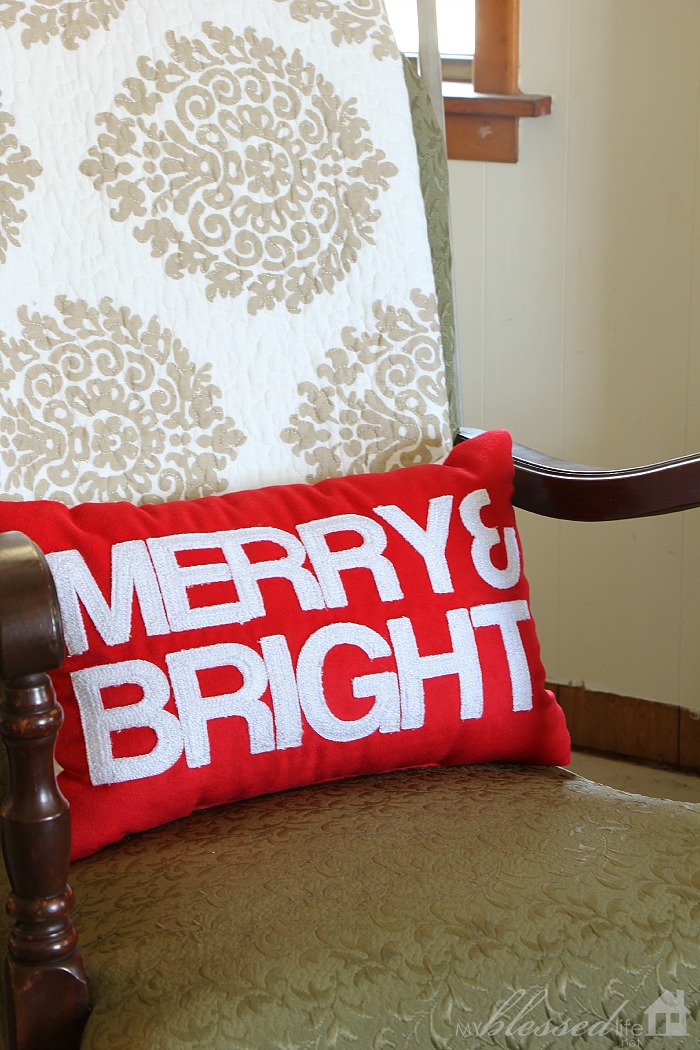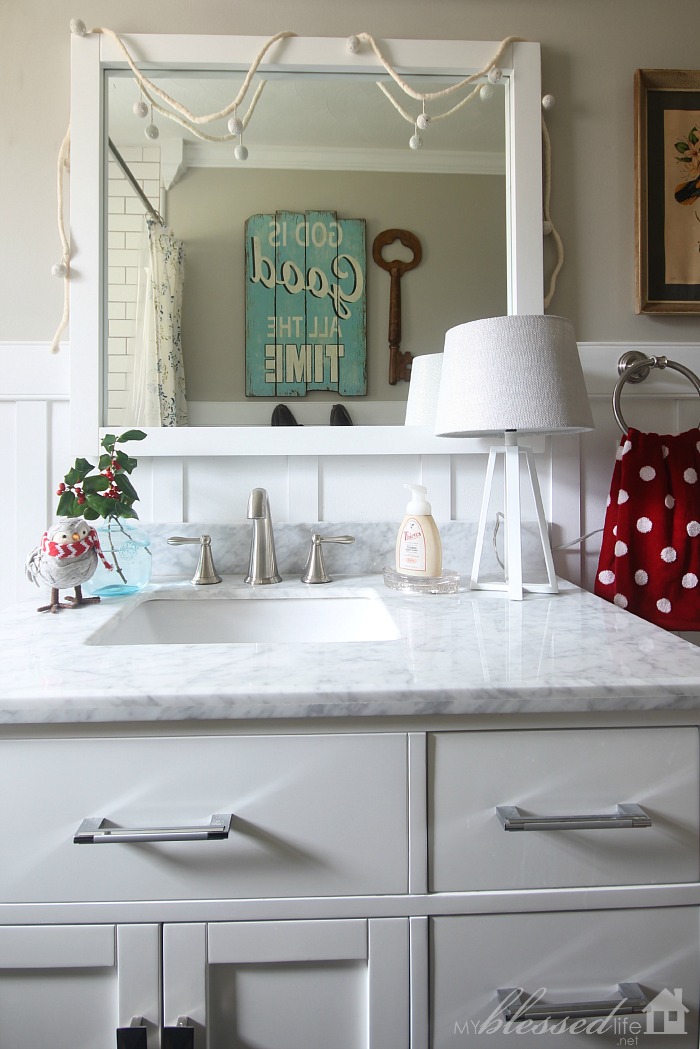 I added a few pops of Christmas in the front bathroom that we completely gutted almost a year ago. It's such a bright and happy space. And it has the most awesome floor.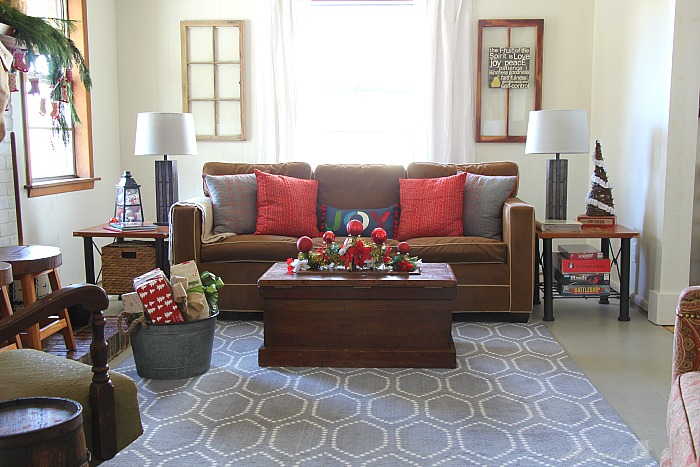 The den.
This is what you call "kid friendly" decor.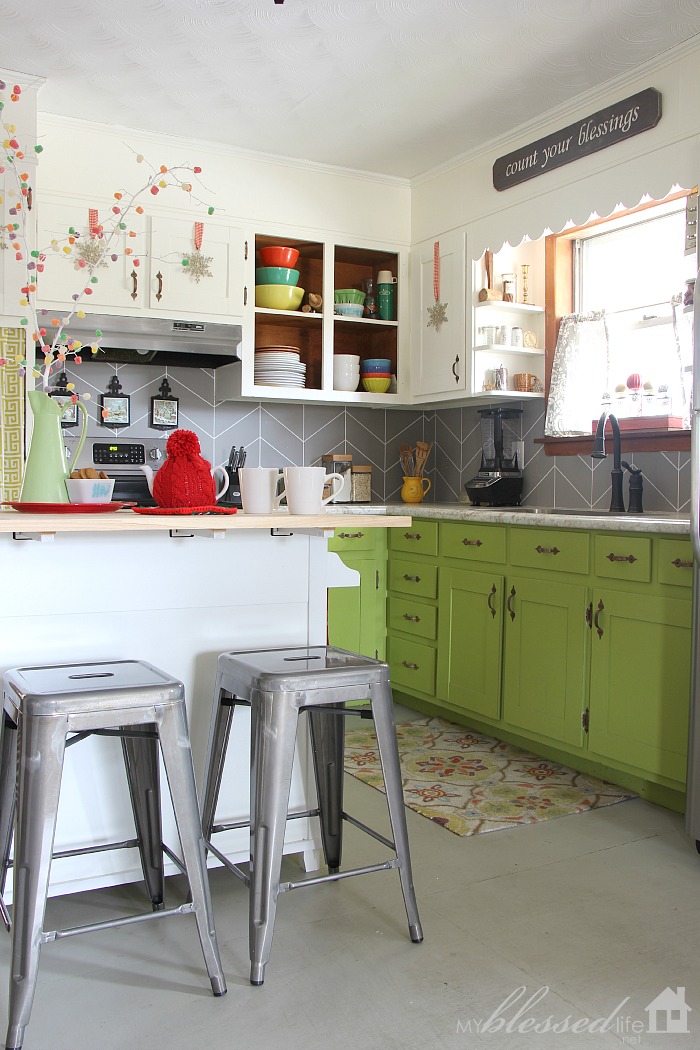 We recently completed the backsplash makeover. It's all done with paint.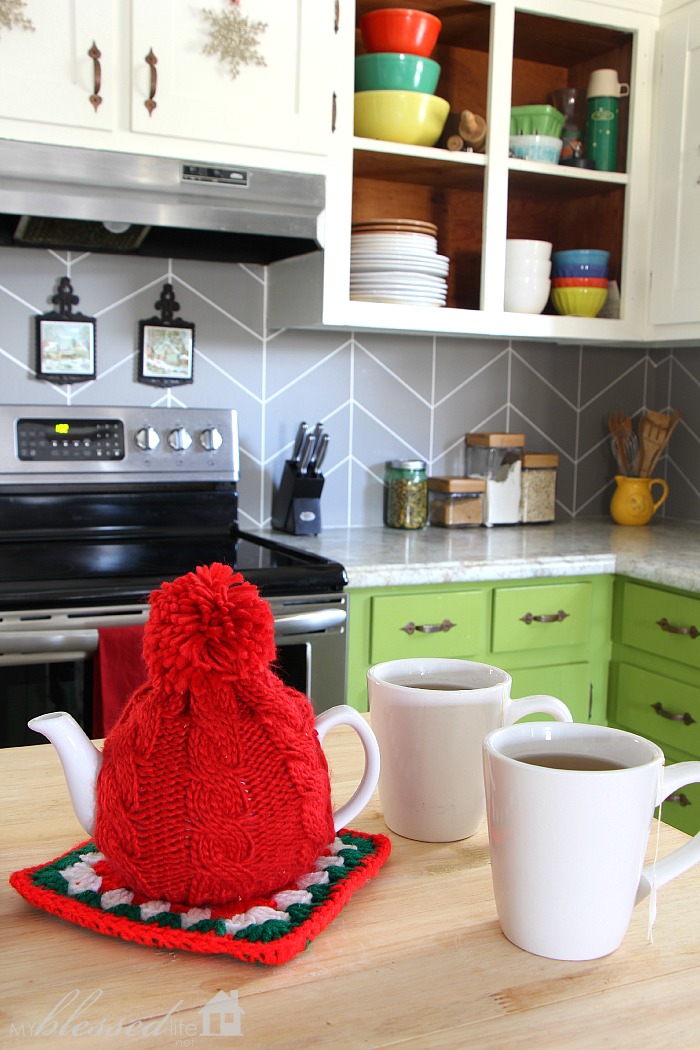 I saw this teapot at Pier 1 a few weeks ago when I was out shopping with my mom. I couldn't get it out of my mind, so I went back and got the very last one they had. I love it!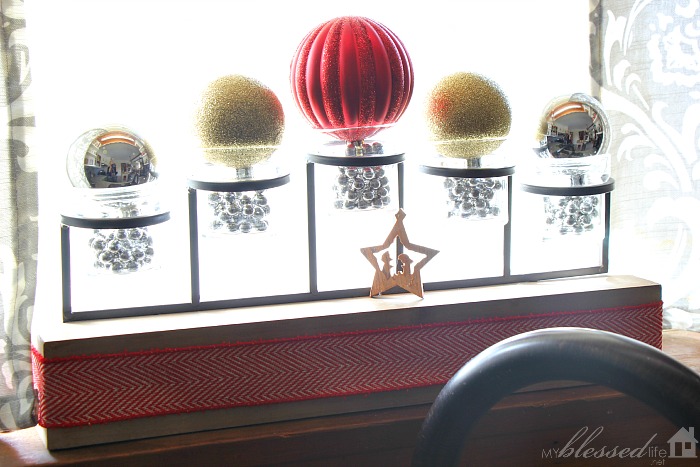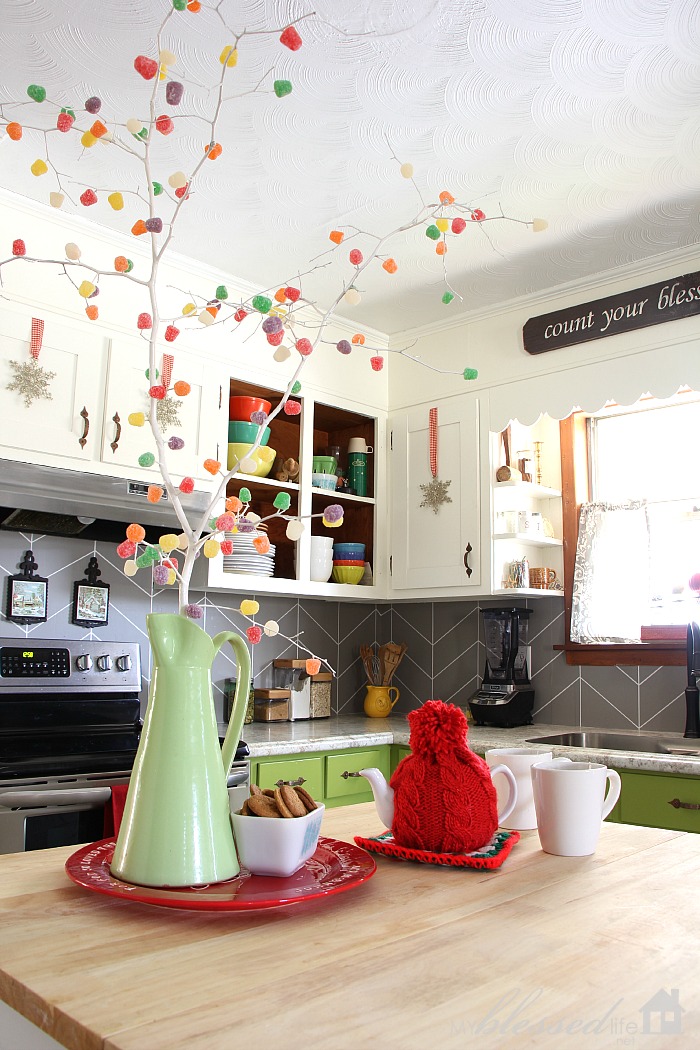 Memaw always had a gum drop tree. She spray painted a branch for many years, so I revived that tradition this year. This is probably the world's most epic gum drop tree. Haha!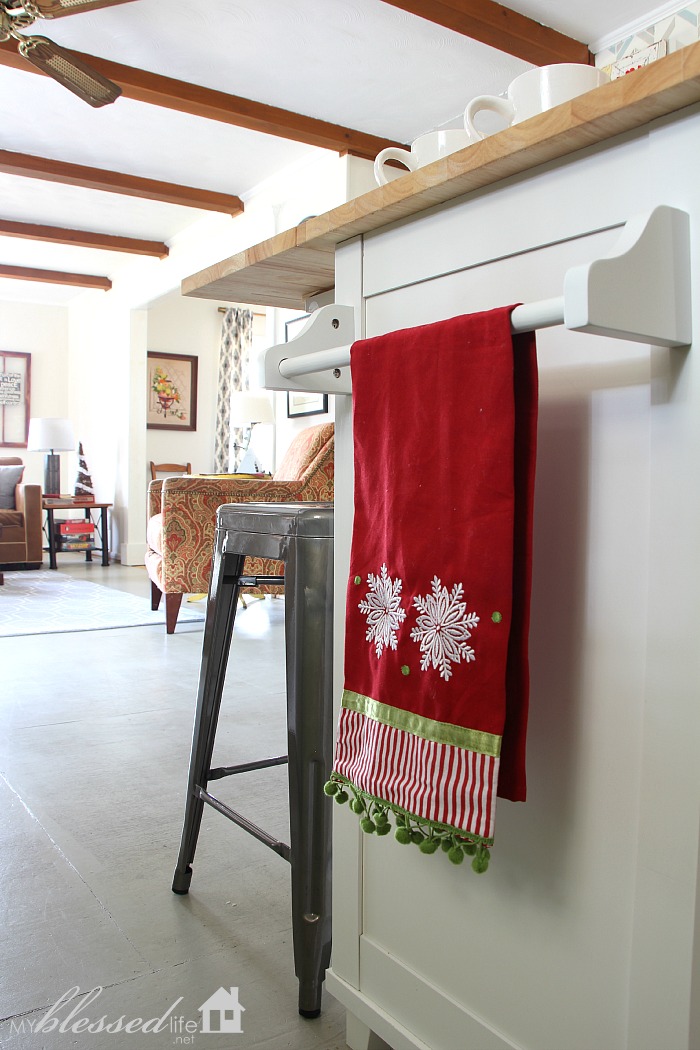 We very recently added this kitchen island. It's a "make do" until we can build an island to include a dishwasher. Oh my word, that will be a happy day.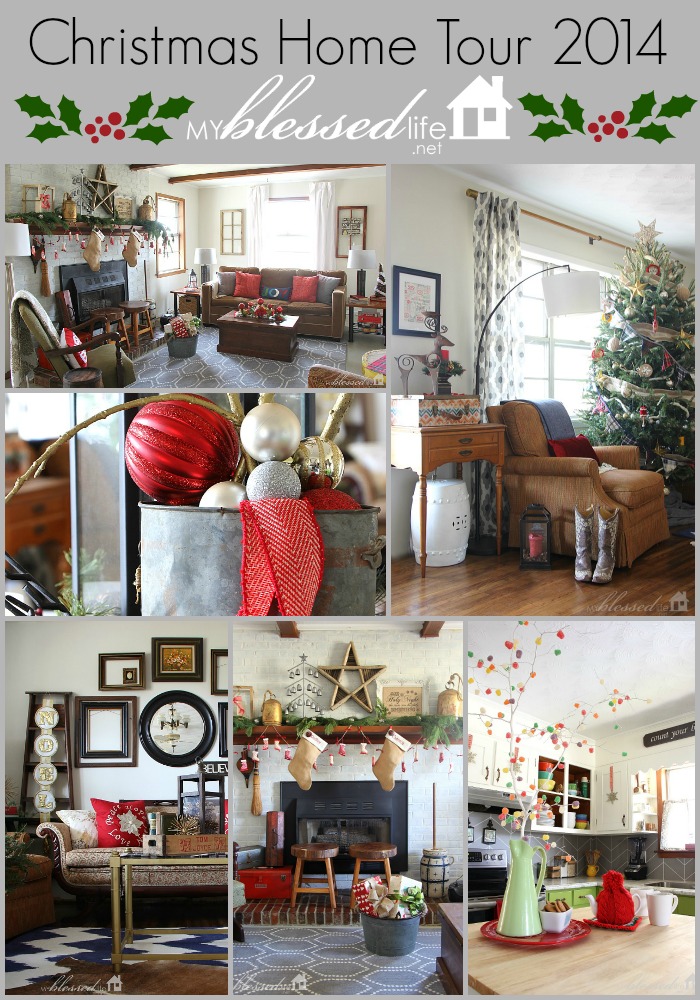 [pinit count="horizontal"]
Thanks so much for stopping by for a look! Your next stop on the Holiday Home Tour is Erin's beautiful home.  To see ALL the homes on tour this year, click here!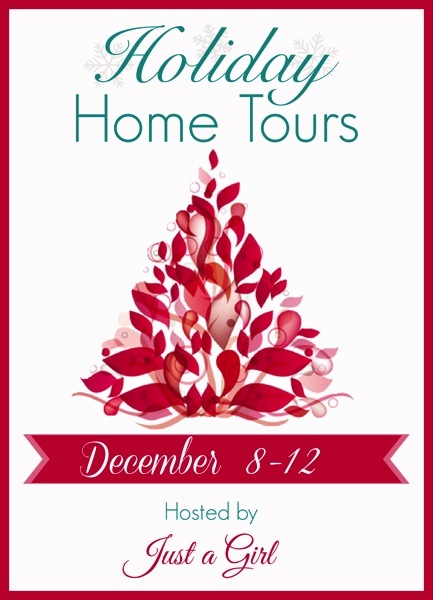 Happy touring!
xoxo
Myra
Sharing at Tidy Mom's party!