Easy Summer Vinaigrette {with essential oils}
I'm really thrilled to share my delicious Summer Vinaigrette recipe with you today! It is a little tangy, a little sweet, a little mustardy and absolutely *perfect* for  drizzling over a mixed greens salad.  Everyone who has test-tasted this vinaigrette loves it! Yum! So let me tell you how to make it…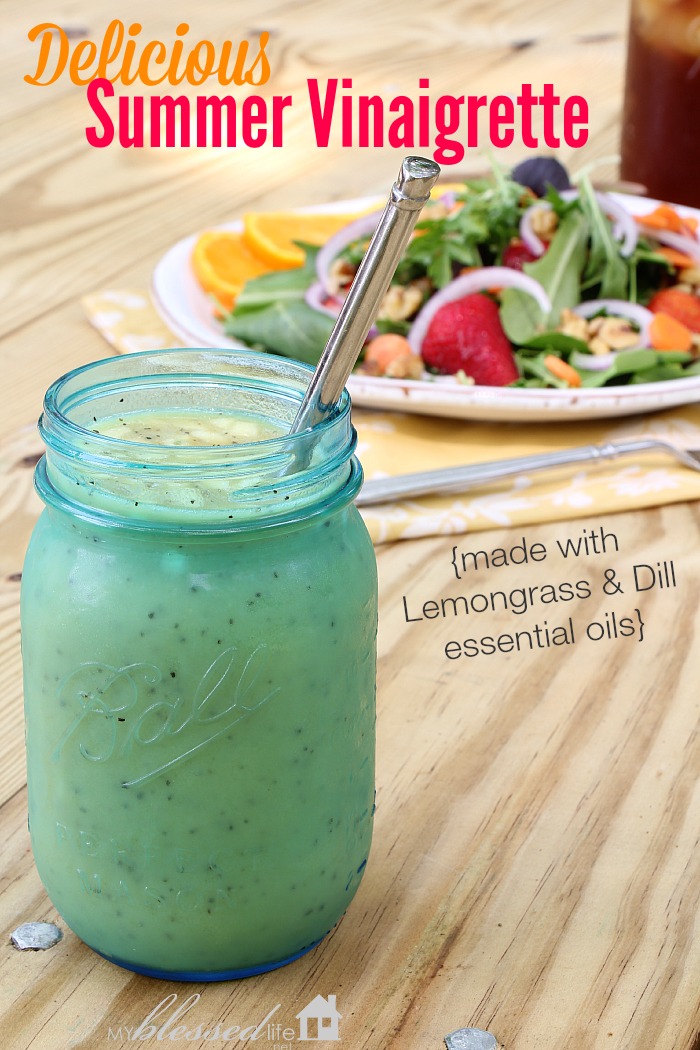 [pinit count="horizontal"]
Easy Summer Vinaigrette
1/3 cup extra virgin olive oil
3/4 cup Bragg's organic apple cider vinegar
2 cloves garlic, minced
1/3 cup honey mustard
1/4 cup honey
2 teaspoons dijon mustard
1/2 teaspoon salt with maybe a sprinkle or two more to taste
1 teaspoon black pepper
3 drops Young Living Lemongrass Vitality essential oil
4 drops Young Living Dill Vitality essential oil
Mix all ingredients in a quart sized jar and shake well. Refrigerate for several hours or overnight.
Enjoy!
Makes one pint dressing.
Click here to print this recipe if you are reading in a reader or an email.
Do you make your own dressings? I also have a yummy recipe for Homemade Ranch Dressing that you many enjoy!
Cooking with essential oils is just one small way that we use our essential oils every single day.
Are you ready to jump in to this wonderful world of caring for your family with therapeutic grade essential oils? The time is now! Click here to learn more now!
You must also check out the delicious recipe over at The Home Life And Me for Caprese Salad with Lemon-Basil Vinaigrette!
xoxo
Myra