Beautiful Spring Mantel 2014
Good morning, lovely people!! I'm so excited to share my bright and happy Spring Mantel with you today. I've been needing to do a little "creating", so putting the mantel decor together was the perfect outlet.
The weather here in north Alabama has been so beautiful with highs near 70 degrees the past few days. Having the windows open with spring breezes blowing through the house is so good for my soul. This year's Spring Mantel decor is simple and unpretentious…just the way I like it!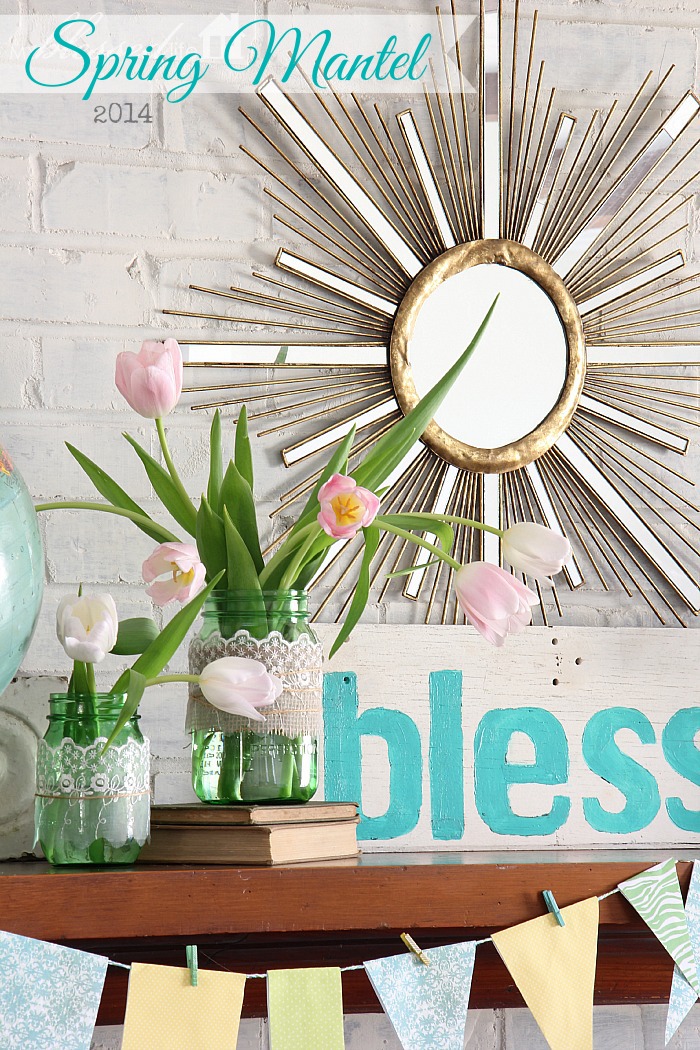 [pinit count="horizontal"]
SO pretty, right? I love all the different textures and happy colors!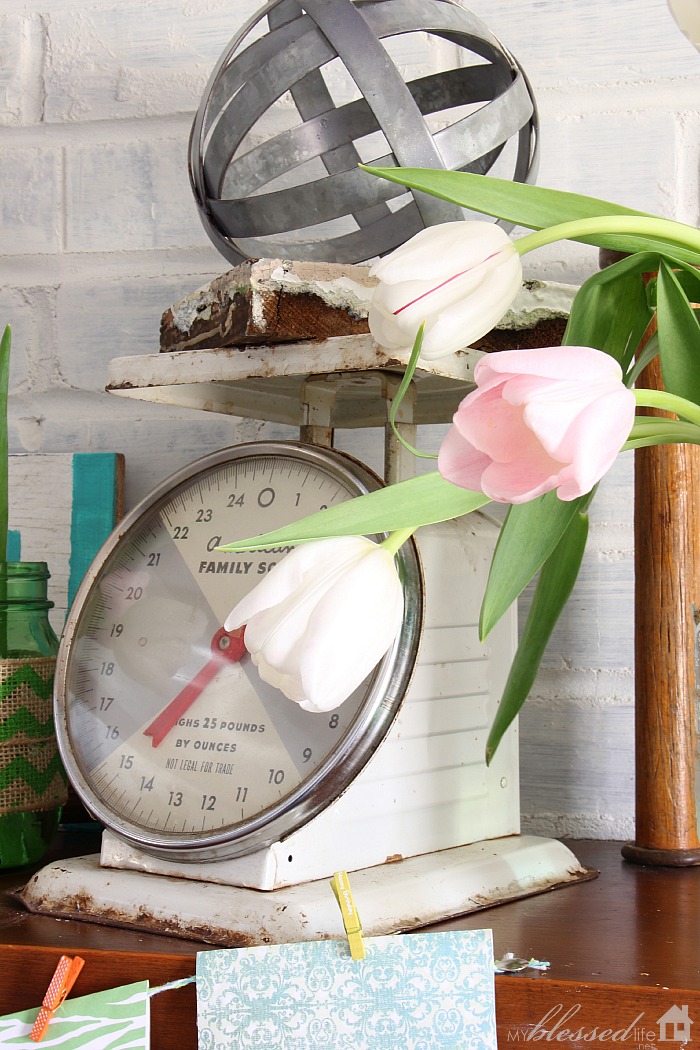 I used my vintage scale, wooden spools and pretty tulips. If you haven't guessed it by now, tulips are my favorite flower ever.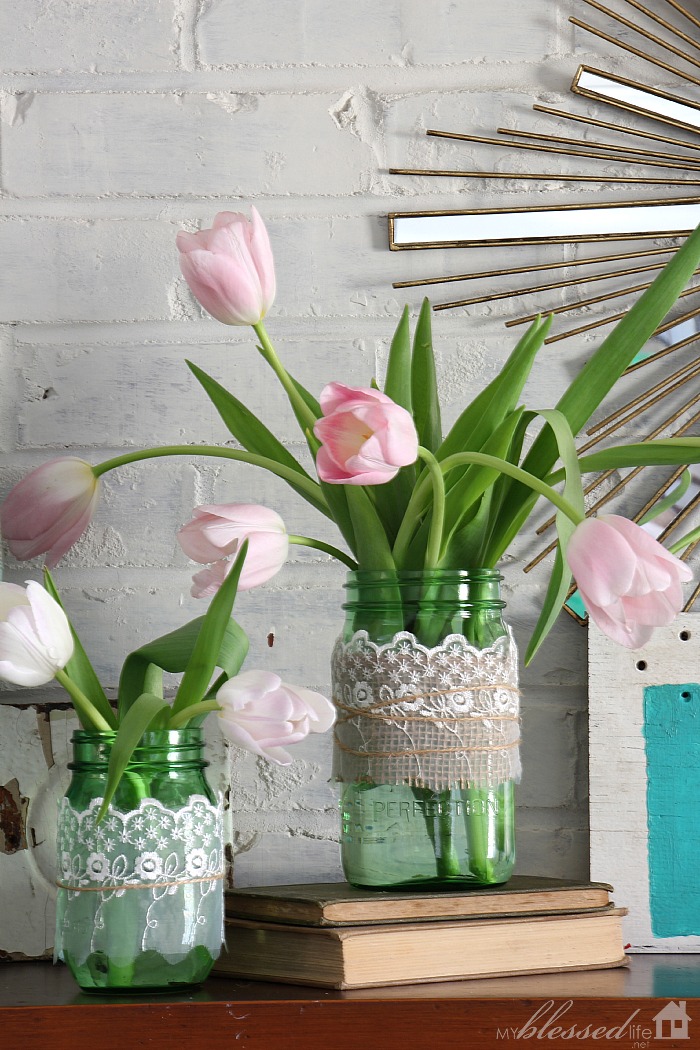 I adore these vintage green Ball jars. They are a limited edition of Ball Heritage Collection Spring Green Jars. You can get them in either regular mouth pint or wide mouth quart. I just wrapped them with burlap, lace and twine and I think they are just lovely.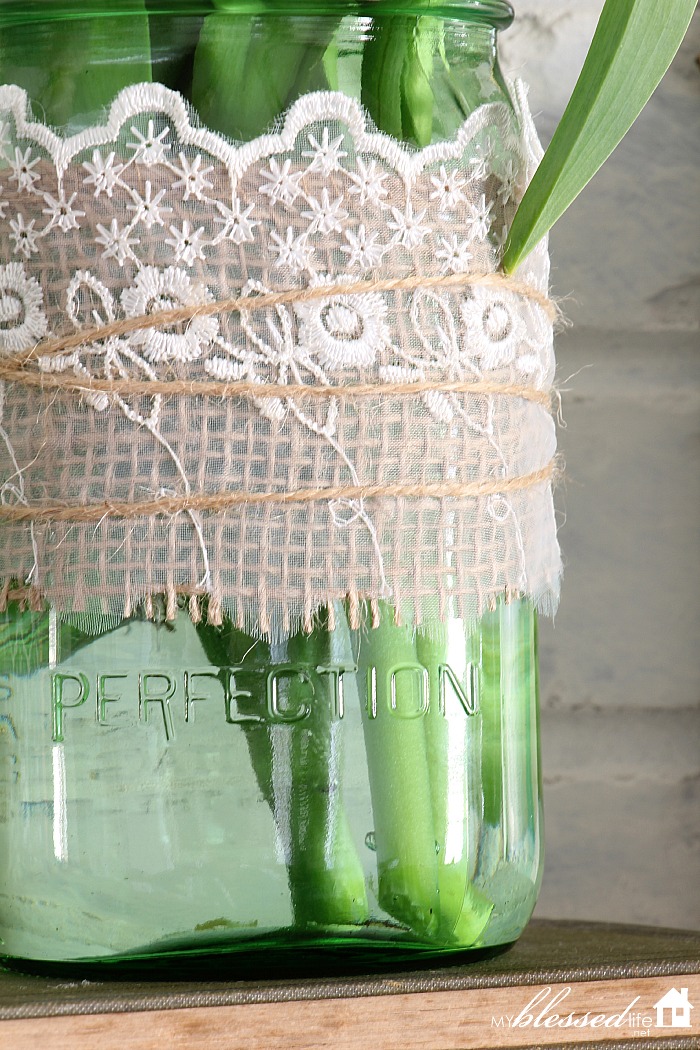 Perfection, indeed. 😉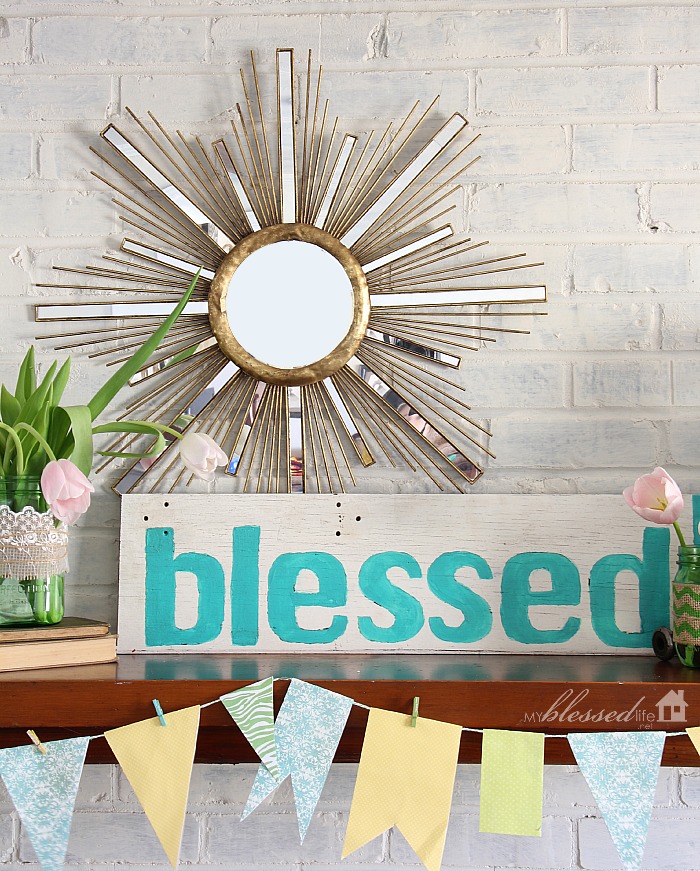 The "blessed" sign came from one of my favorite places – Southern Accents Architectural Antiques. It's made from salvaged wood…and the word is pretty perfect. 🙂  The folded paper banner is from last year's Spring Mantel. It is SO quick and easy to make…and for less than $5.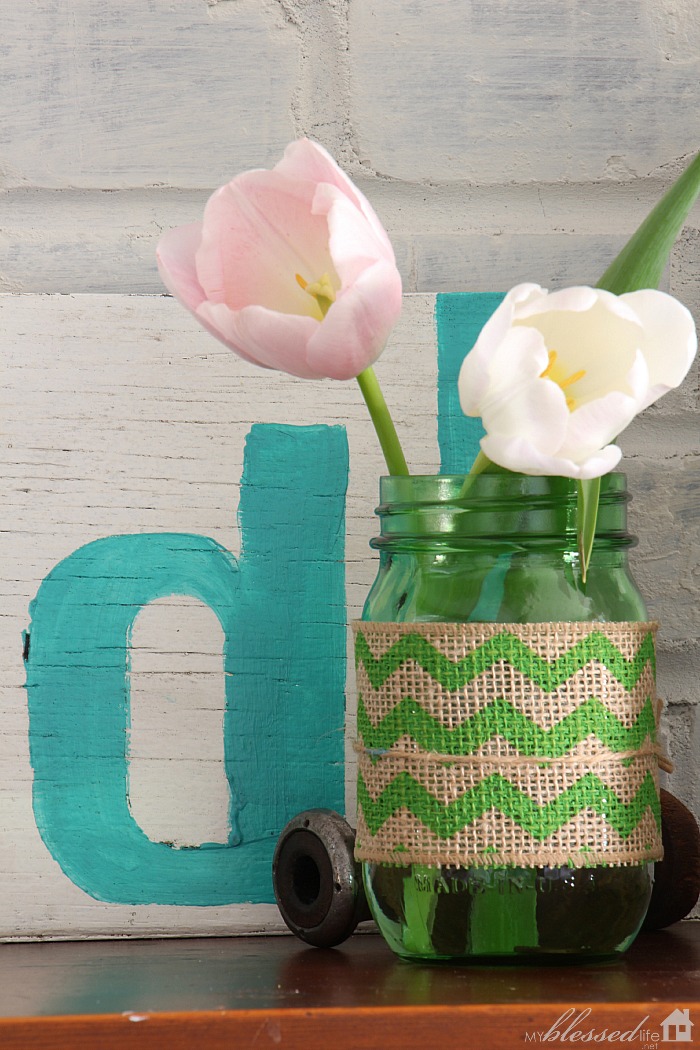 Yes, I still love chevron. I know people say it's going "out", but a little here and there makes me smile.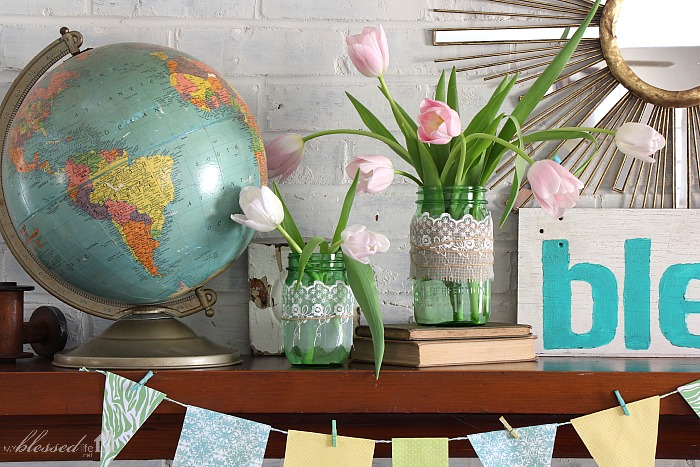 I think this is such a fabulous combination of layers and textures.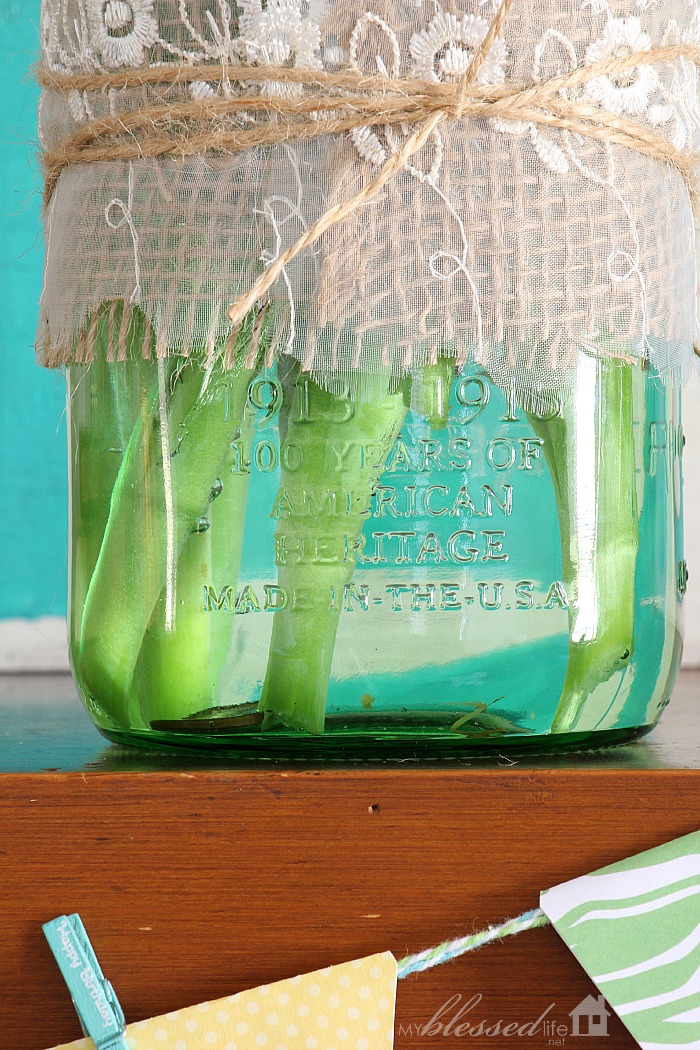 On the back of the Ball jars, the date is embossed along with 100 Years of American Heritage and Made In USA. 🙂 Why do lace and burlap just look so awesome together?!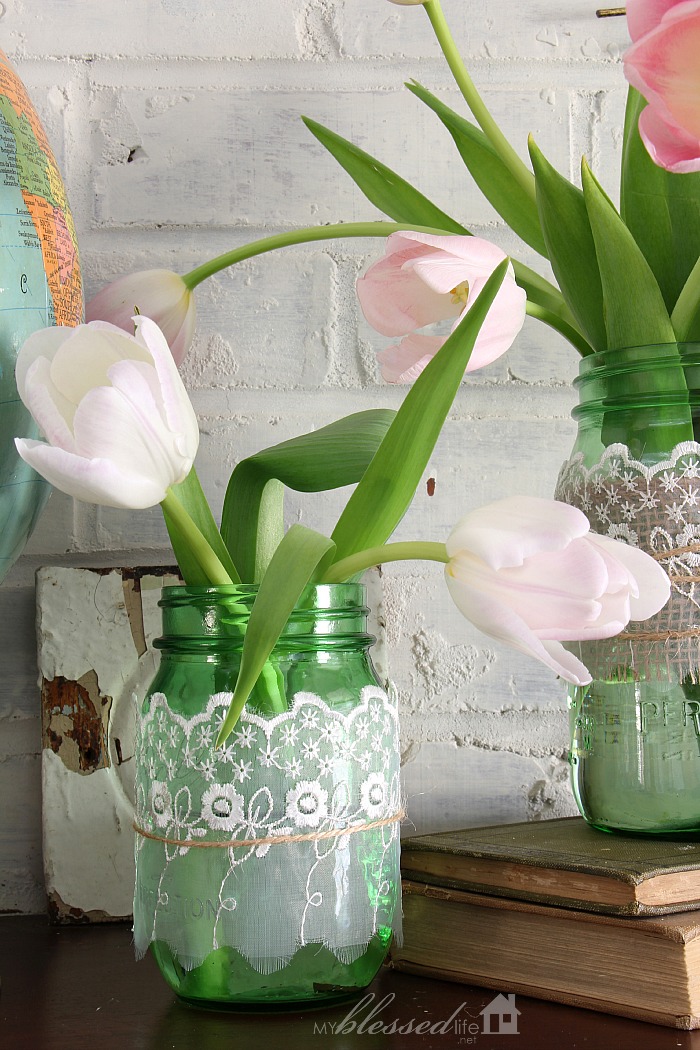 I haven't ever mixed different colors of tulips before, but I really like the pink and white together.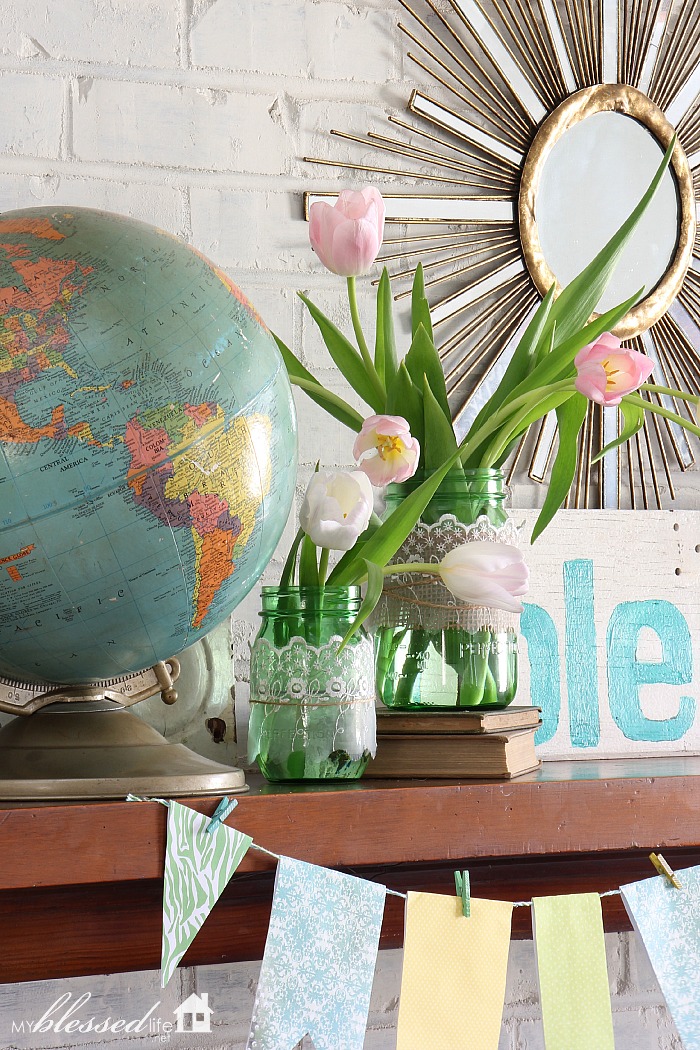 Seriously. I love this.
The globe is quirky. The flowers in jars are romantic.  The sign is rustic.  The starburst mirror adds a little bit of glam.
Love. Love. Love.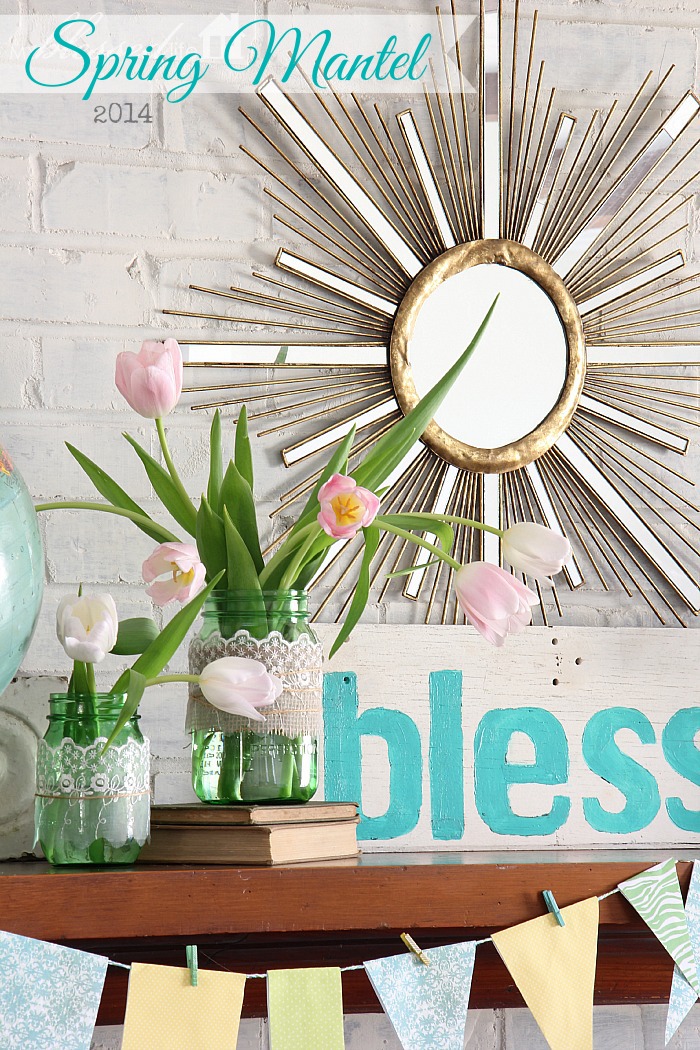 [pinit count="horizontal"]
That's my Spring Mantel for this year! 🙂 I hope you're inspired to freshen up things at your house for Spring.
Put fresh flowers in jars.
Buy some new vintage-esque green Ball jars. Etc.
The possibilities are endless!!
Are you DYING for Spring like I am?
xoxo
Myra
Sharing at TidyMom!