Quick & Easy Painting Tips | From Glidden
Hey y'all!  I hope you've had a great week! Mine was ridiculously busy, as usual. 🙂 I've been painting my little heart out as we renovate my Memaw's house. Between removing wallpaper the easy way, priming paneling, painting coat after coat of paint and priming kitchen cabinets with oil based paint, I always have paint on my clothes and hands.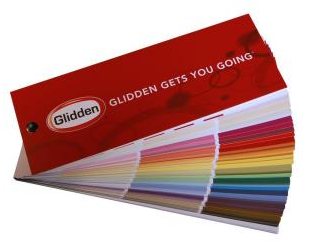 I know it can be kind of crazy choosing the right paint color and knowing how to get started, but sometimes you just need a few easy tips and tricks. I've told you about MyColortopia before and how you can take inspiration from a photo and translate it to paint colors. I've also told you about the color quiz and how you can virtually paint a space from a photo. So cool!
Glidden recently launched their "Show Me How" video series staring my friend Lindsay from Makley Home. I love Lindsay and actually she was one of my roommates at the Haven conference in August. She's such a fun person to hang out with!
Anyway, Lindsay is a painting pro, so I thought y'all would enjoy some of these quick & helpful painting tips too!
How To Prep Your Walls for Painting
How To Paint Trim
If you have any painting to do like me, be sure to check out the "Show Me How" videos!
Happy FRIDAY!! Whoop for the weekend!
xoxo
Myra
This post is sponsored by Glidden®, but I would have just shared this quick and easy information with you anyway, because I love painting and making life easier! As you know all opinions are always my own. Because everyone knows I have plenty to share!  *wink