Happy Friday!! I'm having a really hard time putting my thoughts into words. I just finished reading my sweet friend Edie's e-book 31 Days To A Heart Of Hospitality. Y'all. It was the easiest-to-read, most heart and life changing book/e-book that I've read in a long time.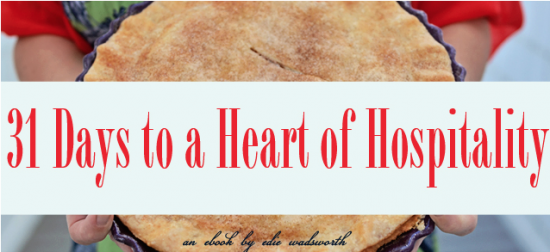 Edie has inspired me for years as I've read her blog. She loves beautiful things, has incredible style, loves literature, home schools her girls and she makes me feel like I'm just sitting in her living room chatting as I read. Her open, honest and spiritual lifestyle pulls me in.
So, ahem. Hospitality. Does that word make you cringe? Do you immediately think of all the things that you need to do to feel comfortable welcoming someone into your house? Seriously. Just the thought makes me want to break out in hives. But. That is changing.
I grew up in a home bursting with hospitality. Rarely a month went by that my family didn't host family, friends or a visiting minister. My mom was an incredible hostess and she instilled a willing, hospitable spirit in my siblings and me. Something happened to my heart after I had Ridley. I suddenly didn't feel on top of my housework and I was terrified that if someone stopped by they would see my mess. At the same time, I felt guilty for not being hospitable. What a crazy cycle!
31 Days To A Heart of Hospitality met me right where I was in that crazy cycle and spoke truth to me in ways that will take me a while to process.
Here are a few of my favorite quotes from the e-book:
We may look finished and even polished on the outside but we're all a mess. If you look close at the bricks and at our marred hearts, there are burn marks that time won't wash away.But the scars remind us to pray. They remind us that we are vulnerable and needy and poor and that we must hold tight to the one who burns us with His love but doesn't consume us.

Hospitality, at its core, is you, pouring out your life for others.

Hospitality is not about inviting people into our perfect homes, but inviting them into our imperfect hearts.
Yes. Yes. Yes. and… Yes.
Besides speaking to the heart issues, Edie also put together the most wonderful tips including stocking a pantry, making a guest bedroom special, setting a beautiful table and feeding people well. She also included several delicious recipes.
I adore her baking center!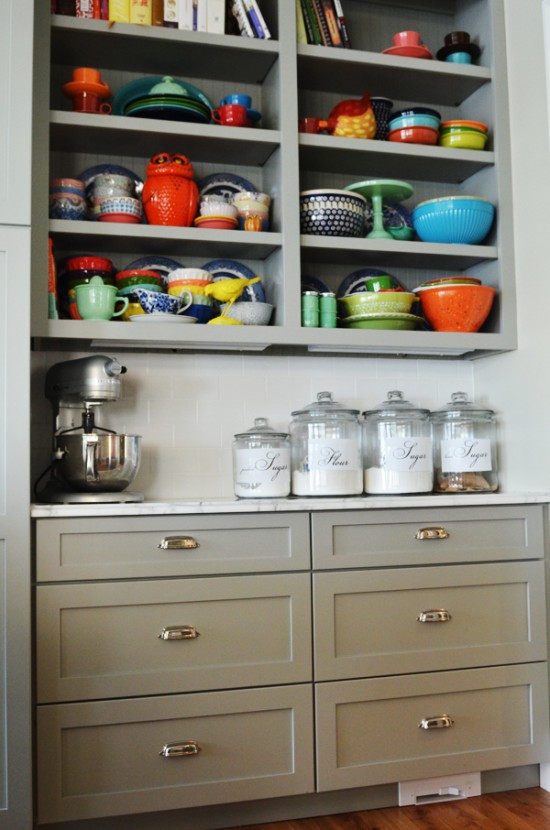 You can purchase a copy of 31 Days To A Heart of Hospitality here for just $5.00. You totally won't regret it!
I am honored to have four copies of Edie's 31 Days To A Heart Of Hospitality to give away to you!
To Enter:
Leave a comment on this post telling me you would like to win. {easy peasy!}
Have a marvelous weekend, dear friends!
xoxo
Myra