Salted Caramel Pumpkin Muffins
Good morning, lovely people!  I'm really excited to share this delicious pumpkin muffin recipe that I created over the weekend. Tis the season for all things pumpkin, so this not-too-sweet pumpkin muffin is perfection with the extra sweet pizzaz of the salted caramel. Drool!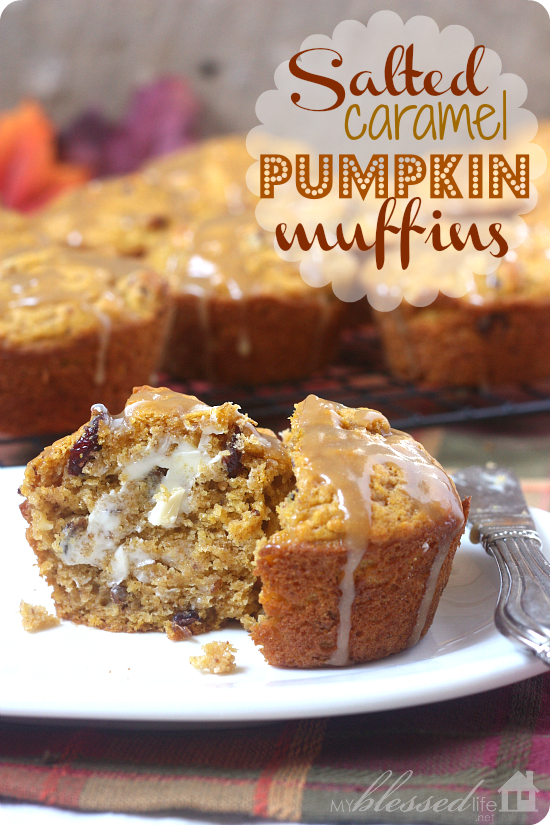 Of course, these muffins are also wonderfully delicious without the salted caramel glaze as well. 🙂
Salted Caramel Pumpkin Muffins
2 cups all-purpose flour
1/2 teaspoon salt
1 tablespoon baking powder
1/2 cup raw sugar
2 t. ground cinnamon
1/4 teaspoon ground ginger
1/2 teaspoon ground nutmeg
1/2 cup chopped pecans
1/2 cup dried cranberries
2 eggs, beaten
1/2 cup milk
1 1/2 teaspoons vanilla
1/2 cup butter, melted and cooled
1 cup pumpkin puree
Preheat oven to 400 degrees.  Combine all dry ingredients including nuts and cranberries.  Add eggs, milk, vanilla, butter and pumpkin. Stir just until moistened. Fill greased muffin tins 2/3 full. Bake for 15-20 minutes until browned and center springs back when touched.
Makes 18-20 muffins.
Salted Caramel Glaze:
4 Tablespoons butter
3 Tablespoons brown sugar
3 Tablespoons white or raw sugar
1/8 teaspoon salt
1 teaspoon vanilla
2 Tablespoons milk
1-2 Tablespoons confectioner's sugar, sifted
Heat butter, sugars, salt, vanilla and milk over medium heat, stirring constantly. When mixture reaches a boil, boil for one minute, stirring constantly. Remove from heat and continue stirring. Add one tablespoon confectioner's sugar to thicken. Use more if it needs to thicken up a bit. *Note: If you don't have a whisk, then you should sift the confectioner's sugar first to avoid lumps. I just dump the sugar in and beat out lumps with my whisk. 

 Spoon the glaze over semi-cooled muffins.
Have you made a delicious pumpkin recipe lately? I would love to hear!!
Sharing at: Chic & Crafty, I'm Lovin' It, Weekend Wrap Up Party and The Better Mom!
Come join #DairyBreakfastClub recipe party at TidyMom along with The California Milk Advisory Board and RealCaliforniaMilk.com
XO
*****
Don't miss out
– diy projects, recipes, crafts and more, by checking out
my subscribe page
!