Good morning, friends! I hope you had a lovely weekend! I'm excited to show you my side table makeover. I hadn't picked up a paintbrush in far too long, so this project was incredibly therapeutic for me to say the least!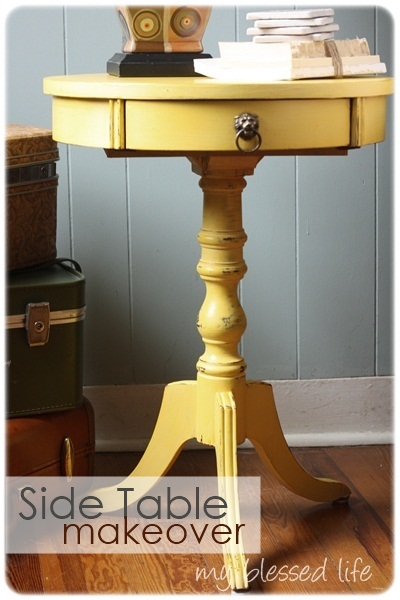 I've been wanting to try chalk paint out for a while, so when a sponsor, Doozie's Corner, contacted me about trying out CeCe Caldwell's chalk clay paint, I jumped at the opportunity! A friend gave me this side table and it's been sitting in our living room for probably close to a year needing a little TLC. I love how it turned out!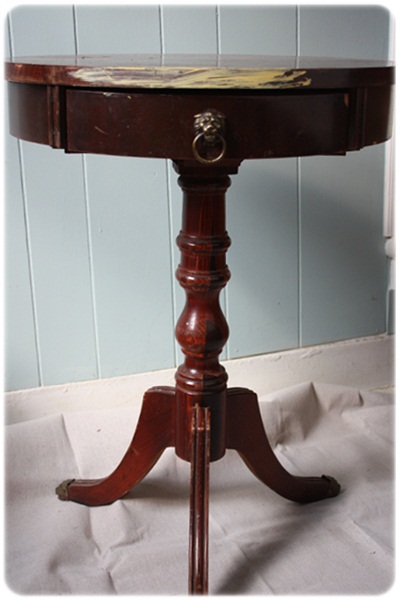 Before
One of the legs was coming off, it was scratched and was also missing a little brass "foot."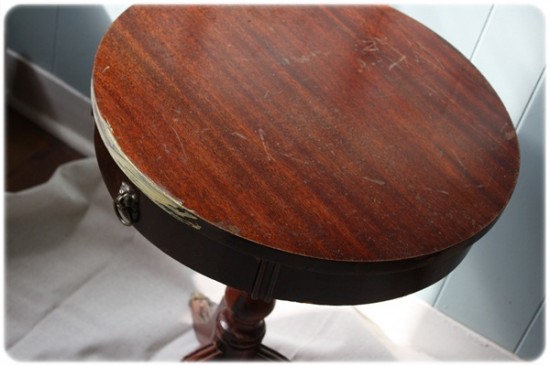 Hello, scratches that not even furniture touch up could repair.
I used Gorilla Glue – Wood Glue and fixed the leg, so it wouldn't come apart any longer. Do you know how awesome it is to not worry that your side table might collapse with a lamp and accessories on it? Yeah. Pretty awesome. 🙂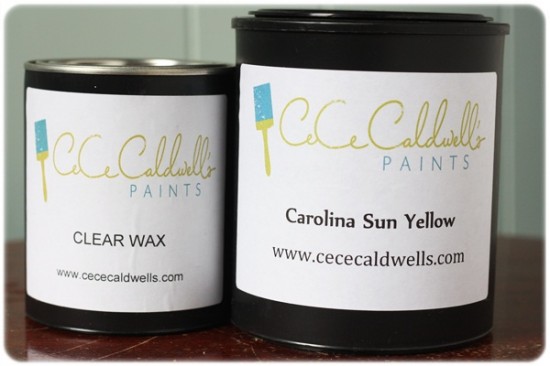 I used CeCe Caldwell's Carolina Sun Yellow paint and the clear wax. I confess that I'd never waxed anything in my life up until this project, but it was so easy, and I might just be hooked.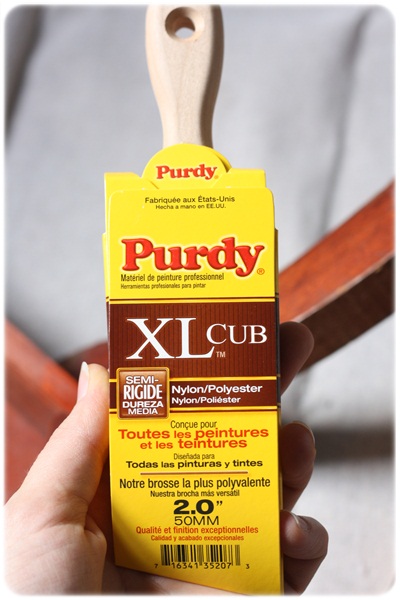 I used my very favorite Purdy brush.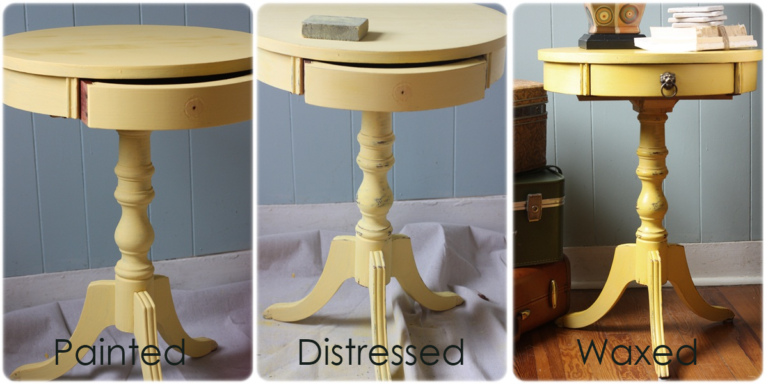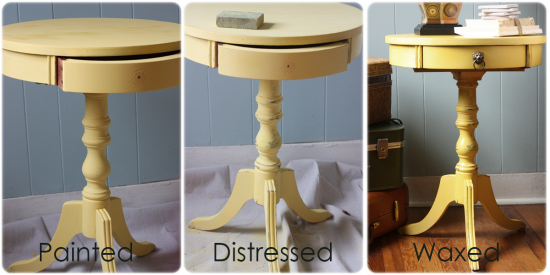 I gave the side table two coats of chalk clay paint, then after waiting a few hours I distressed the edges and sanded it down with my trusty sanding block. Two days later, I waxed it.
The paint gave me a bit of a roller coaster ride because I wasn't sure how it was going to turn out. When I first opened the paint and began painting it was bright…like really bright, but it dried a pastel yellow. After I sanded and distressed it was even more pastel. Uh, not what I was going for.
When I waxed it, it was breathtakingly bright yellow-gold. Eeek! When the wax dried, I breathed a sigh of relief because the color was exactly what I imagined that it would be – a beautiful buttery yellow similar in intensity to my apple green desk. Ahh!
I replaced the old drawer pull. Nothing's more classic than a lion's head, right?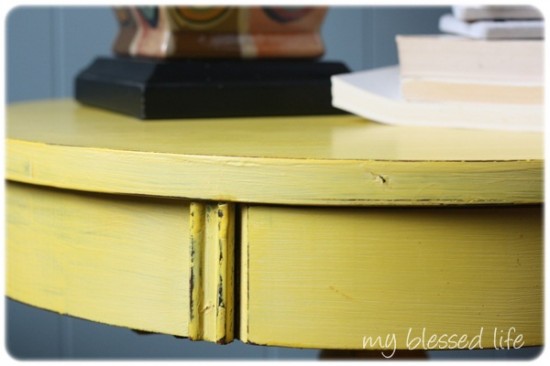 I love how the wax enriched the wood tones that came through the distressing.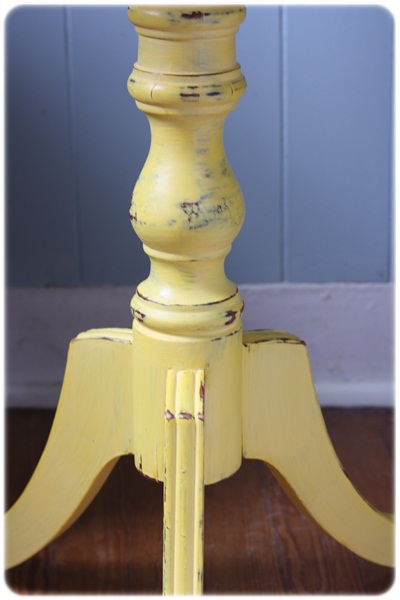 Here's a closeup shot of the pedestal.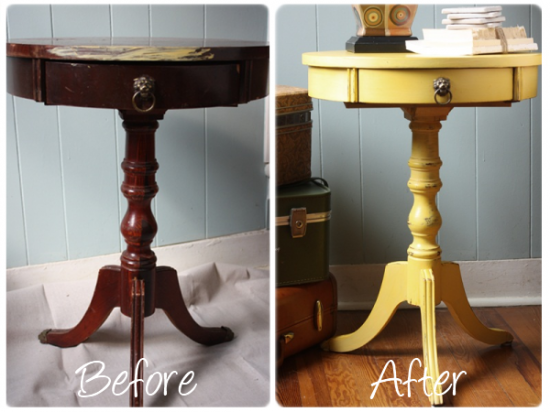 Before and After
I really love how well the chalk clay paint worked for this side table. For now, it's in the living room, but with the kids' room makeover that I'm planning, it might end up in another space.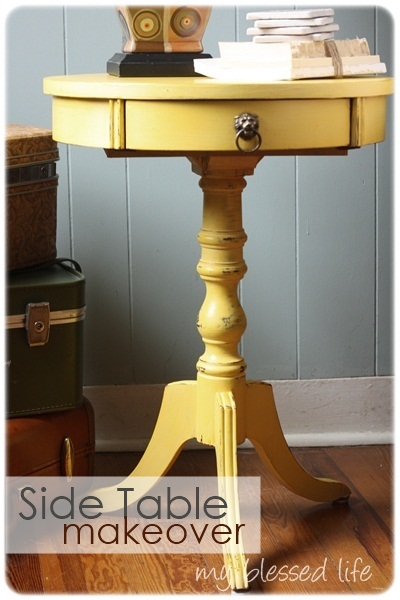 And that, my friends is a quick and easy way to makeover a side table. No priming, so sanding or prep work involved. Just whip out a paintbrush, can of CeCe Caldwell's paint, a lint free rag and can of wax and you'll have it made over in no time!
Have you ever use a chalk type paint before?
I'm linking up to Made By You Monday, Today's Creative Blog, I'm Lovin' It, Furniture Feature Friday, Weekend Wrap Up Party and Before & After Party!
XO
*****
Don't miss out
– diy projects, recipes, crafts and more, by checking out
my subscribe page
!