14 Pumpkin Decorating Ideas
Happy Friday!! 🙂 Do you know what today is? The first day of Fall!! Yippee! To officially kick off the Autumn season, I thought y'all might enjoy some pumpkin decorating ideas that I found around the web. There are so many pretty ways to decorate pumpkins for fall, so let's get inspired together!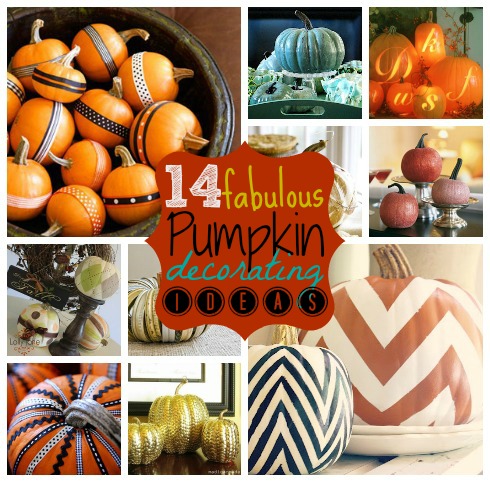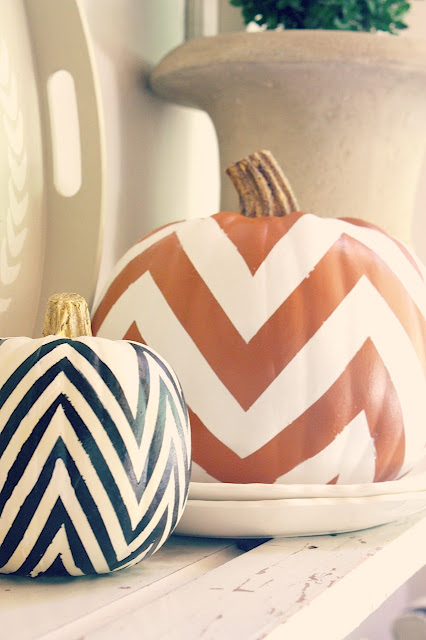 Lovely zig-zag painted pumpkins from My Sweet Savannah!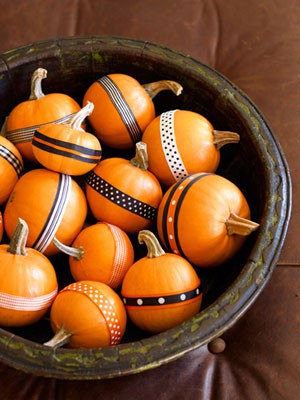 Beautiful ribbon trimmed pumpkins from Good Housekeeping!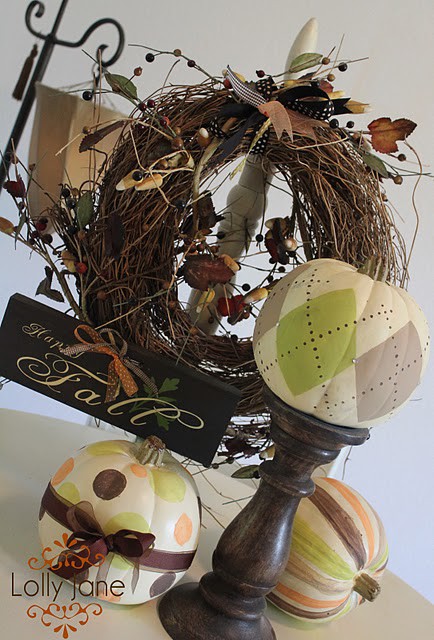 Handpainted pumpkins from Lolly Jane Boutique – Love the argyle!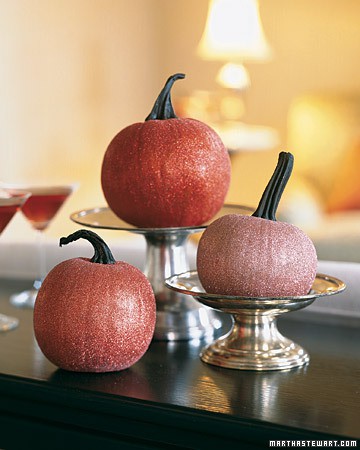 Glittered pumpkins are all the rage this year. I just used some amazing aqua blue Glitter Blast spray paint on one yesterday!
Speaking of blue, I love Jen's crackled blue dollar store pumpkins!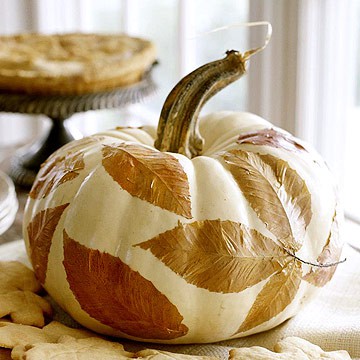 Pretty decoupaged leaf pumpkins – so stinkin' cute!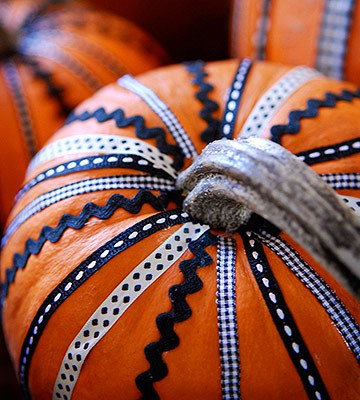 Another ribbon decorated pumpkin – on sale ribbon and hot glue would have a pumpkin all prettied up in no time!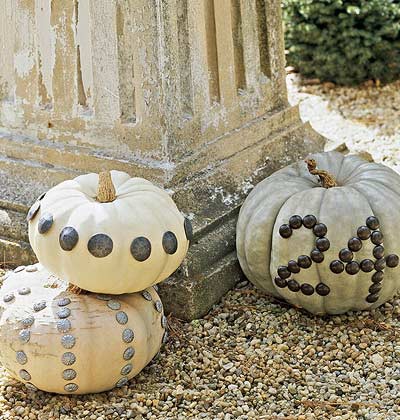 Nail head trim decorated pumpkins – these are so unique!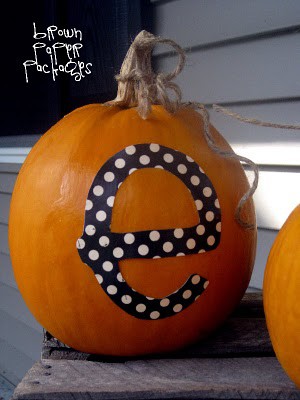 Monogrammed pumpkins from Brown Paper Packages!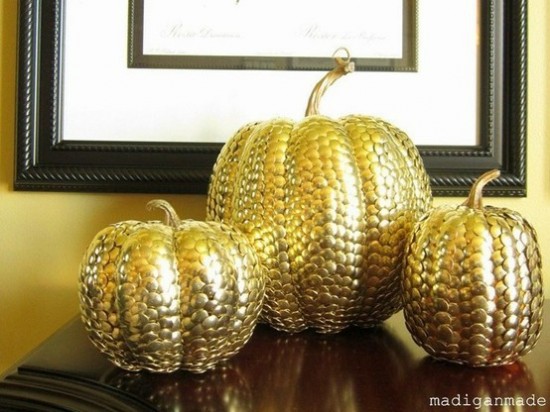 Gold Thumbtack Pumpkins from Madigan Made – incredible!!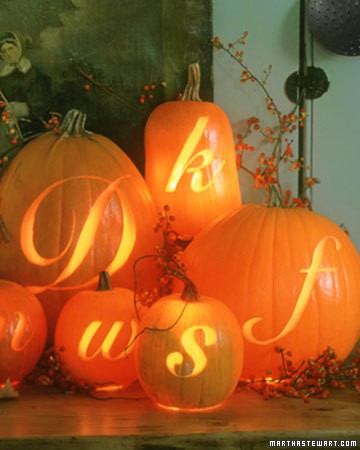 These glowing monogrammed pumpkins from Martha Stewart caught my eye. I love how the outside skin is carved off!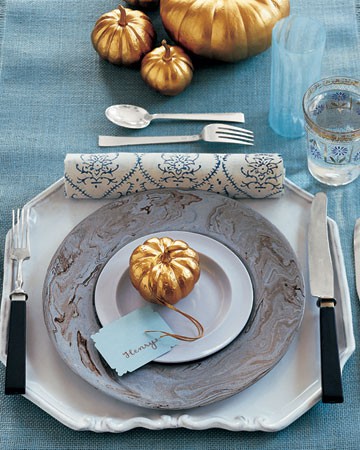 Use spray paint to change the color of pumpkins – both artificial and real. There are so many options! I love how these mini pumpkins were made into place card holders!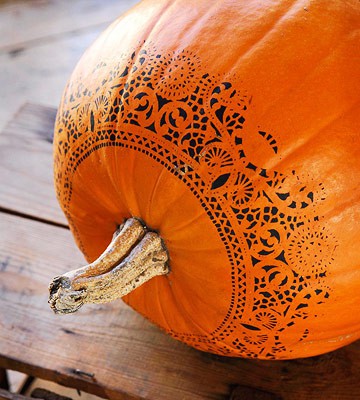 How incredibly amazing is this doily stenciled design from Better Homes & Gardens?! It makes my heart skip a beat. So so cute! And definitely a project that I could tackle! 🙂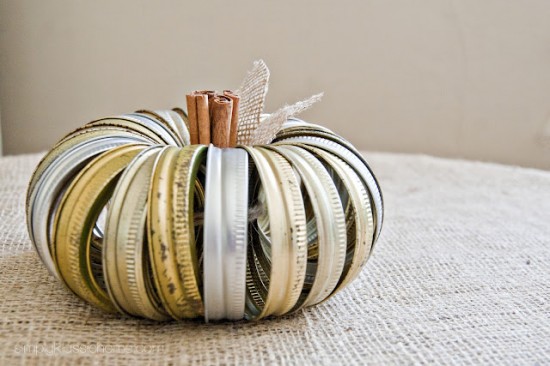 This canning jar ring pumpkin is adorable from Simply Klassic Home!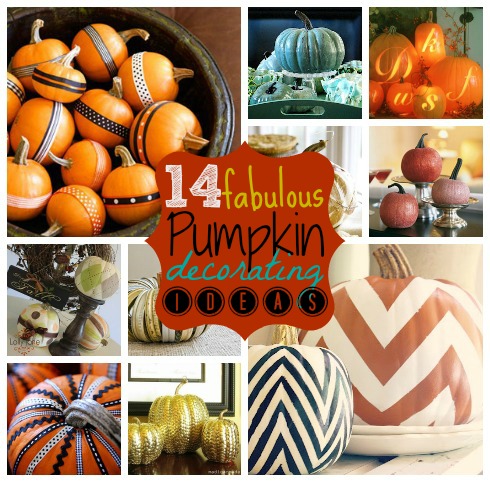 Does your family have a pumpkin decorating tradition?
I'm linking up to Made By You Monday,  Tip Me Tuesday, Today's Creative Blog and Women Living Well!
XO
*****
Don't miss out – diy projects, recipes, crafts and more, by checking out my subscribe page!