On Saturday when I was baking up a storm, I was also entertaining Ridley who can run circles around me all day long. Where do two year olds get all their energy?? 🙂
Ridley loves "doing dishes" or playing in the water, so I thought he might enjoy playing with some rice.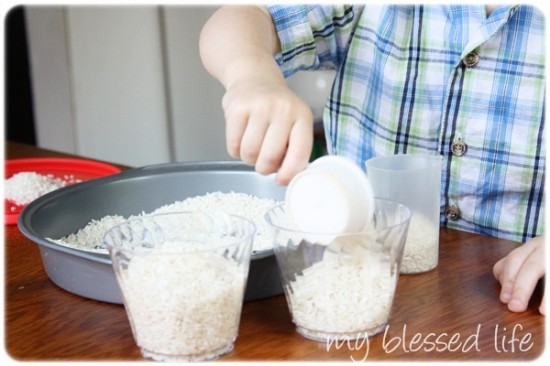 I gathered a pan, cups, measuring cups and plastic lids along with a bag of rice.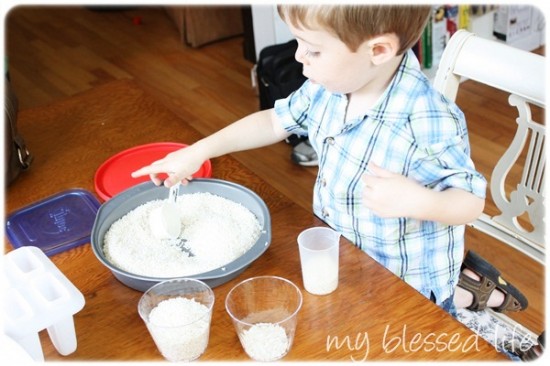 I've never seen Ridley stay in one place for such a long time. He entertained himself by moving the rice around, pouring, spilling, transferring, pouring over and over again. 🙂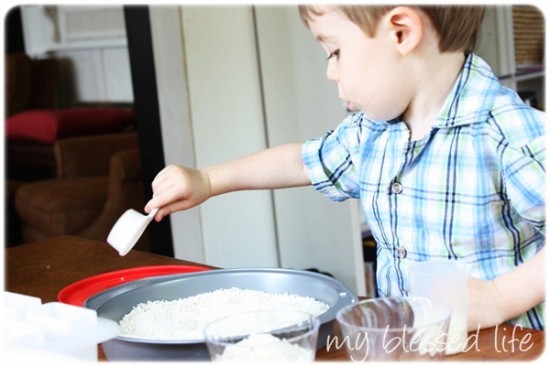 I love his concentration.  Such a sweet little man.
What you don't see in these pictures…is when he took a handful and threw it on the floor. I wasn't upset because, I'm sure I probably would've done the same thing when I was two as well.
Sweeping up rice is super easy too. 🙂
Ridley loved playing with rice and I'm sure that we will do this again soon!
What's your kids' favorite frugal inside toddler activity?

Linked to: Works For Me Wednesday and Frugal Friday