Okay, I'll confess. I haven't told y'all, but I'm on a diet. I'm so not a diet kinda person, but I've got to shed the remaining, stubborn baby weight that refuses to leave my body. So I'm doing it. I'll share more about what diet I'm doing and how it's worked for me when I'm a little closer to my goal weight.
Anyway, I've been eating a lot of this quick and easy veggie salad. It's incredibly healthy and absolutely delish!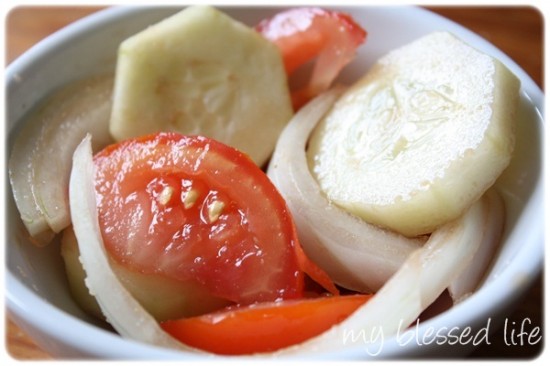 Quick & Easy Veggie Salad
Fresh Tomatoes, sliced
Sweet Onion, sliced
Cucumbers, sliced
Balsamic Vinegar
Sea Salt to taste
Garlic Powder, a dash or two
Gently toss veggies with sea salt and garlic to suit your taste.  I'm rather generous when I "dash and sprinkle." Ha!  Add balsamic vinegar and toss again. Serve immediately.
Enjoy the crisp crunchiness . . . and the healthy addition to your meal!
What's your favorite summer salad??
Linked to: