My sister-in-law made this cake this past weekend for my nephew's birthday party. It's SO yummy and I can't wait to make it!  Y'all are going to LOVE this recipe!! 🙂
And just in case you're wondering, it really does taste like honey buns…not that I eat them often…but from what I remember! 🙂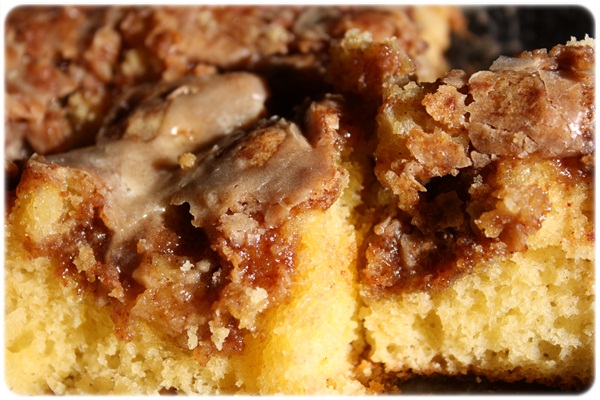 Honey Bun Cake
1 yellow cake mix with pudding
4 eggs
1/3 c. water
2/3 c. oil
8 oz. sour cream
1/2 c. brown sugar
1-2 t. cinnamon
Add cake mix, eggs, water, oil and sour cream in a bowl and mix well.  Pour into a 9×13 pan.
Mix brown sugar and cinnamon together and sprinkle over cake mixture.  Swirl the cinnamon sugar mixture through the cake mixture.
Bake at 350 degrees for 40-45 minutes.  Let the cake cool for 10 minutes then drizzle icing on top.
Icing Recipe
1/2 cup powdered sugar
1 tsp. vanilla
milk to consistency you like
Note:  This cake can also be made in a bundt pan.  Just layer the cake batter and cinnamon sugar mixture…then swirl. 🙂
Enjoy!
Linked to: