This squash casserole recipe has been in my family for years. I remember helping both my Memaw and my Mom make this.  This casserole is quick and easy to make with fresh squash that is so abundant at this time of year.
My husband isn't a raw squash lover, but he *loves* squash casserole. In my opinion, cheese makes just about everything perfect!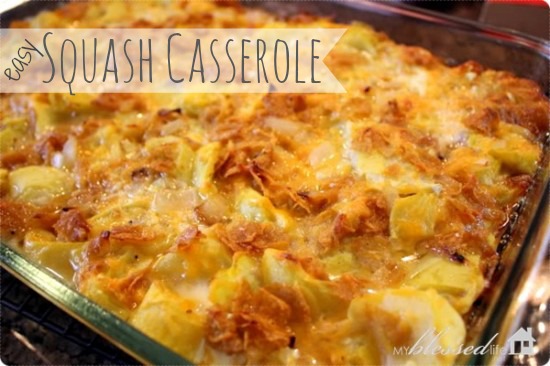 [pinit count="horizontal"]
Squash Casserole
7 – 8 yellow squash, washed and cut into chunks
1 onion, chopped
2-3 cloves garlic, minced
1/4 cup butter
2 eggs
1/4 cup milk
2 cups grated cheese
2 cups cornflakes
1 tsp. salt
2-3 twists fresh ground black pepper
Cook squash until tender (usually about 30 minutes on stovetop.)  Drain and set aside.  Saute onion and garlic and add to squash.  Add butter, eggs, milk, cheese, cornflakes, salt and pepper and mix well.  Pour into a greased 13×9 casserole dish and bake at 375 degrees for 40 minutes or until bubbly.
Enjoy!
Have a happy day!
Myra
Linked to: