Since the weather is getting warmer, I've been in rebellion against cooking hot food. I just want cool, springy, summery food!  Chicken pasta salad is perfect for lunch or supper. It is very balanced with starches, vegetables and protein.  I know you will love it.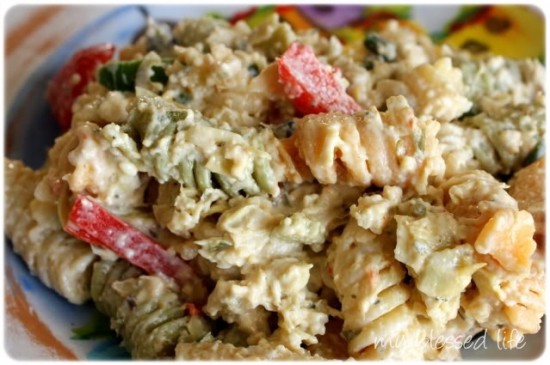 Chicken Pasta Salad
16 oz angel hair pasta (obviously I used rotini…love!)
2 c. zesty italian dressing
2 T. lemon pepper seasoning
1 (12 oz) jar marinated artichokes
4 T. chopped parsley
2 t. basil
2 t. oregano
2 bunches green onions chopped
2 c. mayo
3 chicken breasts, cooked and chopped
1 red bell pepper, chopped
1 green bell pepper, chopped
1 yellow bell pepper, chopped
1 (6 oz) can black olives, sliced
1 1/2 c. grape or cherry tomatoes, halved
2 c. grated Parmesan cheese
Day 1: Cook pasta to package directions. Drain. Combine dressing and lemon pepper seasoning. Add pasta to dressing, mix well. Cover and refrigerate overnight. In another bowl, combine artichokes, parsley, basil, oregano, onion and mayo. Mix well. Add to chicken and stir well. Cover and refrigerate overnight.

Day 2: Mix pasta and chicken mixtures. Add peppers, olives and tomatoes. Mix well. Add cheese just before serving and mix again.
Notes: The key to this recipe is to make it ahead. When the pasta and chicken are marinated overnight…the flavor rocks! 🙂  I always make adjustments to the ingredients depending on what I have on hand.  I usually make substitutions of some kind and it's always delicious.
Does your family eat pasta very often?
Linked to: Tasty Tuesday, Tempt My Tummy Tuesday, Ultimate Recipe Swap
Come join The Salad Social at TidyMom sponsored by The International Olive Council's Add Some Life!
XO
*****
Don't miss out
– diy projects, recipes, crafts and more, by checking out
my subscribe page
!