Delicious. Comforting. Savory. Tasty. And whole-lot-of yum!
Baked Spinach-Artichoke Dip is all of these and more! Whether you make it to snack on during a ballgame or to take to a party, this dip will always be a hit. I promise!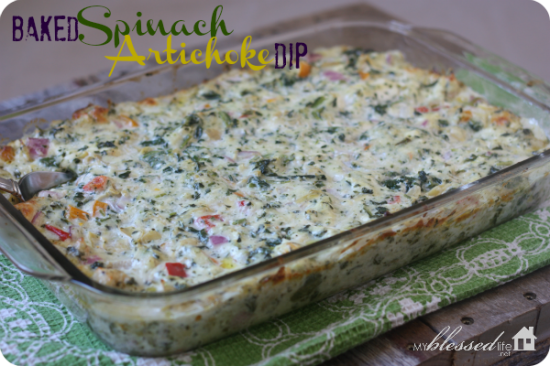 [pinit count="horizontal"]
Baked Spinach-Artichoke Dip
1 (8 oz) pkg. cream cheese
1 cup sour cream
2 t. minced garlic
2 -3 cups mozzarella cheese
1/2 red bell pepper, chopped
1/2 yellow bell pepper, chopped
1/2 large red onion, chopped
1 t. salt
1 jar marinated artichokes, drained and chopped
1 bag frozen chopped spinach, drained and pressed dry
Mix well cream cheeses, sour cream and garlic. Add peppers, onions, salt, artichokes and spinach.  Mix very well.
Spread in greased baking dish.  Bake at 350 for about 20 minutes or until heated through and cheese is melted.  Enjoy!
Serve with tortilla chips or crackers!
Note: I've made this with ingredients that I've had on hand – green bell peppers, yellow onion etc.  Don't hesitate to make it to suit you and your family!
Linked to: