I love gifting goodies to our family and friends. It's typically pretty inexpensive and means a lot to give a little something to everyone.  One of my go-to recipes is peppermint bark because it's so easy!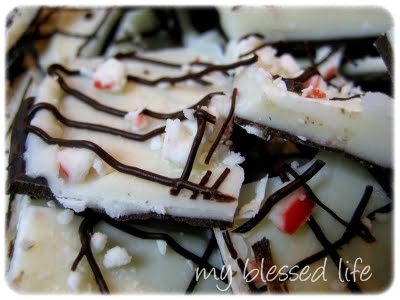 Peppermint Bark
1 1/2 pkgs. white almond bark
24 oz semi-sweet chocolate chips
1 1/2 t. vegetable oil
10-12 soft peppermint candies, crushed
2-3 t. peppermint extract (depending on your taste)
Prepare two cookie sheets with wax paper. Stir chocolate chips and oil well. Melt in microwave, stirring often. Spread thinly on wax paper. Reserve any extra chocolate in ziploc bag. Place both cookie sheets in freezer or refrigerator to allow chocolate to harden.
Meanwhile, melt white almond bark in microwave, stirring often. Add 2 t. peppermint extract and stir well. Taste test and add more extract if needed. Using a wire strainer, shake small pieces of crushed peppermints (1/4-1/3 cup) over white chocolate mixture. Stir well.
Remove cookie sheets from freezer and spread white chocolate/peppermint mixture thinly over hardened chocolate. Sprinkle larger pieces of peppermint on top. Press large pieces down gently. Cut a very small corner out of ziploc bag and drizzle chocolate on top of peppermint bark. Allow bark to harden, then break in small pieces.
Enjoy!
More of our favorites that we're giving away this year:
This post is linked to: