It is definitely mosquito season around here. It's a challenge to be outside at dusk and not get eaten up with mosquito bites. Being the natural-loving momma that I am, I knew there had to be a better bug repellent solution for myself and my babies than the chemical-filled options. I did some research and found this recipe using essential oils.
We've used this homemade bug repellent for a while and have had 100% success with it. And to make the deal even better, it cost me less than $2.50 to make!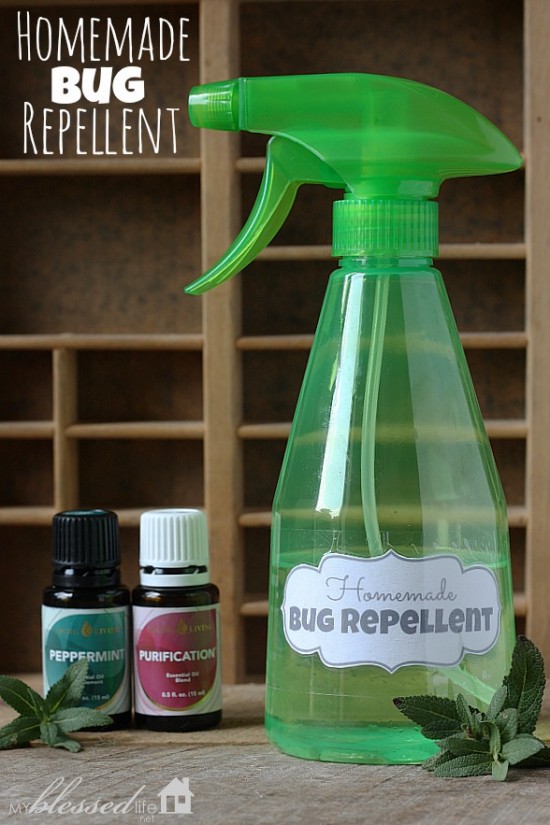 Homemade Bug Repellent
Plastic spray bottle
8 oz distilled water
Pinch of epsom salts
8 drops peppermint essential oil
8 drops purification essential oil
Pour the distilled water into a 2-cup measuring cup. Add a pinch of epsom salts. Add the oils and stir. Use a funnel and pour the mixture to the spray bottle.
Before you use the bug repellent be sure to shake the bottle to make sure the oils are suspended in the water as much as possible.
Spray skin and clothes generously and be sure to have the kids close their eyes while you spray their necks and arms.
Notes: The epsom salts help suspend the oils in the water. Peppermint essential oil is just that – peppermint. Purification is a blend of citronella, lemongrass, rosemary, melaleuca, lavandin, and myrtle.
Also…if this bug repellent isn't effective, add more essential oils. Everyone's body chemistry is different so the proportions that work for us, may not work for you.
I buy my oils from Young Living Essential Oils at wholesale prices. The 16 drops used in this homemade bug repellent recipe cost less than $1.50 with oils I already had on hand.
Check out my other Natural Living posts and Dr. Mom series!
Have you ever made your own bug repellent?
Happy Friday!!
xoxo
Myra
*These statements have not been evaluated by the FDA. This product is not intended to diagnose, treat, cure, or prevent any disease. This homemade bug repellent is also not scientifically proven to prevent mosquito bites, West Nile virus etc. However, it works for us and I just had to share how easy it is to make non-toxic and safe bug repellent for your family!