10 Amazing Uses for JOY Essential Oil
Happy Friday, lovely people! I'm back today to share one of my favorite essential blends in the world. It rocks my world. This essential oil blend is called JOY. And it definitely is the most uplifting oil that I've used. JOY is a wonderful blend for emotional balance and I use it as perfume every day. It smells delightful!
JOY is a blend of bergamot, ylang ylang, geranium, rosewood, lemon, mandarin, jasmine, roman chamomile, palmarosa and rose.Personally, I use JOY for balancing and calming emotional support when I just want to freak out over nothing. I'm sure I'm not the only one who has days like that. 😉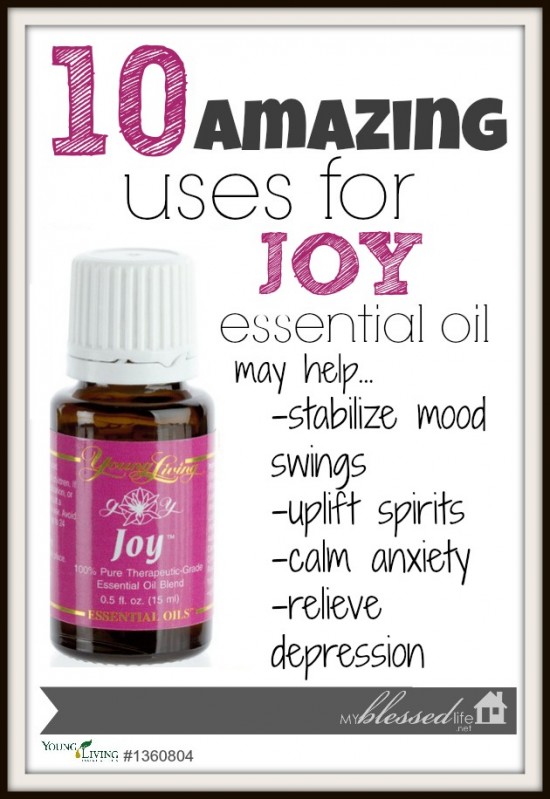 [pinit count="horizontal"]
There are many ways to use JOY essential oil blend, but these are 10 of my favorites…
1. Add a few drops to bath water to boost your mood.
2. Drop two drops on a cloth to put in the dryer for great scented clothes.
3. Put a few drops in lotion or massage oil for a relaxing massage.
4. Rub a drop of JOY behind and around each ear to help reduce "the grumps". This is my favorite because it works so well for me and my 4yo!
5. Place a few drops on abdomen to relieve monthly cramps.
6. Diffuse JOY to for uplifting effects.
7. Apply wrists as perfume.
8. Use JOY to bring joy to the heart.
9. Apply or diffuse to inspire feelings of romance. Yes, that.
10. Apply a few drops over your heart to help alleviate occasional nervous irritability.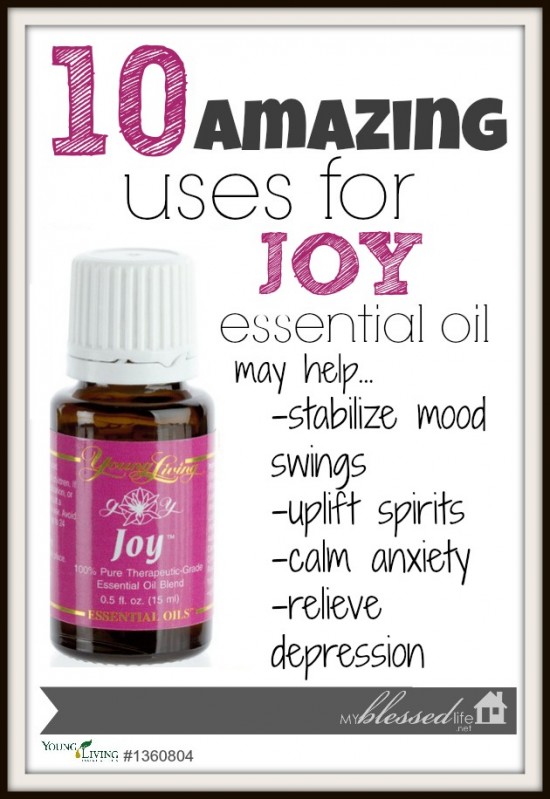 [pinit count="horizontal"]
Next time you're feeling down or in a funk, just grab some JOY essential oil and dab it behind your ears and wrists, breathe it in and enjoy it's therapeutic benefits!
Click here for details on how to purchase therapeutic grade essential oils! They are amazing! You will also find a lot of other posts that I've written about essential oils. They have changed our lives!
Have you ever used JOY essential oil blend? What is your favorite use?
xoxo
Myra
*These statements have not been evaluated by the FDA. This product is not intended to diagnose, treat, cure, or prevent any disease.