Holla! I hope you had a great weekend! I had a busy one finishing up a project that I'm SO excited to share with y'all today! First, a little secret that I haven't told you yet…we are planning to move back to the country to my Memaw's house–back to the farm where I grew up. We are just waiting for the details to fall into place for that. So…I did this project at that house as a Lowe's Creative Ideas guest blogger!
You may be wondering what exactly a "drop space" is. It is exactly like what it sounds…a place to drop your stuff when you come in the door. Instead of having keys here, phones there, chargers in another place and oh, my husband's wallet that migrates from one place to the next, this drop space is the ticket to a more peaceful home. 😉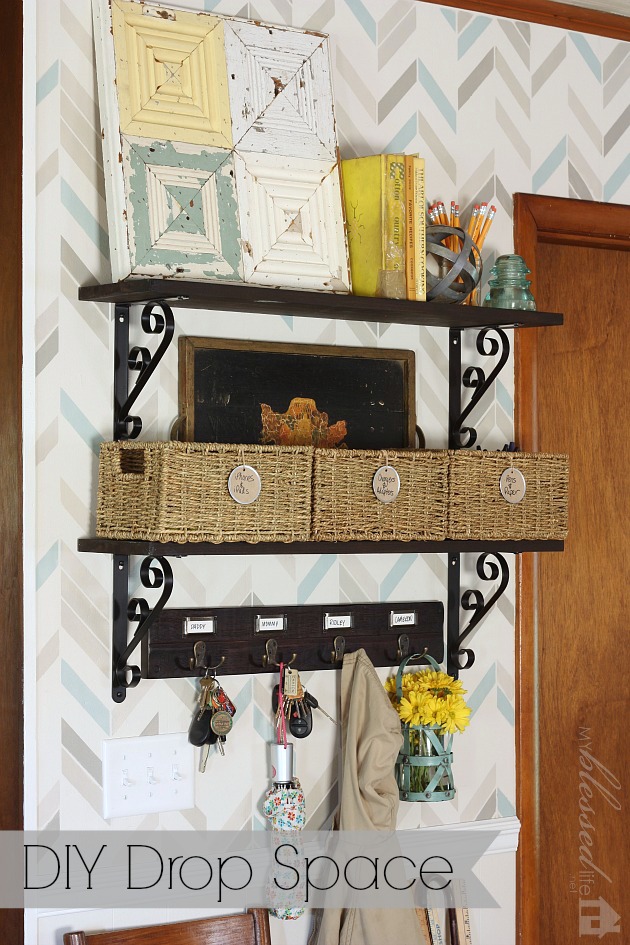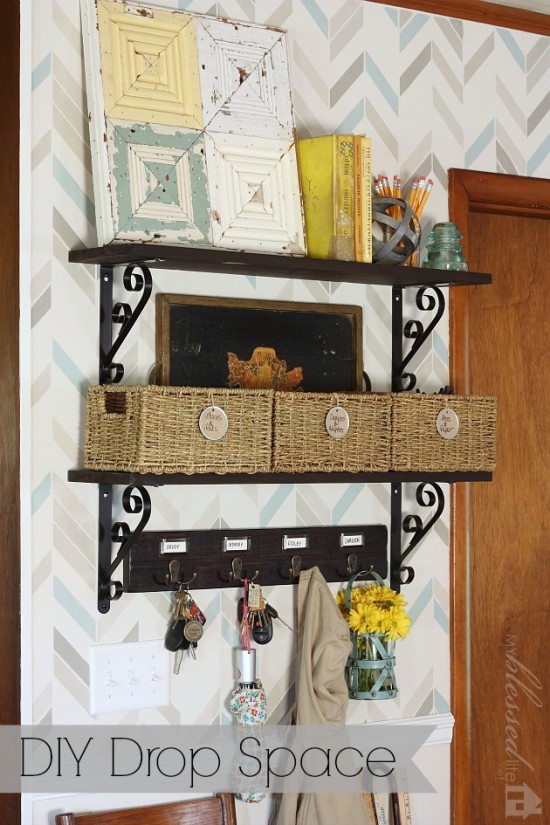 [pinit count="horizontal"]
You MUST see the "before" to truly understand how amazing the transformation is!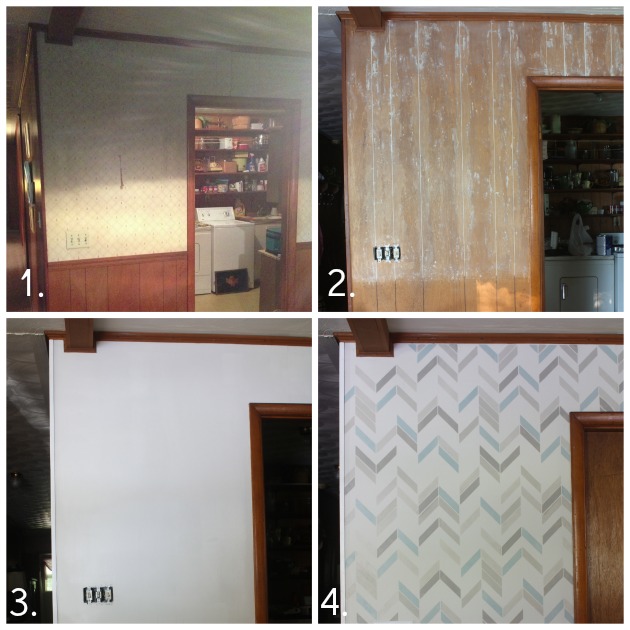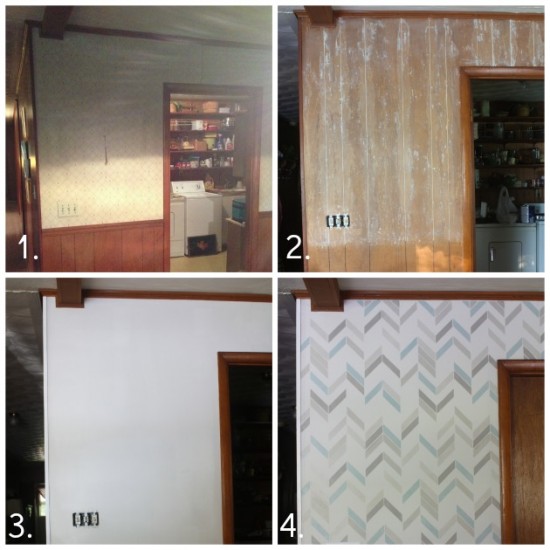 It was quite a process to prepare the wall. I'll definitely be sharing how I got wallpaper off of the paneling. It was…fun. Not really. 😉 But I really enjoyed stenciling. Isn't it cool? The herringbone stencil is from Royal Design Studio and I used Valspar paint sample pots for the paints.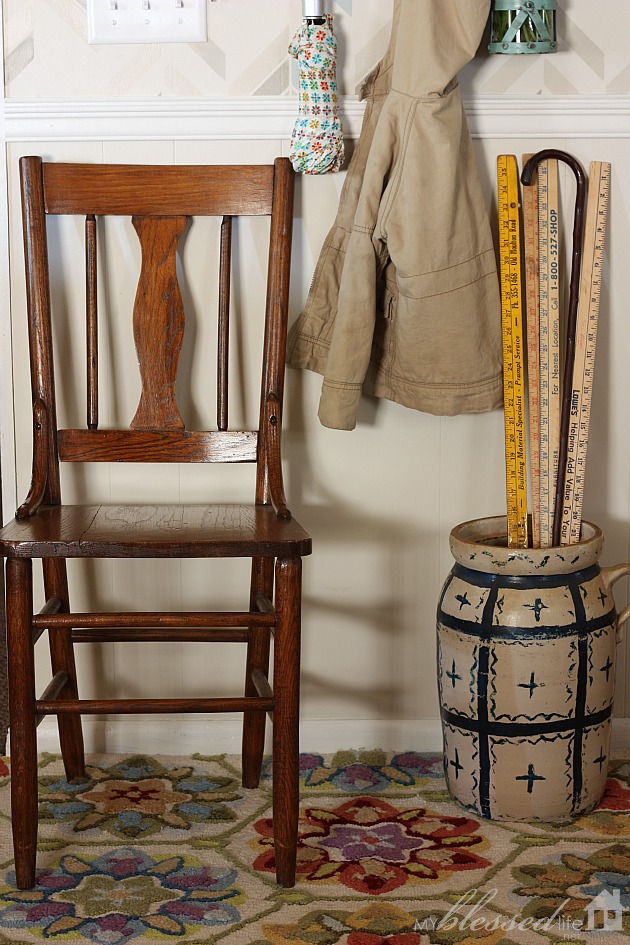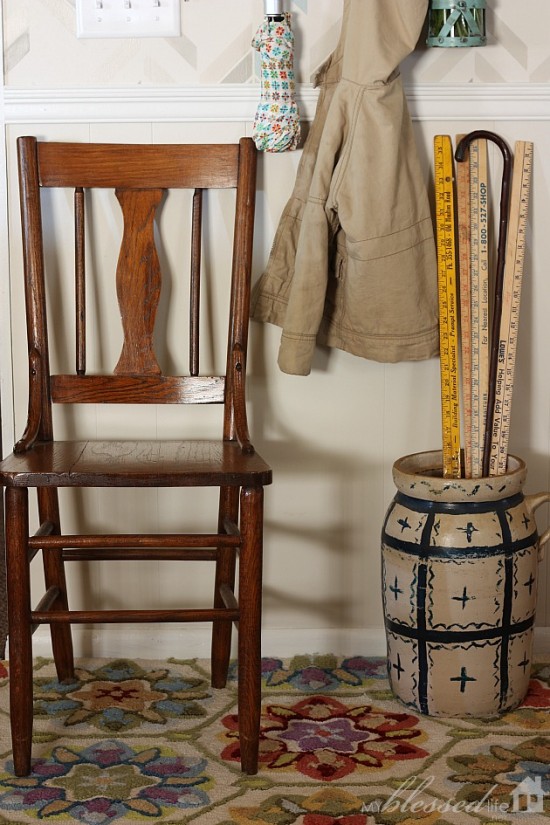 I'm absolutely, positively thrilled with how this space came together! Let me show you how I did it…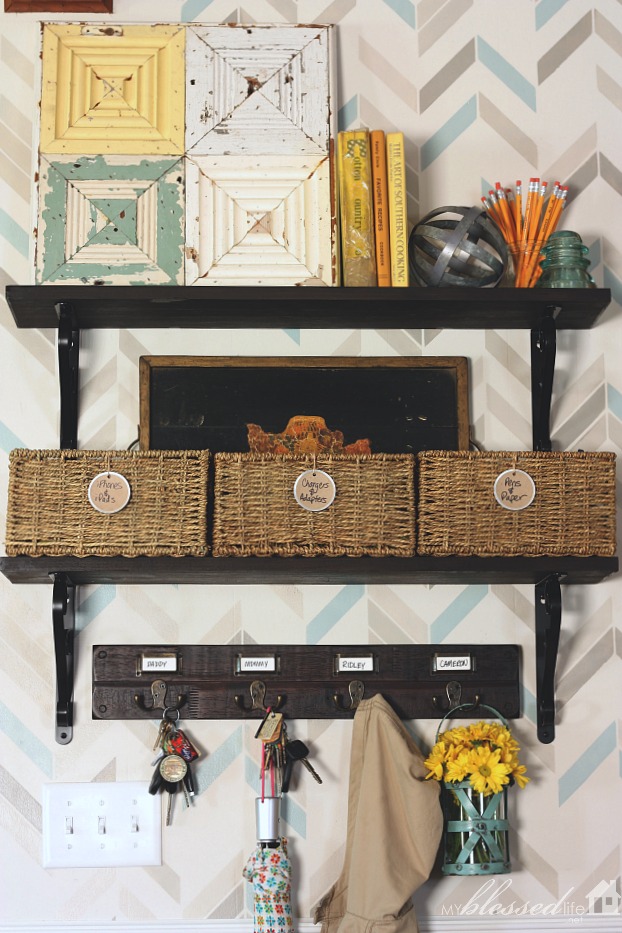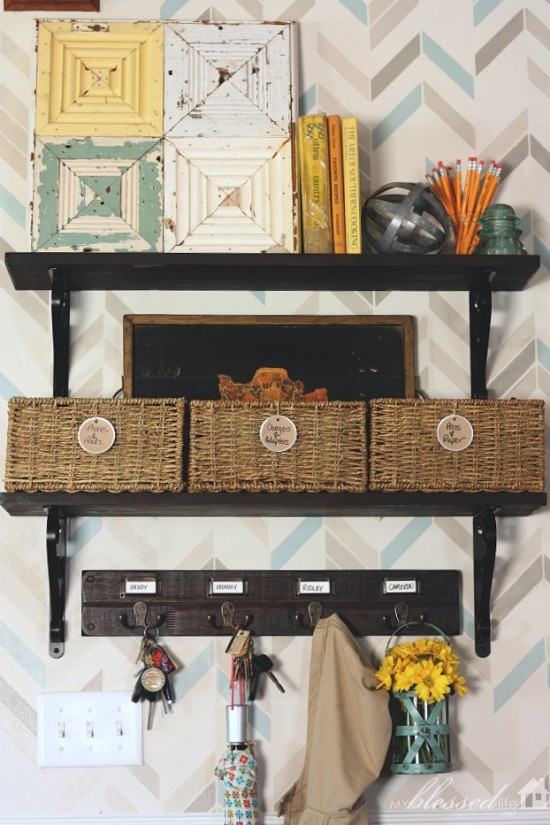 I found the wood rail with hooks at Lowe's. I really loved the color, the distressed wood and the hooks and name plates. This piece was the springboard inspiration for my drop space.
We built two wood shelves with decorative brackets. My husband assisted me because I was busy prepping the wall. 🙂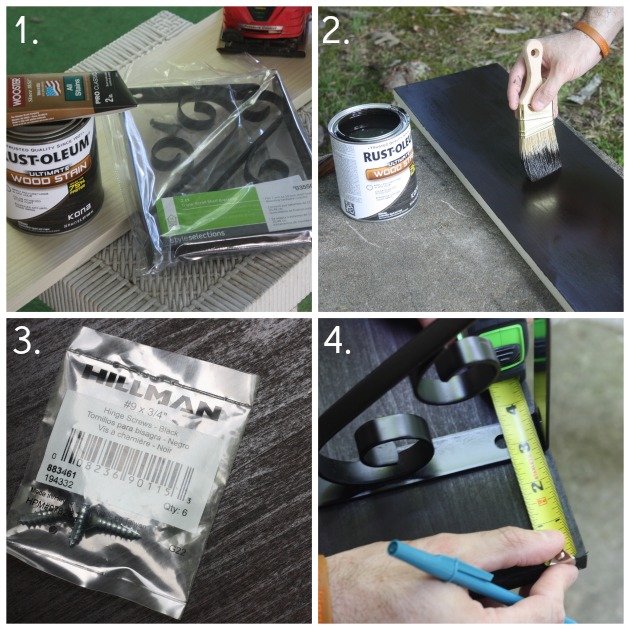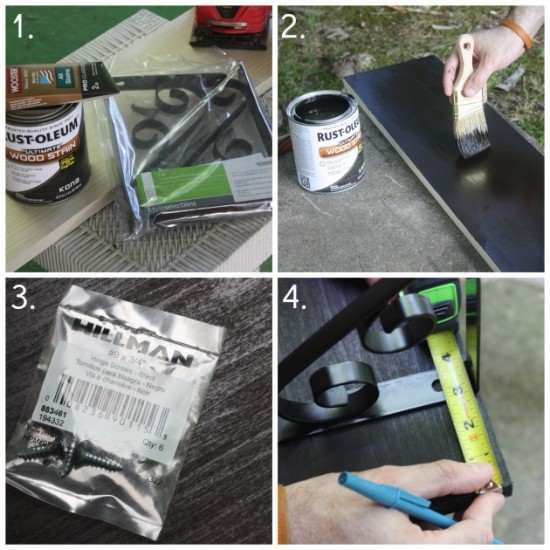 1. I had Lowe's cut a 6′ x 7″ board into two 33″ lengths.
2. We stained the wood with Rust-oleum's Ultimate Wood Stain in Kona. It was really simple and easy to do with just one coat!
3. We had to hunt for black head screws to attach the decorative brackets to the wood. We finally found these Hillman hinge screws in the drawers at Lowe's.
4. Then we attached the decorative brackets to the wood flush at the back and 2.5″ inches in from the ends.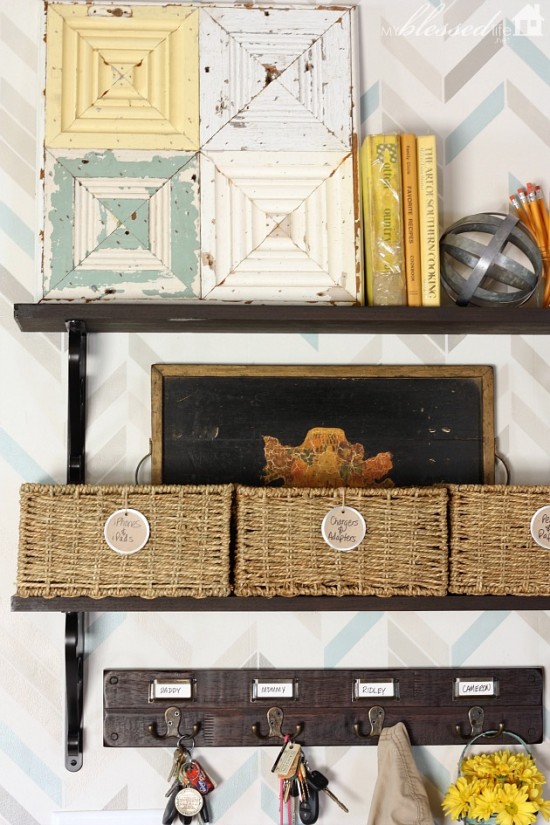 The shelf installation was relatively simple. Oh, how I adore the Allen+Roth storage baskets. They are the perfect size! I labeled the baskets with little tags. There's a basket for iPhones & iPads, one for Chargers & Adapters and one for Pens & Paper. Note: the wood architectural salvage piece is from Southern Accents.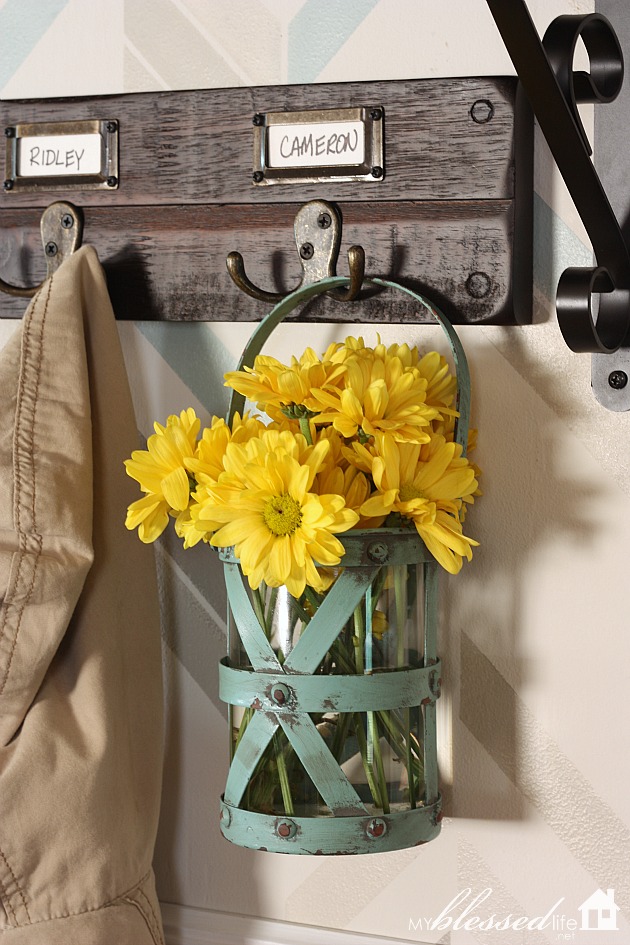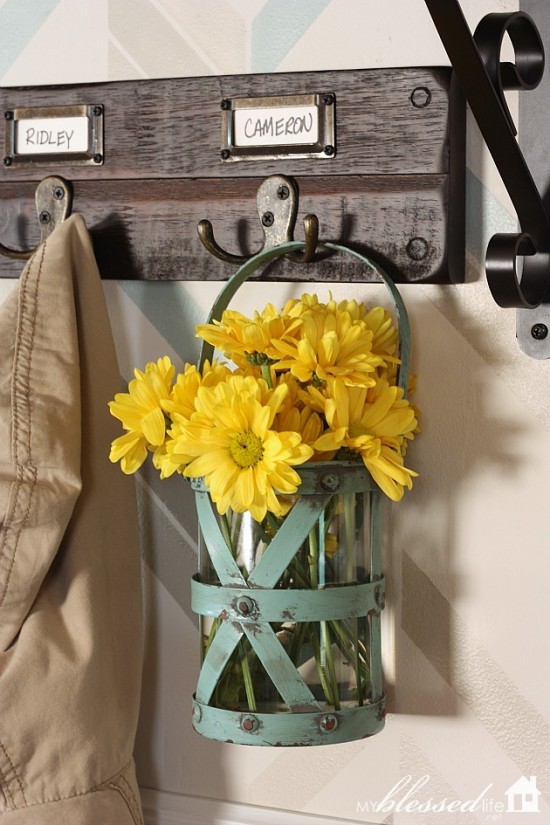 I put pretty flowers in a hanging container on Cameron's hook.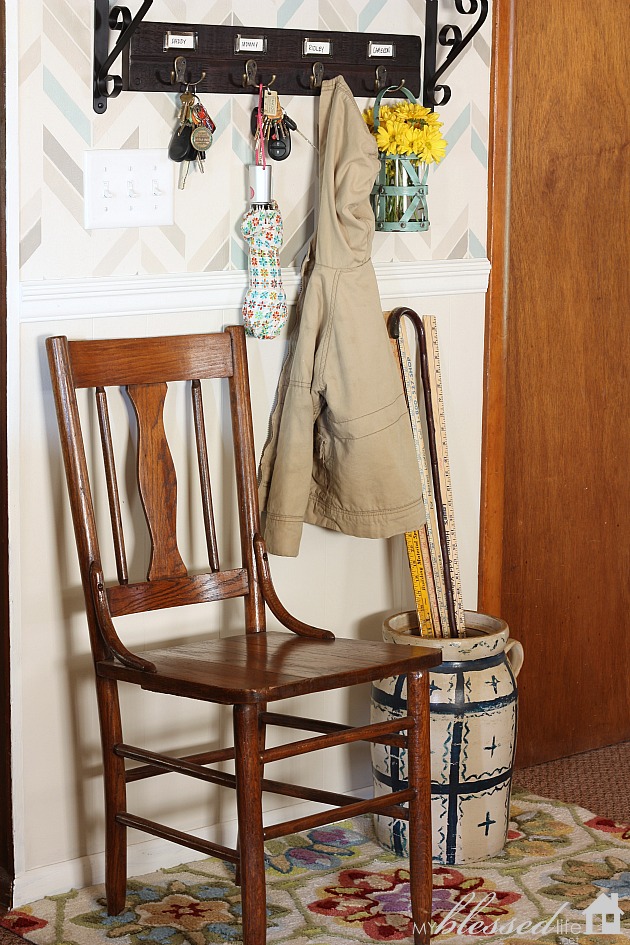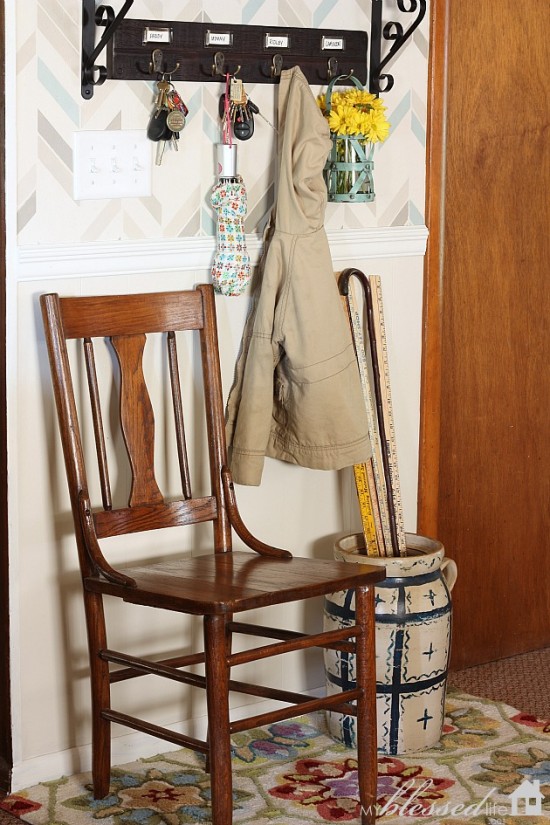 I accessorized the space with many items that I already had on hand, along with some of Memaw's things that are still at the house. The butter churn, the chair and the black tray on the shelf behind the baskets were hers. I love the truly vintage touch. 🙂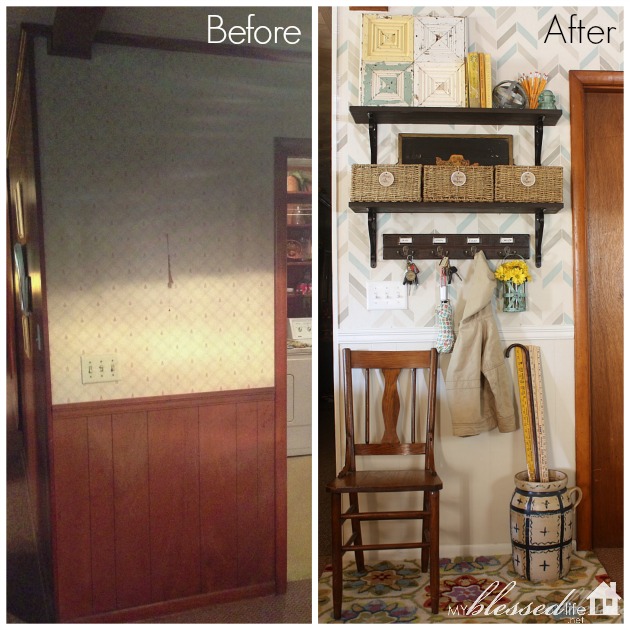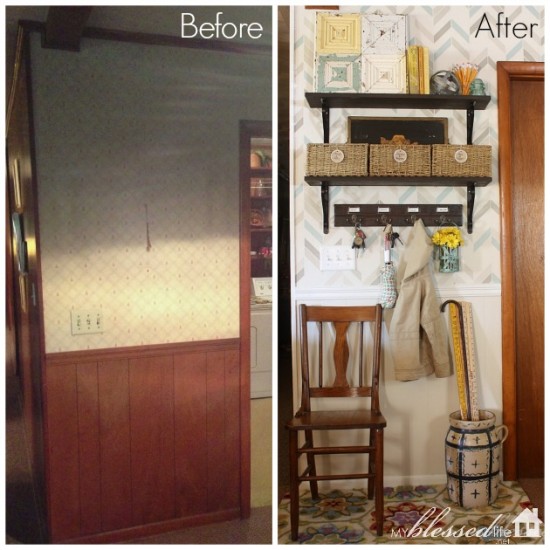 Let's review the before & after one last time, just for fun!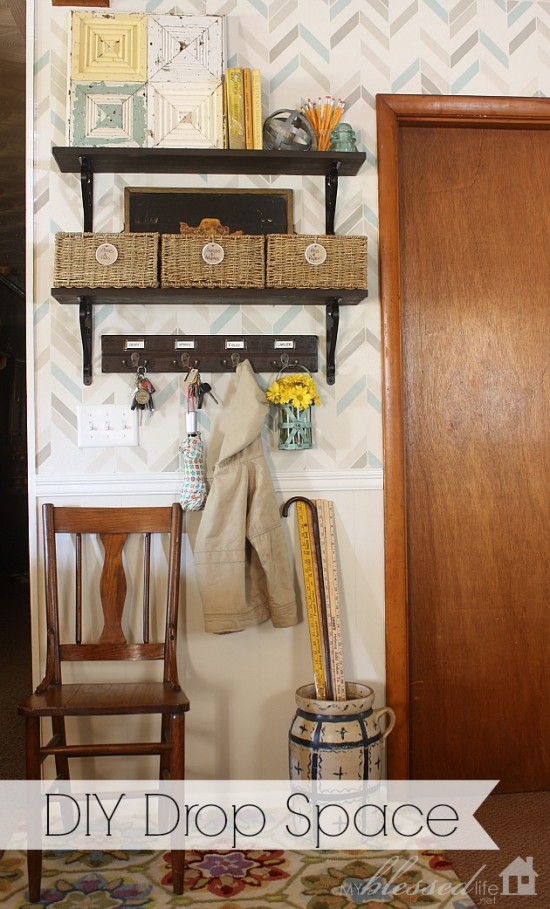 [pinit count="horizontal"]
Do you have any idea how excited I am to have this part of life organized? No more hunting for keys when we're ready to walk out the door! No more searching for a phone charger. Bliss.
Tell me, people…do you have a drop space in your home? If you don't, it's simple to create your own DIY Drop Space!
xoxo
Myra
Sharing at: Tips & Tutes, Transformation Thursday, Chic & Crafty, I'm Lovin' It, Before & After Party & Weekend Wrap Up Party!
See more fun DIY ideas at Lowe's Creative Ideas, follow Lowe's on Instagram, Pinterest and sign up for the Creative Ideas magazine and app!