Thrifted Dresser Turned Buffet Makeover
Happy Monday! I'm over-the-moon excited to show you the dresser that I painted this past week. I originally bought it from the ReStore for my boys' room, but now it's in our dining room as a buffet. I love, love, love this piece.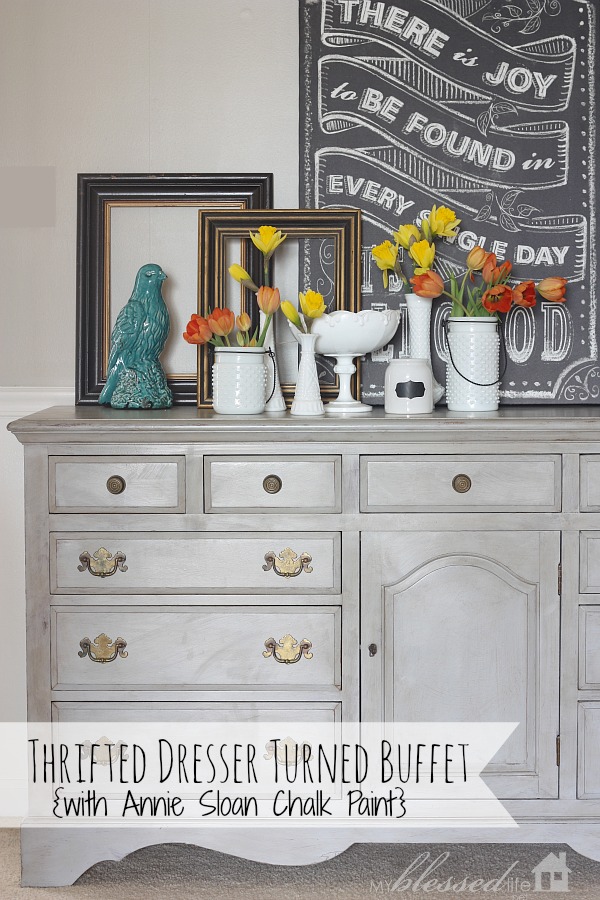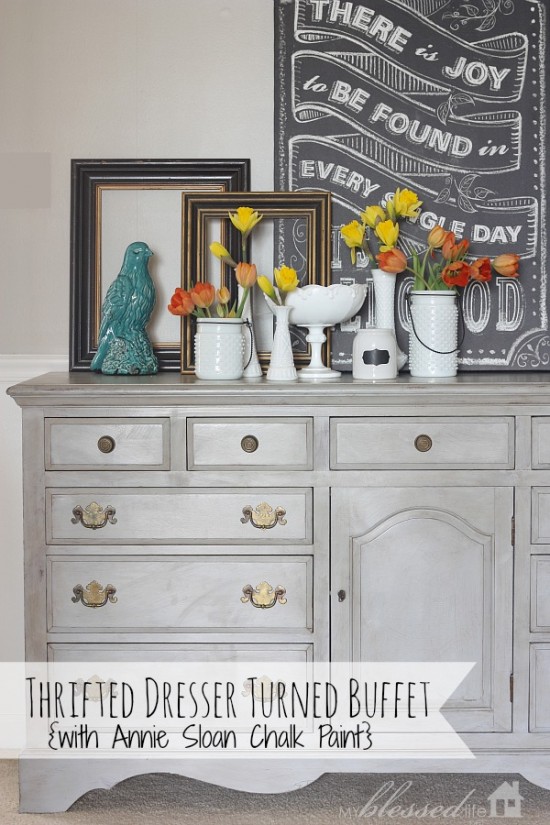 So pretty, right?
Well, it didn't start out that way.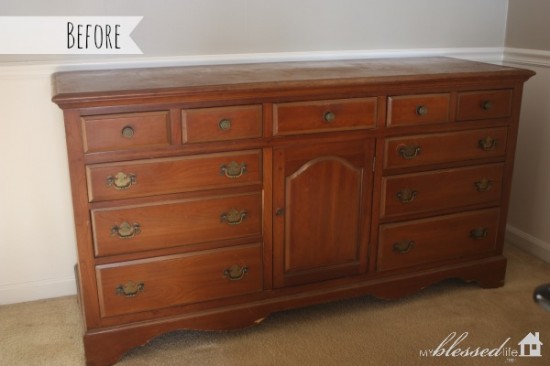 Here's the before. It was in pretty good shape as far as the construction of the piece. The finish was another story…especially on top.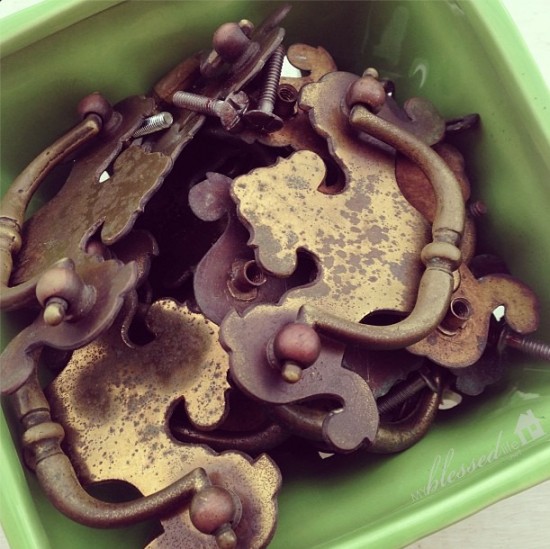 I took all the hardware off and decided to leave it as is. I'm kind of digging the fabulous brass patina.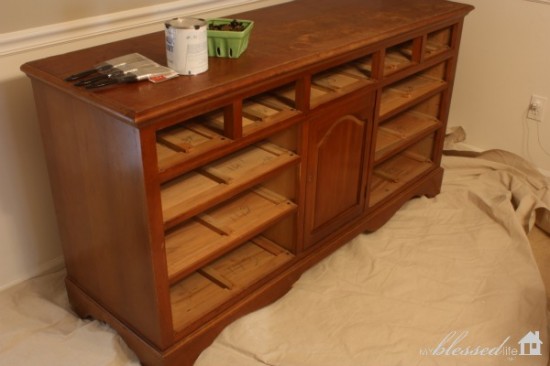 I removed all the drawers, but I didn't take everything out of them. I'm lazy. Or maybe I'm just streamlined because of taking care of the boys during the process. 😉
My lovely friend Shaunna from Perfectly Imperfect sent me Annie Sloan's Paris Grey Chalk Paint as well as clear and dark waxes. I've never used ASCP on furniture before, but I just have to say that I LOVE this stuff!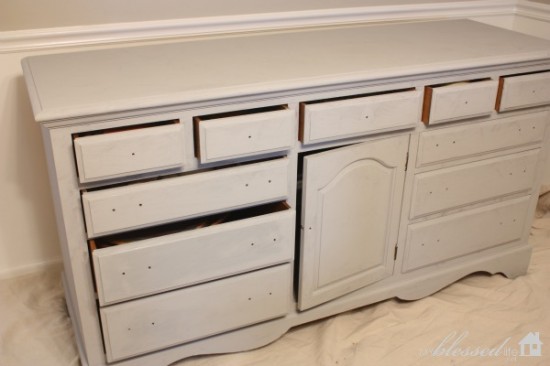 I painted everything with one coat of Paris Gray and let it dry. And then I used clear wax. I brushed it on and rubbed it in and off with a cloth. It's important to use just a little clear wax, so that it can dry and cure properly. I gave the dresser a bit of distressing here and there before waxing with dark wax.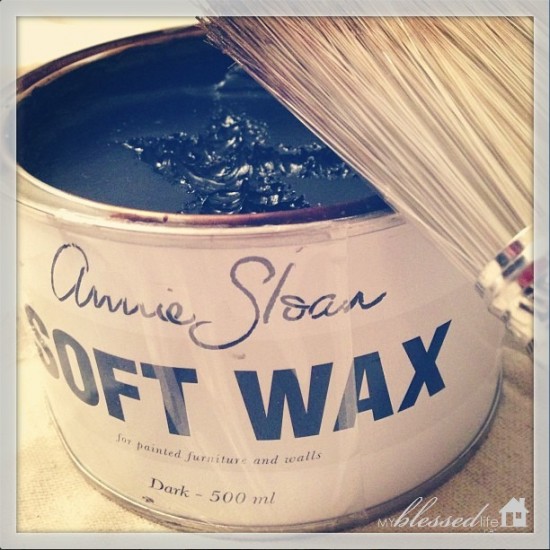 Then I dry brushed dark wax over everything and I focused on getting it into the crevices.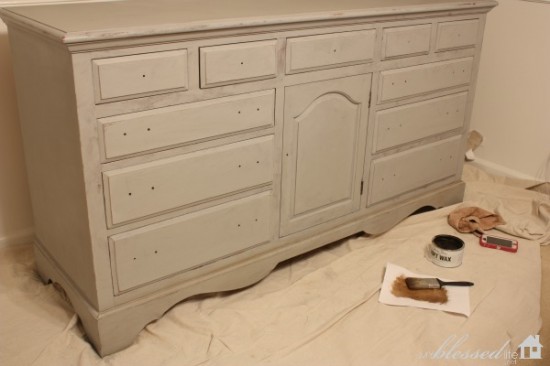 This is an awful picture taken at night, but you can see the difference between the dark wax all around the bottom and the rest of the dresser that just had clear wax on it.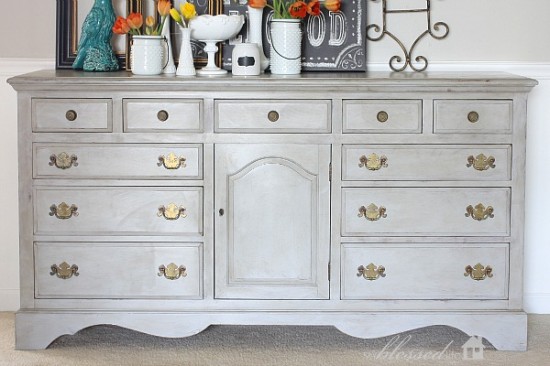 And here she is with all the hardware put back on. 🙂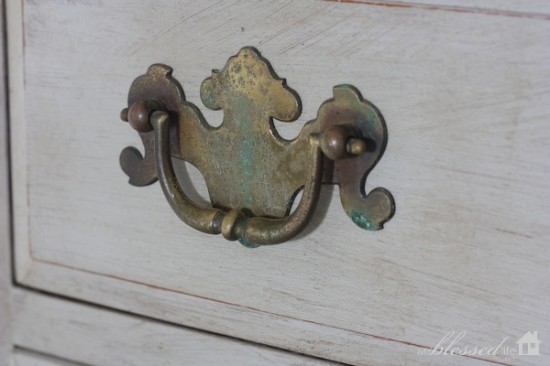 Fabulous old hardware.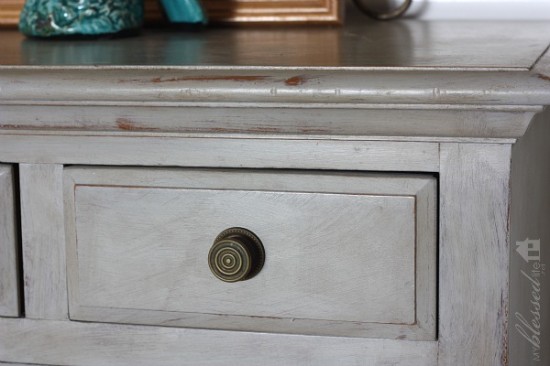 Light distressing on the edges.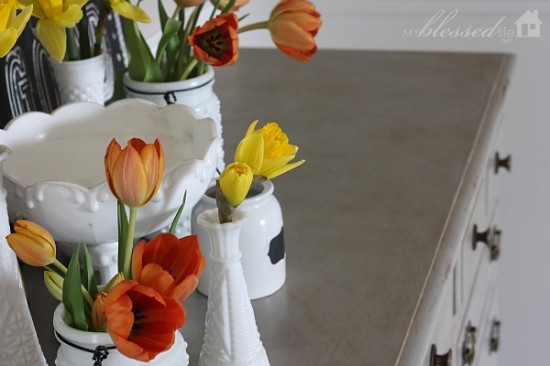 I love how the top turned out. The finish is beautiful!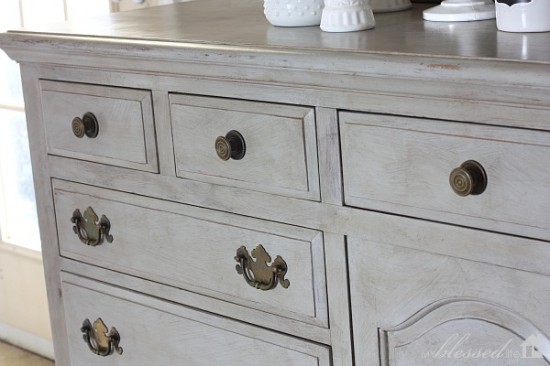 I've dreamed of having a piece like this in my home for a long time. Sometimes you just need to DIY it!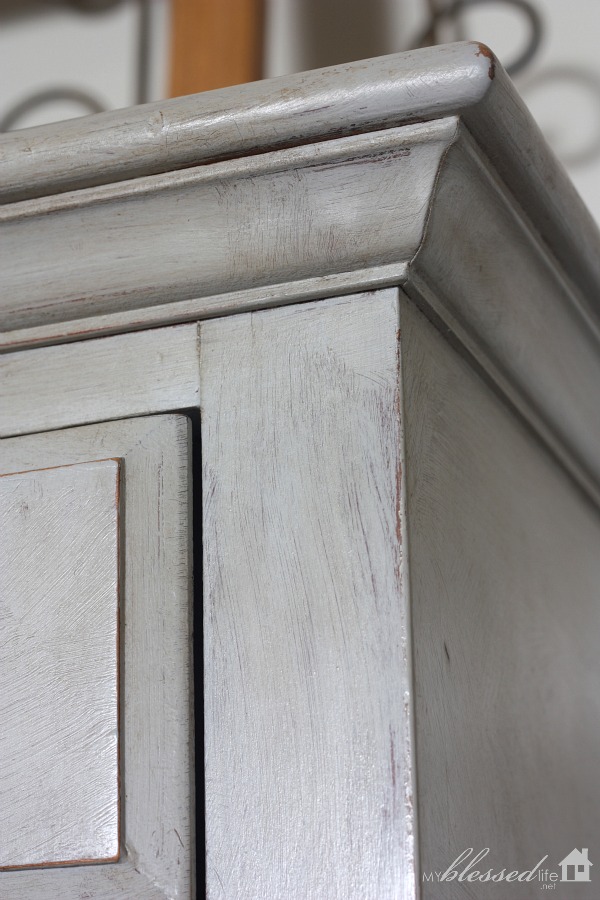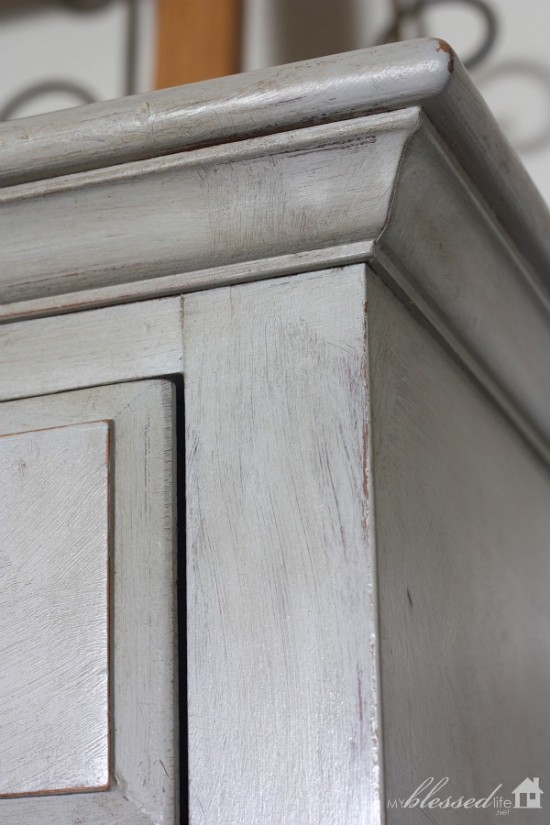 I love the brush strokes.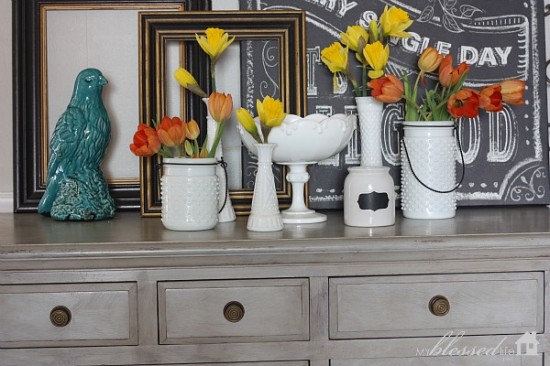 Happy colors!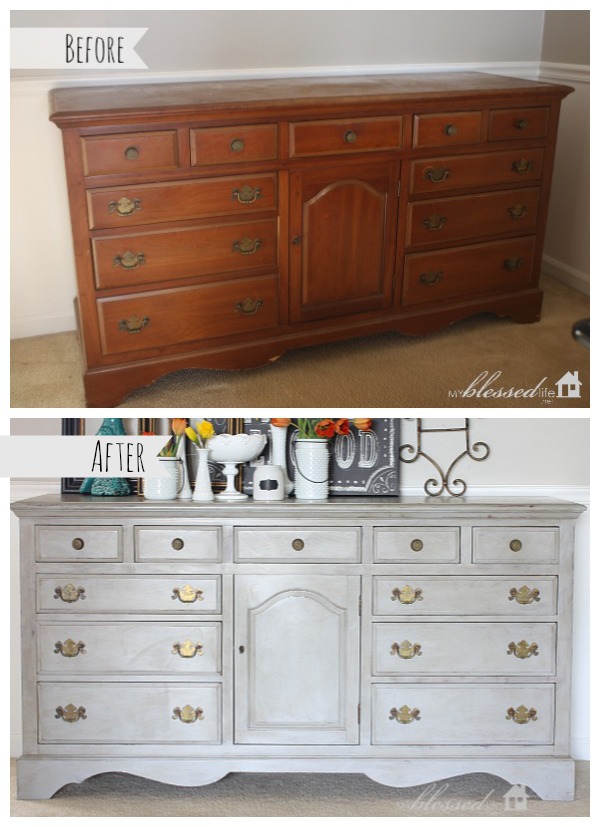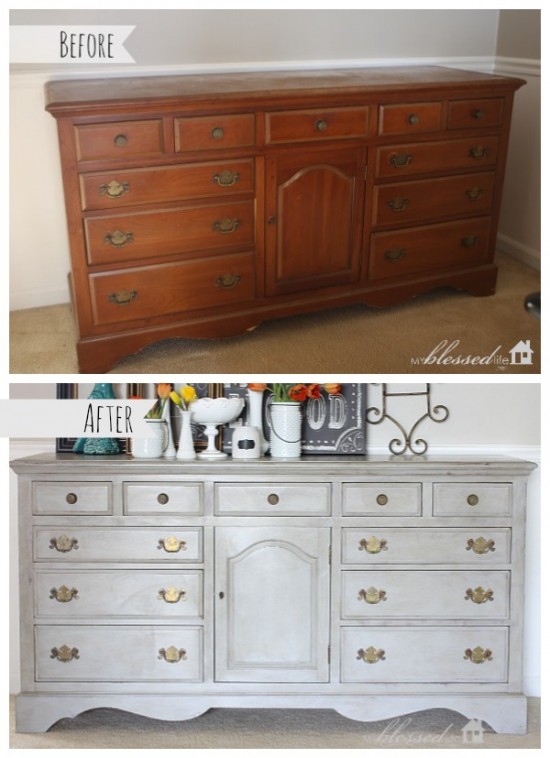 Before & After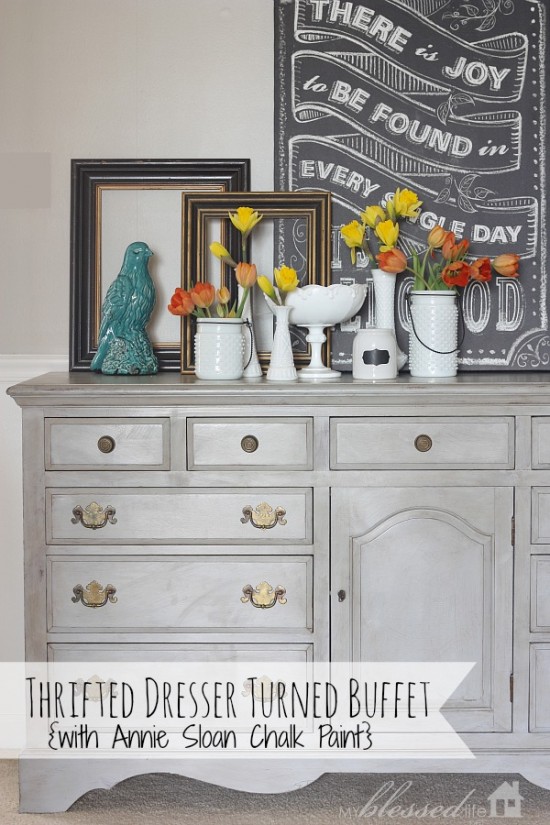 So, what do you think? I love that Annie Sloan Chalk Paint makes it super easy to complete a project in a day. With all the other wood tones going on in the dining room, this painted piece is a perfect addition. 🙂
I'm continuing to work on the dining room bit by bit. I hope to have it complete and ready to "reveal" in the next few weeks. Yay!
Have you ever used Annie Sloan Chalk Paint before?
xoxo
Myra
Sharing at: Tips & Tutes, Miss Mustard Seed, Chic & Crafty, I'm Lovin' It, Before & After Party!