Good morning! I know it's unusual for me to post on Saturday, but I couldn't hold you in suspense any longer to see the correct matches between the DIY blogger babies and their  beautiful faces today. And we have a winner to announce too! Here's my photo from when I was little and my current head shot…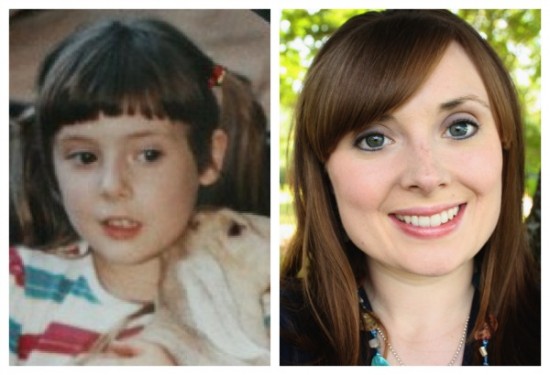 Yes, I'm holding a goat. I grew up on a farm and am a country girl at heart.
Some of you guessed my photo correctly on the Facebook page and others of you were a teeny tad off. It was so fun to read everyone's guesses! There were so many of you who were soooooo close to guessing all the DIY bloggers correctly, but finally one person, a blogger and a DIY fan, rose to claim the prize!
Please meet the winner of the Name That DIY Blogger Contest:
Sara from Mom Endeavors – Then And Now
Congratulations Sara!! 🙂
And now… the moment you've been waiting for… here are the match ups.
How did you do? Were you close? Check out each blog because most of them will be posting a side by side photo of themselves. Feel free to laugh a little more. I seriously can't stop giggling when I look at those old photos. Ha!
Have a wonderfully productive Saturday, my friends!!
xoxo
Myra