Happy Wednesday, y'all! Today marks 30 weeks for my pregnancy, so I thought I'd share an update. I can't believe that I'm only ten weeks away from my due date! Ack! Where has the time gone?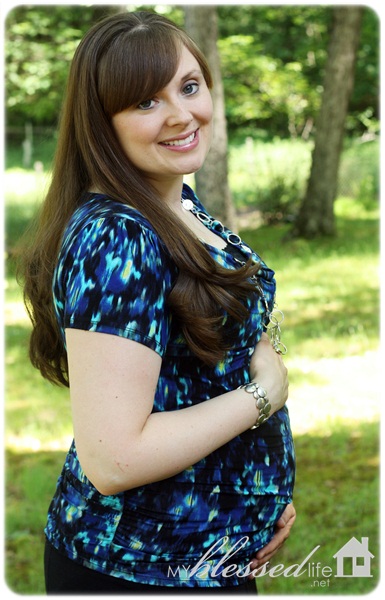 I'm definitely growing and am feeling a lot of baby movement every day. What a sweet feeling it is.
I'm feeling pretty good. Just a little tired in the afternoons after lunch. I've had great reports from my midwives on my glucose, blood pressure, baby's heartbeat and size. My iron was on the low end of normal, so I've been taking chlorophyll to boost my iron level.
Eating a high protein diet continues to help a lot with my energy. And drinking tons of water…and ice. Oh, how I'm loving ice water!
My only minor pregnancy complaints are having to get up a few times each night to use the bathroom, occasional indigestion and how it takes longer to get over a cold.
We went on a trip to South Carolina this past weekend and my feet didn't swell at all! I was so thrilled because they often swell even when I'm not pregnant. Success!
I have a 30 week checkup tomorrow, so I'll be sure to update my Facebook page with how it goes. 🙂 I'm convinced that eating healthful foods, supplementing with Juice Plus and drinking Red Raspberry Tea have contributed to a much healthier pregnancy this time.
Do you have any 3rd trimester tips to share with me? I'm all ears! 🙂
XO
*****
Don't miss out
– diy projects, recipes, crafts and more, by checking out
my subscribe page
!