Do you have a closet or a cabinet that doesn't have a light?  I do, and it's so frustrating when I'm trying to find a specific item and I can't see "worth a flitter."  Mr. Beams has come to the rescue with an amazing solution!  Have you heard of Mr. Beams Lighting before?  I hadn't until I was contacted about reviewing a Mr. Beams Anywhere Ceiling Light. I'm really thrilled about the products this company offers.

According to their website:
Wireless Environment makes LED lights with controls such as motion sensors, radio frequency (RF) and battery back-up to increase user control options and to create energy-saving lighting systems. With Wireless' technology, individual bulbs or a system of bulbs perform according to the needs of the users and environment.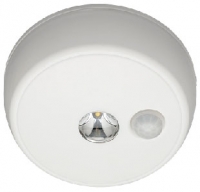 The Anywhere Ceiling Lights are battery operated, weatherproof (indoor/outdoor) and easy to mount.  I love the 30-Second shut off feature that conserves battery life.  If you install the ceiling lights outside the photo cell activates the LED only when it gets dark.  I also love the motion sensor that detects movement at 15 feet.
See, I told you. This is a fabulous product!
Mr. Beams Lights are available as ceiling lights (for closets, porches etc), spotlights, step lights and night lights.  They also have a couple remote control fixtures.
I confess that I'm incredibly un-fond of CFL bulbs for a multitude of reasons including the mercury levels in them and the not-so-cozy-green-fluorescent-hue that they put out.  But…I can definitely take my "green-ness" to a new level with Mr. Beams in my closets and pantry!  I'm a little bit of a geek, so I really enjoyed looking at this chart that compares LEDs, Incandescents and CFLs.
Since we are in the process of selling our home and moving, I didn't "install" my Anywhere Ceiling Light. I set it on a shelf in my pantry so you could get an idea of how it lights up.  I already know where I'm installing this light at the new house…in my dark-as-night closet! Woot!
I love the LED bulb because it is SO bright.  Like blind-your-eyes bright!
Mr. Beams is offering a special 20% off for my readers.  Use MRBEAMS13 at checkout to receive the discount.
AND…
I have a Mr. Beams Anywhere Ceiling Light to give away! Yay!
To Enter:
Leave a comment with where you would install your Anywhere Ceiling Light if you win this giveaway.
Up to 3 Bonus Entries (leave a separate comment for each):
Linked to:
Disclosure: Mr. Beams provided both a light for me to review and one to giveaway.  As always the opinions and thoughts in this post are completely mine.