I'm so SO ready for Spring! I need the sunshine, fresh air and new beginnings that Spring brings. In the spirit of Spring, I decided to create an egg tree craft Spring Chandelier Decor!
Many of you probably remember my candy cane chandelier craft from Christmastime. Well, I decided to make a hanging egg tree…yes, hanging (with two ribbons) from my chandelier. I'm crazy, I know.
I called my Dad and asked him to cut me a "good-looking" branch – whatever that means. I'm so glad that he knows what I want!  🙂  I used Dollar Store plastic and foam eggs, fake grass and flowers and Hobby Lobby grapevine wreaths, ribbon and rick-rack.
At first, I thought that hot glue might melt the plastic eggs, so I experimented. And I'm happy to report that hot glue is still my best friend when it comes to crafting.
I threaded tiny ribbon through a small hole at the top of each plastic egg, then I hot-glued the egg closed.  It's so fun to add all kinds of trim and ribbon to each egg.
I have an abnormal fear of dyeing (breaking, cracking, messing up, etc) real eggs, so this was totally my thing.
To make a little bird's nest, I used two teeny grapevine wreaths, fake grass and 3 foamy eggs.  Isn't it cah-ute?  I also hot-glued little flowers onto the branch to make it look more real…a couple people have actually asked if the flowers were real!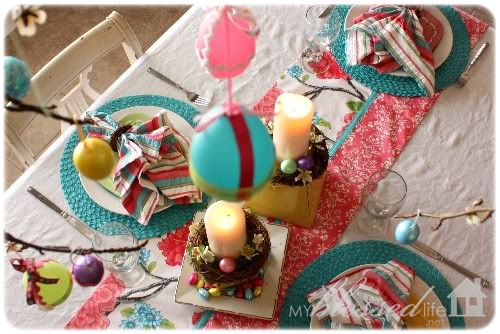 The view looking down through the hanging egg tree onto my frugal, spring-like table decor! *Lurve*
You could use this concept and hang a branch anywhere, or make a more traditional egg tree and hang decorated plastic eggs from the branches!
To sweeten the cuteness of this Spring craft, I only spent about $12 on the supplies! 🙂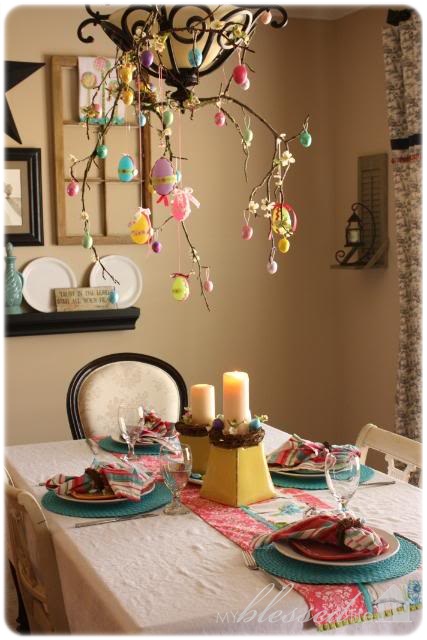 When I walk into my dining area, my heart goes pitter-pat because it's just so happy to see Spring!
Now I'm off to enjoy some sunshine! 
What do you think about my crazy hanging egg tree?
I'm linking up to: Today's Creative Blog, Works For Me Wednesday and The Inspired Room
XO
*****
Don't miss out
– diy projects, recipes, crafts and more, by checking out
my subscribe page
!