Yesterday I started thinking about "what-in-the-world" I was going to do for Valentine's Day. I won't bother to mention that Ridley's birthday banner is still hanging between the living room and dining room – that would be ridiculous!
I finally found some Valentine's Day inspiration from this craft as it sits on the living room bookshelf…
I created this for my hubby before he was my hubby. Sometime between when he was my boyfriend and fiance.  And yes, it has yellowed with age…but I'm not that old.  Really.
The wheels started turning in my head and I remembered the lonesome (empty) picture frame hanging in the foyer. Bingo! I had the perfect idea!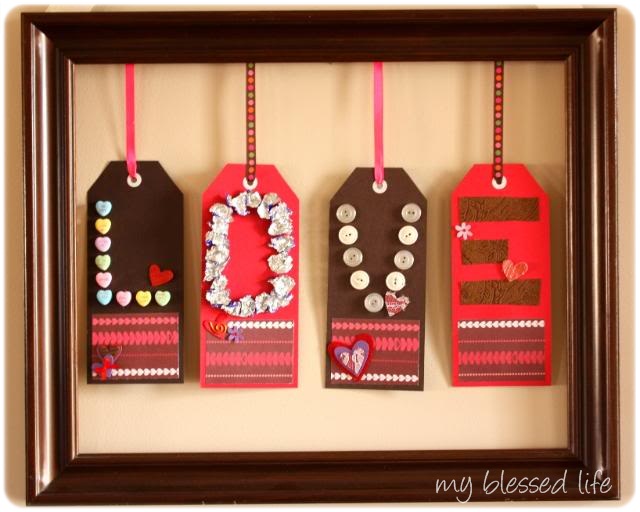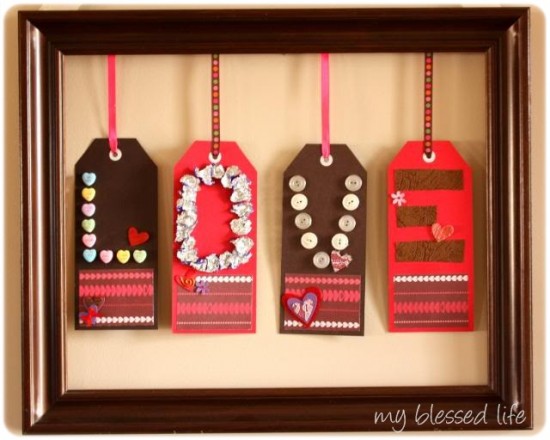 Gorg, right?  I love how fast and easy this Valentine's Day craft is!   Oh, and did I say cheap?
Frame 0.25 (yardsale score!)
Cardstock and Scrapbook Paper 0.90
Heart Embellishments 1.25
Heart Candy 0.25
Ribbon, glue, buttons, fabric and candy wrappers I already had
Grand Total of $2.65 plus less that one hour of time!
Because of the space that I had to work with, I decided to cut the cardstock "tags" longer than normal.  These are 9″ x 4″ and I added a little scrapbook paper at the bottom to balance the look.  The "L" is candy hearts, "O" is candy wrappers, "V" is buttons and "E" is fabric scraps.
We are now officially ready for Valentine's Day around here!
Be sure to check out these other fabulous V-Day crafts…
Note: You can customize this concept for various holidays, children's names etc!
Linked to: