Happy Friday! I'm so ready for the weekend, as I'm sure you are too! I'm excited to share a wonderful, natural motion sickness remedy that has helped me multiple times recently. I have struggled with motion sickness all my life. There are points on the road that bring my family much humor as they remember me barfing out the car window. Sorry…TMI? I've taken over-the-counter meds, tried homeopathic remedies and just suffered through. Not so fun!
With our most recent trips to Indiana and South Carolina for weddings two weekends in a row, we spent a lot of time in the car where motion sickness reared it's ugly head once again. This time, I was prepared.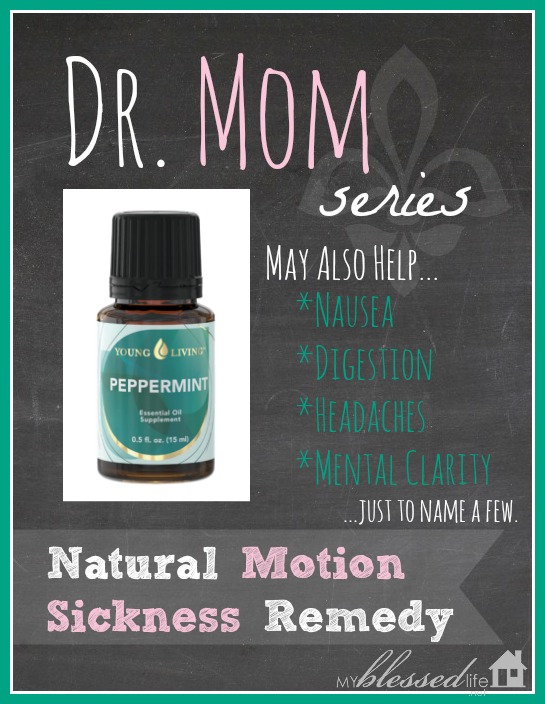 My husband pulled over and we switched places so I could drive…that always helps. Then, he diluted a drop or two of Young Living's Peppermint Oil in some coconut oil and I rubbed it behind my ears and on my tummy and in my belly button.
Within five minutes my nausea was greatly reduced and within thirty minutes it was completely gone. Every time I started feeling sick, I just did the same thing and it helped each time. Peppermint oil, for the win!
This week, I ate something that didn't agree with me. Again, I used Peppermint Oil on my tummy and it helped me feel much better and quickly too.
Young Living Peppermint Oil may also help with…
Nausea
Digestive Issues
Headaches
Mental Clarity
Breath Freshening
Appetite Suppressing
Fever Reducing
etc….
For more information check out this Peppermint Oil pdf. If you would like to learn more about Young Living Essential Oils, visit this page.

Have you ever struggled with motion sickness?
xoxo
Myra
*These statements have not been evaluated by the FDA. This product is not intended to diagnose, treat, cure, or prevent any disease.