My friendship with Julie began back in December when she found my blog via the candy cane chandelier craze.  Julie is a wonderful lady.  She and her husband have wanted to adopt a child for quite some time, so despite the tough economy and other financial setbacks, they are pursuing adoption!
To raise money, Julie opened a custom clothing shop called Flitterbugs where she sells adorable and reasonably priced boys and girls clothing.  On top of all the awesome sewing she does, Julie also blogs about the adoption process.
Because adoption is close to my heart (we are praying seriously about it), I'm so excited about helping Julie and her family reach their goal!  I know you will love the Flitterbugs shop and blog.

Julie sent two of the cutest outfits for Ridley.  (Disclaimer:  I took way too many pictures. I couldn't help myself!  Too much cuteness going on.)
This cute little model is wearing blue gingham short-alls. I love this outfit because the fabric is so light weight and dries very quickly.  Ridley will be "cool stuff" all summer long!
Adorableness.
Getting a non-blurry picture of my little man is about as rare as snow in Alabama in July, but I love this one!  Ridley loves his shorts and monogrammed t-shirt.  His momma loves it even more.
I told you I took too many pictures from Ridley's Flitterbugs photo shoot today!  I love my happy little man and I definitely love the Flitterbugs cuteness!  Doesn't he make you smile?
The quality of these Flitterbugs garments is superb.  Julie is an excellent seamstress who is very detail oriented.  I'm quite impressed and I will definitely be checking out Fall and Winter styles for Ridley from Flitterbugs.
Julie has kindly offered one custom garment to one of my readers who will be able to choose any size and any style!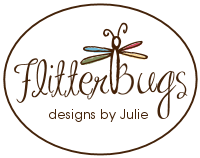 To enter:
Leave a comment stating that you would like to be entered in this fabulous giveaway! Yep, it's

that

easy!
Extra entries (leave a separate comment for each up to 8 extra entries):
I will draw a winner via Random.org on Thursday, April 22nd.
Linked to: